I've used a few men's skincare systems over the last year or so in a continued effort to maintain my natural good looks. Some have left my skin feeling greasy, others have caused issues with complexion. However, I've found two amazing systems that have a range of unique skin care products for men that really seemed to leave my skin feeling fresher and more alive. The two brands I'm referring to are Lumin and Tiege Hanley. As such, I'm dedicating this short Lumin Skin Care vs Tiege Hanley article to looking at the main selling points of each, my experiences and the current packages on offer from the brands.
Lumin Skin Care vs Tiege Hanley: The Tiege Hanley offering in the UK
The Tiege Hanley men's skin care system is easy to use and includes clear instructions straight out of the well-labelled box. Tiege Hanley membership, if you stick with them gets better by the month and after 12 boxes you'll unlock a lifetime 10% discount as a repeat customer. Subscriptions are entirely flexible and you can adjust the Tiege Hanley products you receive based on your needs, budget, or the preferences you have once you've trialled their men's skin care range. I'm based in the UK and the products arrived swiftly and simply in the post.
Main Selling points – Is Tiege Hanley worth it?
I used the Tiege Hanley Men's Skin care system Level 3 to achieve "maximum handsome". It included the Tiege Hanley Daily Wash, Scrub, AM and PM Creams, the Eyes product and their Serum. In theory, the Tiege Hanley Serum is aimed at those fine lines and wrinkles around the face that start to appear more in a gentleman's late 30's.
The Wash I found was great for cleansing the skin ready for other moisturising products. The scrub was slightly more abrasive than the Lumin Skin care exfoliator, but I found that using it once per week, rather than the instructed twice, was perfect for my skin type. It also made the product last longer, which is great when you're investing in a premium men's skincare routine.
There's then the two moisturisers, AM and PM. I confess I'd prefer a more simple system with bigger moisturising products. They tend to be the ones I hit the hardest. However, Tiege Hanley delivers the AM and PM in order to include a cancer-preventing SPF 20 ingredient in their AM cream – a great addition.
The Eyes and Super Serum offerings from Tiege Hanley add that extra push to bring dull complexions back to life. I found if I'd had a particularly heavy few days, the firming Super Serum would even out my complexion and give a more youthful, hydrated appearance to my look – highly recommended and it only takes a 10 minute Super Serum rub to get the effect.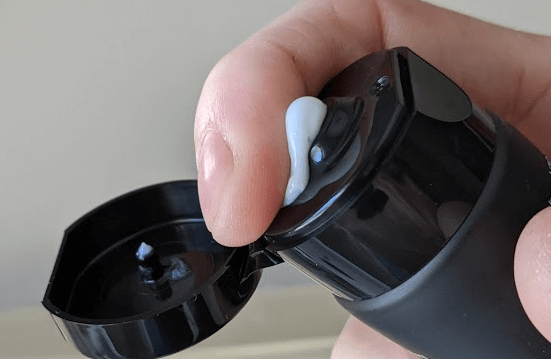 Overall thoughts on offers, discounts and costs of Tiege Hanley
Tiege Hanley promises that their website will offer a saving of 25% at least of the standard retail price and they offer a worry-free shipping service with reminders and easy hassle-free refunds if you're not impressed. They also offer a rewards system for regular users. Depending on where you're ordering to there's free shipping in the US and it's around $5-£12 dollar for international delivery. Right now you can get $10 off your subscription, making it just $45 (£32), that's a £1 per day for the 30 subscription box I had. The bottle and containers are also within limits for international travel, meaning you can take them on your holidays without the hassle of decanting them into travel containers.
Get a deal on Tiege Hanley now:
You can access deals now via this link >>> Save on the Tiege Hanley range using the code SAVVYDAD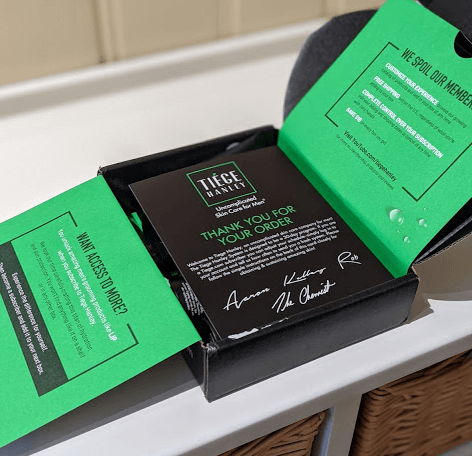 Lumin Skin Care vs Tiege Hanley: The Lumin Skin care offering in the UK
I've previously written about Lumin Skin care, having trialled their Lumin Skin care Classic Maintenance Set. Whilst the offerings from both Tiege Hanley and Lumin are similar, each offers something unique. Lumin is more expensive at £38, compared to Tiege Hanley's £32 Level 3 Set, but Lumin offers a free trial – effectively giving you a month free.
Lumin's Classic Maintenance set offers less in terms of the number of products, but use pots rather than tubes which I prefer in order to fully excavate the contents from the containers. Lumin products are larger, which makes up the difference.
Is Tiege Hanley or Lumin Skin care the best?
In my honest opinion, I don't think either set outdoes the other. I preferred the moisturiser and exfoliating scrub in the Lumin skin care range. But the Tiege Hanley range offered better SPF protection and I have to say the Super Serum and Eye care products really do bring a big instant hit of vitality back to my facial features.
It's a shame Tiege Hanley don't offer a free 30 day trial to give new users the chance to try it out, but their product is slightly cheaper and more varied than Lumin so it really does come down to trying them both out to see which you prefer and which suits your particular skin type.
If you're looking to trial premium men's skin care products via free trials and discounted subscription offers I'd highly recommend splurging on a 30 day supply of both and giving yourself the chance to see what 4 weeks of each does for your overall cosmetic routine and skin enjoyment.
Quick Discount and Trial Links for Lumin and Tiege Hanley
Lumin Classic Maintenance Set: Access a Lumin Skin free trial today worth £38 and 20% discount on future products.
Tiege Hanley Dicounted Subscription Link £32, plus £3-4 delivery.>>> Save on the Tiege Hanley range using the code SAVVYDAD