If you're a parent or carer of a school-aged child in the UK, you'll likely have experienced the disruption in the last round of teacher strike dates. The ongoing action from hundreds of thousands of overworked and underfunded staff has hit another hurdle as the latest offer from the government woefully undervalues the profession in the UK and looks to divert already stretched school budgets to fund their 4.3/4.5% pay offer. Only .5% is being offered as additional funding and over the last weekend a whopping 98% of teachers voted to reject the government's May offer.
What does this mean for parents and teaching staff? In short, the largest teachers' union, NEU, is asking the education secretary back to the negotiation table for a real offer, comparative to Scotland's offer where teaching staff salaries differ by up to a whopping 20% – adding to the teacher retention issues in England. Without positive action from the government, there are now two more teacher strike days in April and May. It's also likely that additional dates will appear following the NEU's May meetings.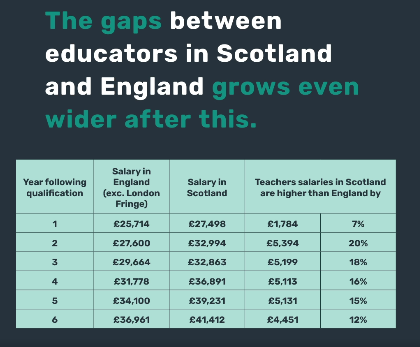 It's important to remember that teachers don't take this action lightly and will lose pay every time they stand up in support of asking the government to do better. Many appreciate that schools not only form a secure provision of free childcare to allow parents and carers to work but also provide essential experiences and teaching. However, without the funding pots being looked at, and the ongoing workload and pay issues addressed, each year there is less in the kitty to pay staff, budget for resources, and stop the mass exodus of teachers and leaders choosing to leave the profession.
Schools play a crucial role in your child's education, helping them to learn and grow in a safe and supportive environment. And while strikes can be disruptive, it's important to understand why teachers need to take this action and support them in their efforts to achieve fair pay and working conditions.
Whilst each school will adapt to offer what they can in provision during strike days, the nature of the action means it can be awkward to plan for and therefore parents can expect disruption. It's worth looking into alternative provisions as soon as you can to avoid impact and if you can adapt shift patterns early, you may be unaffected.
Frequently asked questions about the next UK teacher strike dates
Why is a fully funded offer from the government essential?
A fully funded offer from the government is essential to ensure that existing school funds are not used to support teacher pay. This is important because it can have a knock-on effect on the ability of schools to buy resources, which can ultimately impact the quality of education that children receive. That's why continued industrial action and teacher strike dates in England are to be held on Wednesday July 5th and Friday July 7th 2023.
Why is the issue of pay discrepancy between teachers in Scotland and England essential to resolving these disputes?
The issue of pay discrepancy between teachers in Scotland and England is essential to address because it highlights the need for fair pay across the entire profession. A teacher in Northern England could choose to switch to a school in Scotland reasonably easily increasing the retention issues in the UK teaching profession. If one group of teachers is paid significantly more than another, it can create resentment and dissatisfaction, which can ultimately lead to strikes and other forms of industrial action. There were significant differences in the pay and conditions terms offered by the government in March 2023.
Savvy Side-read – Are you a teacher? Find discounts for teachers available in the UK
What are the specific strike dates for teacher strikes in England for Summer Term 2023?
The NEU held a Zoom call with tens of thousands of members on Monday, 27 March, 2023, to discuss the pay offer made by the government. The results of the vote were overwhelmingly in favour of rejecting the offer with over 190,000 teaching members choosing to reject the woeful offer. While the NEU has not yet announced specific dates for strikes for the next academic year 2023/24, they've announced the next round for the Summer Term as Wednesday July 5th and Friday July 7th 2023.
It's vitally important to remember that teacher strikes are not just about pay – they are about fighting for the rights and dignity of the teaching profession. Teachers are highly skilled professionals who deserve to be treated with respect and given fair compensation for their work. By supporting them in their efforts and writing to your MP and the Education Secretary, readers can help to promote positive change with real investment in the education system and their children's future.
Ongoing issues with staff well-being and the recent news articles related to OFSTED inspections and their impact on schools as a whole means there's a real focus on what the government are willing to do to make a real difference in the education sector.