It's only recently that I've become organised when it comes to my personal medical costs. Thankfully, most of the time I've only needed rare visits to the local GP, however over the last couple of years I've required more and more medication to control the condition of my hands. With an increased need for regular medication and rising prescription costs, it was actually my mother who first opened my eyes to the use of an NHS prepayment prescription certificate.
With the current prescription cost in England being £8.60, requiring regular medication soon adds up the cost. This is particularly evident when you require multiple medications to work in combination on any given condition. Now, the default thing I'd suggest at first is looking online to see what items you require that are available cheaper than the prescription cost. Whilst finding items cheaper is completely possible, it can be tricky to secure regular supplies of harder to find items. With other items being much more direct from suppliers than the £8.60 NHS prescription cost, this is where the use of an NHS prepayment prescription certificate really comes into play.
To understand why an NHS prepayment prescription certificate is so useful, you'll need to appreciate how advance payment cuts the costs.
Current NHS prescription costs
The current NHS prescription charge is £8.60 "per item", however, the following two NHS prepayment prescription certificate options exist. A three-month NHS prepayment prescription certificate is £29.10, saving you money if you buy more than three prescribed items in the valid period. To illustrate this here are your potential "per item" costs:
Buying 4 items on the 3 months NHS prepayment prescription certificate is £7.20 per item
Buying 5 items on the 3 months NHS prepayment prescription certificate is £5.82 per item
Buying 10 items on the 3 months NHS prepayment prescription certificate is £2.91 per item
If buying more the 12 items in a year the 12-month prepayment prescription at £104.00 will save you even more money.
NHS prepayment prescription certificates are also available by 10 monthly direct debit instalment payments and are a must for most people with long-term ongoing conditions.
Broadly speaking the NHS website states that your potential savings are as follows when buying a regular amount:
two items each month – you can save more than £100 with a 12-month PPC
three items each month – you can save more than £205 with a 12-month PPC
four items each month – you can save more than £305 with a 12-month PPC
How to boost savings on the NHS prepayment prescription certificates further and get convenient free delivery of medication.
Let's be clear, the NHS PPC itself represents a great saving already. But cutting the cost further and making medication delivery is nothing to be sniffed at and here's how to do it…
I've already mentioned the 3 month PPC is £29.10 for the valid period. Well, we can cut this cost further by getting our prepayment certificate not direct from the NHS, but via a handling supplier. In this instance, I'm using the popular website Chemist4U.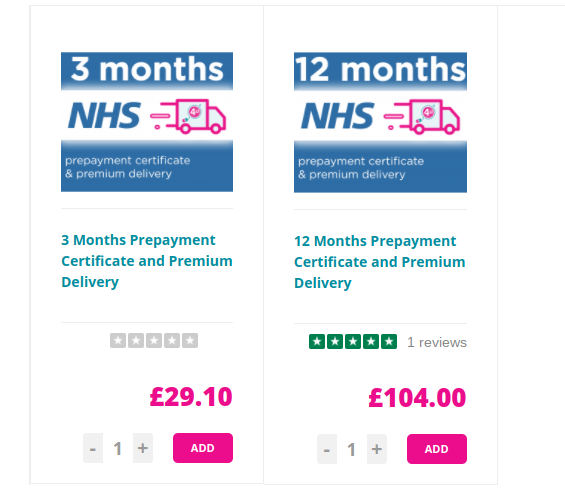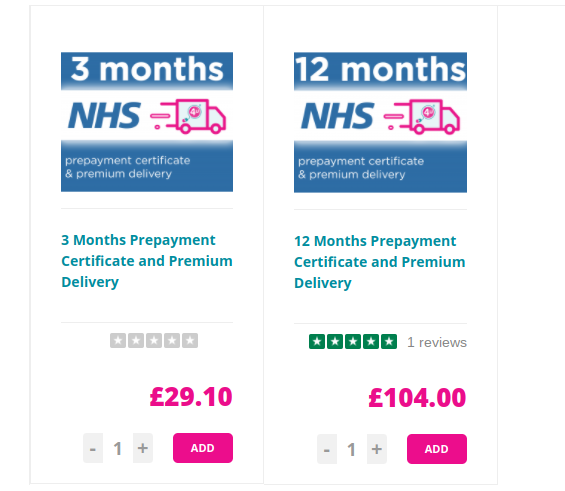 They offer both the 3 and 12-month options for the certificates but as an independent merchant they also offer something that direct NHS purchasing doesn't, and that is namely "cashback". Now, this cashback is obtainable for any Chemist4U orders processed via either of the top cashback sites in the UK, namely Quidco and Topcashback.
At the time of writing this article both Quidco and Topcashback are offering 10% on Chemist4U orders, this includes the processing of an NHS prepayment prescription certificate. If the cashback is validated by Quidco or Topcashback, then your total cost for the 3-month PPC is just £26.19.

Make life easier with free premium delivery of items, saving your travel costs and time.
Whilst places other than Chemist4U provide the PPC fulfilment, as far as I am aware most charge for delivery of medications. Chemist4U include free premium tracked delivery for all medication orders during the use of the prepayment certificate, provided you choose them as your preferred dispensing outlet.
Choosing Chemist4U as your preferred dispensary is not a long commitment, in fact, you can opt out and revert to your GP or local chemist being your preferred choice at any given point. Using Chemist4U does, however, save all the hassle of travelling to pick up your medication and could be a godsend to those unable to get to there local GP or dispensary easily. You have full control of delivery via Royal Mail 24 service allowing delivery to your home, works, friends or family. Royal Mail is also able to leave items without a signature, meaning being out is not an issue.
Your card gets delivered directly from the NHSBSA and can take up to 10 days to arrive, but you'll receive your certificate number in an email meaning you can start using it online before you receive the physical "card". I have to say that getting a PPC has really made a difference to me of late and I can see how some people simply wouldn't be able to afford their medication without the use of a PPC. Chemist4U enhance this value with a convenient service that really has the patient experience in mind.
Disclosure: This is a collaborative post. All views and opinions are my own.