The arrival of the pandemic in the East of England has had a huge strain on the local supermarket delivery slots. For those stuck at home, self-isolating or looking for places in Norwich and Norfolk that offer good stocks of essentials or delivered treats, I've put together a small selection of links that may help to support not only you at home but also help keep these companies running. In addition, there's also some helpful hints and tips for getting the most out of your existing cupboard contents.
Amazing wellbeing boosting food and meals delivered in and around Norwich.
Little Pie Patisserie – Katie-Marie operates a fabulous enterprise supplying beautiful looking dishes that taste heavenly. I was lucky enough to dine at one of her recent supper club dinners and left full and more than ready to go straight back in for even more! She is offering a variety of different delights for your enjoyment at home. I asked Katie-Marie for a little more information about her service:
"For the last four years I have built up my catering business Little Pie Patisserie, mainly specialising in baked goods and buffet catering. Last year I began focusing more on monthly supper club events held at The Cafe Club, creating a set menu each month and offering a cosy dining atmosphere for 10 to 12 guests at a time.

Since the outbreak of covid19 and the imposed lockdown, I've had to think of ways to adapt my business and offer something slightly different – we have been doing more deliveries of smaller boxed cakes, brownies and pastries as well as introducing our 'Stay Home Supper Club' menu.

Stay home supper club is a weekly set menu of home cooked vegan meals that can easily be reheated or frozen, delivered to your doorstep. We have had a great response to the menus so far and have delivered meals to those who are self isolating or unable to pick up food shopping, as well as NHS and key workers and busy parents in the midst of homeschooling whilst also working from home. Brownies and buffet boxes of pastries have also been delivered to those celebrating birthdays and we've had some lovely feedback from people saying that it made their day feel different from all the other days whilst isolating or in lockdown."
Prices for boxed pastries, brownies and cakes start at £9
Stay Home Supper Club meals are £5 pp per day or £22.50 pp for the whole week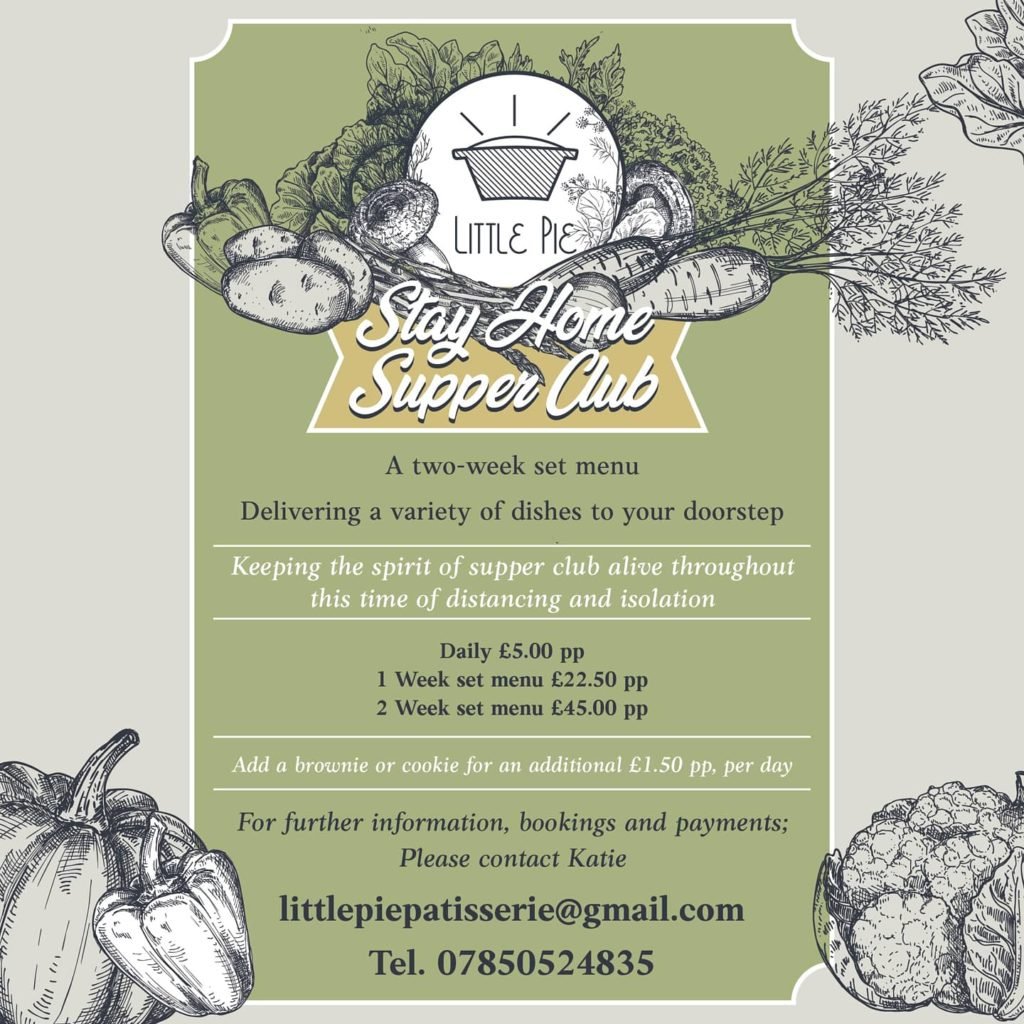 More companies offer Norwich Food delivery options.
The Green Grocers is located on Earlham Road and is a must for vegetarian and vegan products enabling you to cook from fresh at home. If you're looking to buy from them, you can visit their website to download an order form. They'll then email you to confirm your order availability and the current cost. If you're happy with the order you can then call the shop to pay via card and confirm your delivery slot.
Ronaldo Ices are a name indicative of Norwich food branding.  During this time the Norwich-based firm has put together a number of fabulous ice cream packages delivered safely to your home. You can call them now to order with free delivery from the choice below:
2 flavours 20 x individual 125ml tubs £20 inc VAT
20x 125ml tubs individual flavour £15 inc VAT
Flavours to choose from include Chocolate, Mint Choc Chip, Rum and Raisin, Norfolk Strawberry, Salted Caramel and Lemon Sorbet.
2lt Freezer Tubs with 15 small cones £10 – Around 15 servings – Freezer friendly size
Vanilla Seed, Chocolate, Strawberry, Lemon Sorbet
4.5lt Bumper Tubs with 40 cones £18 – Around 40 servings – perfect for chest freezers
Vanilla Seed, Chocolate, Strawberry, Salted Caramel, Mint Choc Chip,
Benedicts Restaurant has closed along with all restaurants in the city of Norwich, but they've converted to ready meals. According to their Instagram and Facebook pages, they'll have more lovely delights available this Friday and Saturday. Deliveries are within a 7-mile radius and £5. An example of their current menu for ready meals includes:
Potato And Cheese Pithivier, Garden Herb Sauce (Potato & Cheese Pie) £9.00
Braised Ox Cheek Cottage Pie £10.50
Rolled Saddle of Lamb, Rosemary Lamb Jus £10.50
Fish Mousse Ravioli, Shellfish Bisque £9.50
There's also a huge range of sides for just £2.50 each.
Companies in and around Norfolk and Norwich offering farm or fresh produce.
Within the city of Norwich, re.source are switching to pre-orders and delivery within their locale. They offer pre-order for collection if you're near Timberhill in Norwich. Collection payment is via card only, no cash. They ask that when you order, you let them know the best time to come and collect or when they can get your delivery to you.
Norwich Farm Share is an amazing non-profit co-operative farm scheme supporting small-scale growers and farmers. Most of their produce and fresh veg comes directly from their 3-acre farm in Whitlingham. They offer a monthly subscription for their deliveries. Currently, they are offering chemical-free veg bags, fruit bags and eggs via cycle delivery in the Norwich area. Vegetable boxes range from £27 to £62 per month depending on the size of the box you order. Fruit bags are £14 per month for a small bag, or £23 per month for a medium bag. 6 eggs per week are just over £7 per month.
Archer's Butchers are based on Plumstead Road in Norwich and offer a great range of meat boxes, takeaway and breakfast bundles. Here's an example of the items in stock at the time of writing:
£15 Breakfast Pack including 8 x Sausages, 12 x rashers smoked back bacon, 6 x large free-range eggs and black pudding
£15 Small Meat Box – 8 x Traditional pork sausages, 500g Lean minced beef, 2 x Chicken fillets, 8 x Rashers Smoked Back Bacon
£35 Medium Meat Box – 12 x Traditional Pork Sausages, 500g Lean Mince, 2 x Pork Steaks, 12 x Rashers Back Bacon, 2 x Chicken fillets, and your choice of 1kg joint topside beef, 1kg joint boneless leg of pork, or a large chicken.
As a side note, it's worth considering long standing nationwide delivery services such as Wiltshire Farm Foods.
Great Norfolk and Norwich companies offering bakery and essentials for delivery
Bread Source has been offering baked delights to the residents of Norwich for a while and offer a great webshop. You can visit their Insta stream to check out their latest offerings.   They've recently been engaged in a Nation Loaf initiative to give 100 free loaves away to those in need, are giving 20% off to NHS staff and looking to introduce a £1 loaf.  You can order from the webshop for home delivery and they operate out of Norwich locations at The Bakery Counter (Unit 7, Marriott Close, NR2 4UX)⁠, Upper St Giles⁠, Aylsham⁠ and Bridewell Alley⁠
Norfolk farm shops offering food and essentials
The Goat Shed – Small family-run outlet specialising in goat-milk products but also currently offering a daily range of fresh farm produce sourced from their local suppliers including bread, flour and fresh vegetables. Located just off the A47 in Honningham this fab shed opens it's doors daily from 7:30am until 6pm and has switched to contactless payments.
Easters Norwich Limited are offering home delivery of £20, £35 and £50 essentials boxes from their PYO farm business. You'll need to check out their twitter feed for updates as they're currently fulfilling their existing orders at the time of writing, before accepting more orders
Norfolk Beef Company are located in North Norfolk and offer products directly from their Hereford cattle stock to your home. They are currently, at the time of writing, scheduling in more fresh beef boxes ready for delivery in mid-April. You can contact them via their website with queries regarding ordering. As an example, a 5 Kilogram Box is £55 and contains 1 Roasting Joint, Sirloin/Rump Steaks, Diced Steak, Mince and/or Burgers, while a Quick n' Easy Meals Box is £40 and has​ 5lbs Diced steak and 5lbs Mince.
Old Hall Farm offers a range of Raw Jersey milk items. Located to the south of Norwich near the beautiful village of Woodton, Old Hall Farm offers a range of their own milk-fed pork, free-range rainbow eggs, Jersey Cream, Jersey Butter, and a further range of local produce. This is available on site or via delivery.
Those offering tips and advice for your cupboard's essentials to create savvy meals.
The lovely Zena from Love Norwich Food is not only one of the best food bloggers in the East of England, but she is also a talented foodie extraordinaire herself. Her website contains details of plenty of other companies in Norwich that may offer some form of delivery service. In addition to this, to support those cooking at home, Zena has placed some great free cook-at-home recipes on her Instagram for families to try with their children.
The Savvy Shopper's Cookbook is a particularly great cookbook to have around at this time. The author, Amy Shephard, has put together a great array of easy to make recipes that require few ingredients and minimal budget.
You can read more about Amy's book in my article "How to plan family meals on a budget".