What is "The Savvy Shopper's Cookbook" all about?
I recently picked up a copy of The Savvy Shopper's Cookbook while shopping online. I've been slowly building my collection of budget-friendly recipe books, whilst also looking more into budget supermarket offerings like the Aldi Super 6. With me being Savvy Dad, surely this title would have something to appeal to my family finance and budget parenting interests?
I put The Savvy Shopper's Cookbook into my collection alongside some new titles and one old favourite:
Putting the book in context
The Savvy Shopper's Cookbook is the recent offering from stay-at-home mum, Amy Shepherd. She's put together a collection of easy to execute recipes that suit even the most frugal of food planners. Each recipe is not only clearly explained, but also well thought out – making use of staple low cost ingredients while also delivering on style and invention.
The book is neatly laid out as a collection, offering up dishes for soups, snacks and sides. Also on offer are standard recipe book mains, split down into fish, veggie, chicken and beef/pork. I like this as it means I can cut straight to the veggie dishes if I know I want to have a really cheap week of meals. Don't worry though sweet treats are also on offer in the book with amazing Mint and Pistachio Chocolate Pots as one of the palate-cleansing options!
More than just your average cookbook?
From the outset Amy Shepherd is clear in specifying that her recipes have no "time to cook" guide. I like this because if your home is anything like ours, it's tricky to stay on track with a recipe while a toddler is crying and a 1 year old is throwing spoons from his highchair. Amy keeps the recipes realistic and easy for most beginner to intermediate skill-sets.
I chose to pick out a couple of the recipes to try for review, but in general I would highly recommend using the weekly planners that Amy has put together at the beginning of the book. These weekly planners not only take the hassle out of planning, but also aid organised supermarket shopping that stays on budget. This is perfect for those planning their own meals rather than using meal delivery services nearby.
I also like the fact that Amy includes a list of store cupboard ingredients that are well worth having and helpful hints for spices and flavours. The main thing I'm impressed with though, is the fact that the vast majority of ingredients are "everyday" low prices, rather than depending on ingredients always on offer one week, then inflated the next. It is also aimed firmly at the discount supermarket shoppers amongst us. Now I confess to usually using Asda most of the time due to the way you can use the Asda Price Guarantee to get huge discounts on off your shopping. However, this budget read has encouraged me to make an effort to source some items in planned shops at the likes of Aldi and Lidl also. The Aldi Super 6 fruit and veg offers are frequently useful for these recipes. There's also the suggestion of balance, in that be sourcing most items at a discount you can afford to pop in some premium priced items too, like salmon.
A word about my personal highlights.
There's a huge amount to choose from between the covers of this book. But in particular I'd like to single out two of my favourites…
Fishcakes – These proved a huge hit! I cannot, as a child, recall liking fishcakes that much.. However, as an adult, I've grown to like a huge array of flavours and fishcakes are climbing my list of things to experiment with. Surprisingly, my children have a great appetite for them, and those made from this recipe were a hit! Fish was sourced from frozen, in the form of Basa fillets and the flavours from the ingredients listed added a zing to the dish. They made great finger food for Baby Savvy and I loved them also (I might have added a little chilli to mine also). The great thing about these, and most of the other recipes, is they're freezable. This means great portion and waste control – another important aspect of budget meal planning.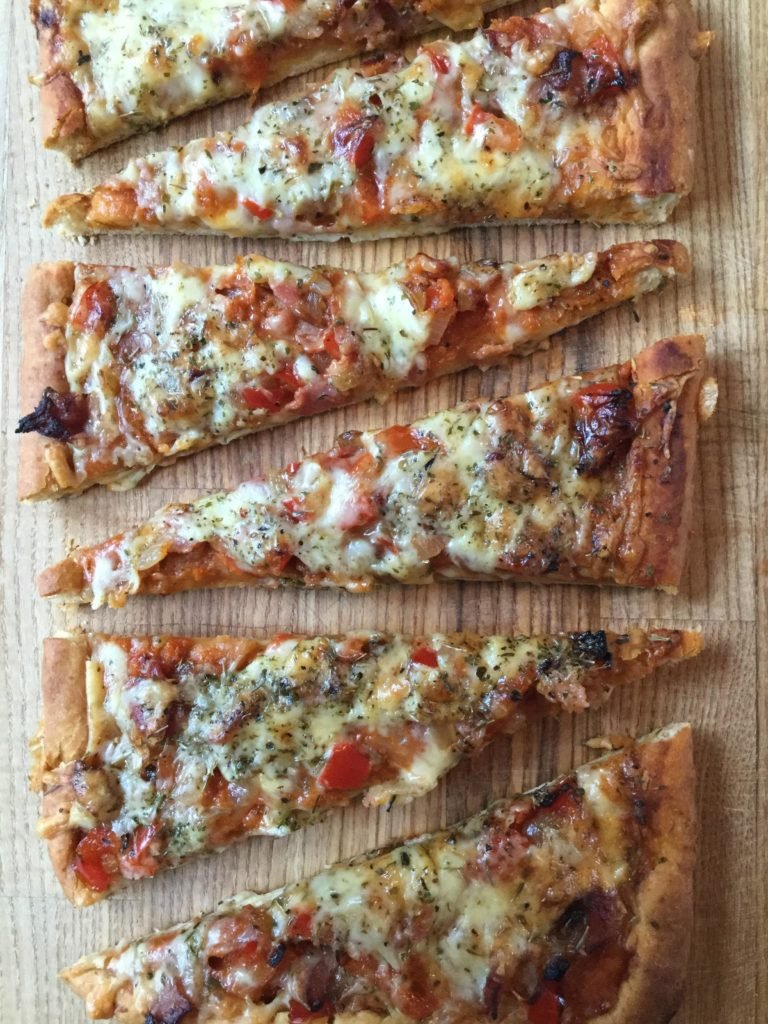 Red Pesto, Sun-dried Tomato, Feta and Pistachio Scone-Based Pizza – This recipe takes a slight detour from the tradition pizza on many UK dinner tables. It offers up not only a new take on pizza flavours, but also on texture. The scone base makes this a versatile dish, suitable as a standalone main or as a side to salads, rice or cous cous. The red pesto is an easy addition to add a new flavour for many families and the recipe is as simple as any I've seen.
Overall, I love the fact this is unashamedly aimed at saving money for families. Amy herself makes it clear that being a stay-at-home mum, and needing to tighten the purse strings, led to putting together this fab book. All the recipes seem geared towards catering for a family of four, and again often tie in the the Aldi Super 6 fruit and veg offers if you're shopping there.
The vast majority also have suggestions for tweaks as well to make them suit certain palates; like the naan recipes for example, which have a base recipe and then options to enhance. From the dishes I've tried, the flavours were good and they also looked appealing, with plenty of colour and balance.
Compared to some of the other books I have in my current budget food collection, this effort from Amy oozes authenticity and understanding for not just the food, but the family behind it. Some other offering on the market, such as those made to follow a TV series, often only scratch the surface – or in some cases completely misunderstand how small the budget of some families might be each week for food. All in all, a great debut offering from Amy Shepherd and I can't wait to try out more of the recipes over the summer.
Looking for more inspiration? Why not check out my Slow Cook Chicken Tikka Masala recipe.
Side Note: A small mention for one of the other books mentioned at the top of this review – More Grub, Less Grant. It's not a pretty recipe book but it does the job well (just like The Savvy Shopper's Cookbook). I therefore highly recommend checking out any book from Cas Clarke. Cas is amazing – No frills budget books, but no need for glossy photos when the books are packed with delicious on-budget family favourites and fakeaways!