Today I'm talking about what a Junior ISA is, the types of Junior ISA, and whether they're worth considering as an investment for your child's future. In particular I'm looking at an new type of account from Kingston Unity, The Friends & Family Junior ISA.
What is a Junior ISA?
A junior ISA is a tax friendly way of making contributions towards a savings pot on a child's behalf. There are two main types. Junior "cash" ISAs, which offer tax free savings with reliable interest rates. Or, the second option, stocks and shares based ISAs. A stocks and shares based junior ISA is where any money deposited is re-invested in for-profit opportunities. This basically means the returns are potentially more, but there is less security.
Junior ISAs of this nature are generally of low to medium risk, however, they "are" still a risk. Money is locked away and may not return as well as expected. That being said, poor returns are normally the exception to the rule. The markets invested in are usually well researched and sound in their foundations.
Children born before January 2011, may well have had a Child Trust Fund. These have now been replaced by the opportunity to use Junior ISAs, which can be accessed from a child's 18th birthday. Child Trust Funds (CTFs) already in existence can be transferred into a Junior ISA. They offer the continued ability to save around £4000 tax-free per year for a child's future. This amount changes slightly every tax year.
How does the Kingston Unity Friends & Family Junior ISA differ?
The Kingston Unity Friends & Family Junior ISA falls into the "stocks and shares" type of ISA. This means it has a risk attached that is low to medium risk. It does however offer larger potential returns in theory. It will depend on the performance of the markets invested in. I want to be clear that if you're after a secure "guaranteed" return, a cash Junior ISA, or even other savings options, are better for you.
I'm not reviewing the returns or investment merits on this product, I'm reviewing the way it's delivered and operated. I'm doing this because I am truly impressed with the drive it has towards making a family really "think" about saving for the future and "how" those funds might be used.
Financial awareness and money management is something truly neglected in the education system across the UK. Often money-related woes are linked to lack of knowledge or understanding or investing, planning or budgeting.
Kingston Unity kindly allowed me access to a dummy account to try out their unique product. A product, that they say, is designed around the developing "good saving habits" for the saver.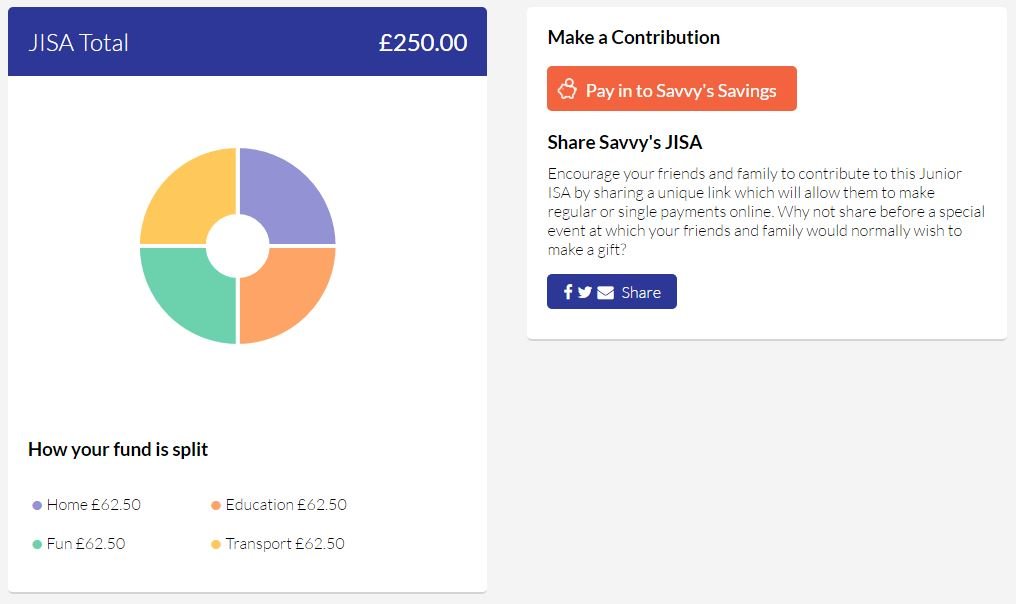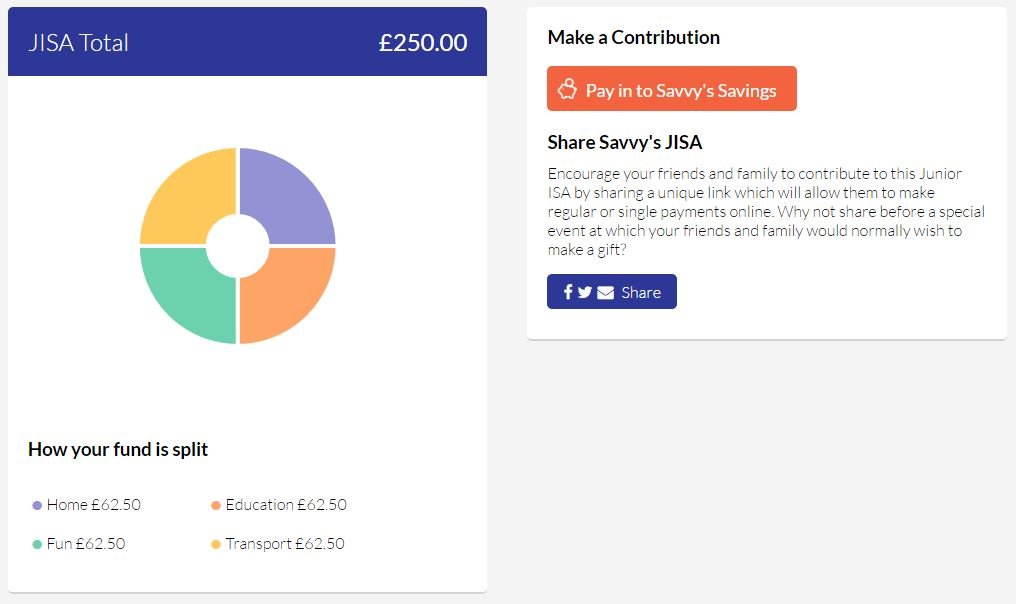 The Junior ISA account in action…
Upon logging in, I was greeted by an uncluttered and inviting setup. It was obvious that they were trying to keep everything simple, clear and user friendly. Whether you're familiar with banking accounts or not, some can be confusing with hidden menus, pins, codes and other obstacles that get in the way. This can hinder understanding of how to manage your money successfully. This account is in no way hard to navigate or understand. Even the non-tech savvy members of a family should be able to donate and set up deposits to save for their child without issue.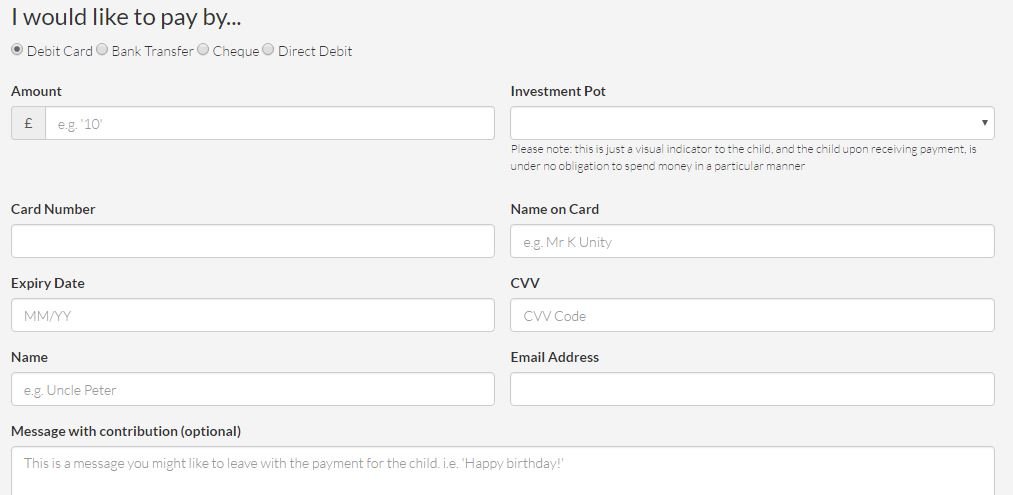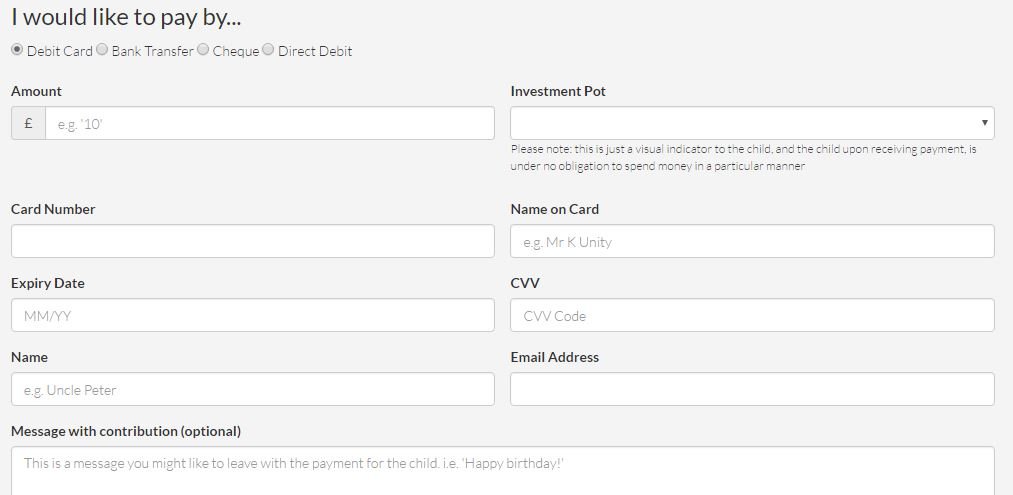 I really liked the fact I could setup simple to understand "pots" of money encouraging ongoing investment from friends and family. It was an intuitive process to navigate to the deposits screen and set up a deposit amount. Flexible pots offer the chance to guide future use, or say why it might have been gifted. If I wanted to give a pot dedicated to helping pay for driving lessons, I can. A pot for travel, I can do that too. A pot split 50/50 between money for university or funding their own startup? I can do that too. Really simple and easy to use. Each deposit sits on it's on to show the child how donations are made over the months and years.
One other aspect of the Kingston Unity offering, is the fact family and friends can leave messages attached to the deposits. These can be messages of encouragement for the child's future, life advice, tips on how to use their money wisely, or simply as a lovely keepsake from loved ones. Reflecting back on the comments of loved ones once the child is 18 can be a lovely addition.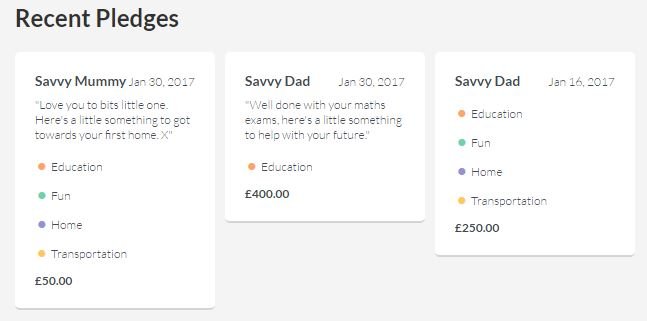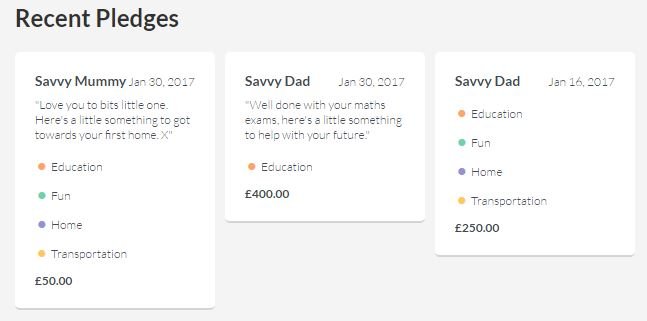 When friends and family members are giving deposits and setup a "savings pot", it's a guide. A suggestion only. The child can still decide how they wish to use the gift as they enter adulthood, but it gives direction and focus for consideration.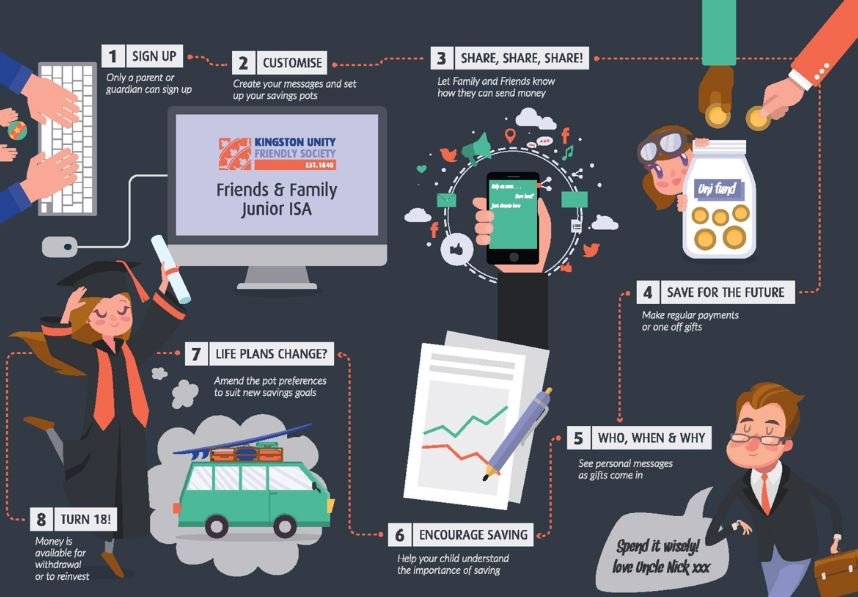 My opinion
There will always be an element of risk with these investments, but it is small in comparison to the savings potential. I'm recommending this product because of it's design and usage, rather than its quality of investment and return. You'll be best placed to consult an independent financial advisory service or consult the best buy tables if you're after complete security. But, for instilling a money-saving ethos in not only your child, but your family too, this product is highly recommended.
Kingston Unity themselves suggest that on average a grandparent may spend £75 on a toys and gifts per Christmas. How useful could it be to smaller gifts and put the rest away for the child's future? Not to mention less tidying up of toys at the end of the day. On it's own this Junior ISA will do nothing, but if you use it to work as a family to shape a child's understanding of investment in the future, it might just have better returns than expected.
Disclosure: Kingston Unity provided me with dummy accounts to access and trial their services. My opinions, as always, are my own and I took this opportunity to review the account based on the fact I am a great believer in encouraging families to nurture financial understanding and budgeting.