If you're looking to save money on your energy bills, it could well be worth the time to look into Octopus Energy's Flexible Octopus and Tracker tariffs. With the Flexible Octopus offering a 4% discount on energy prices guaranteed, those making the switch could see some real savings on their energy bills compared to their current provider. Plus, as a new customer, Octopus offer a free £50 bill credit when you sign up using the referral link in this article and switch from your current supplier. Not to mention, there are no exit fees with any Octopus tariffs, meaning if you decide you're not a fan you're free to switch again and keep the £50.
The switch process is smooth and easy to move to the Flexible tariff (see below) and will happen automatically in the background over a few days without any interruption to your energy supply. However, for the tracker, there is (in theory) a waiting list which we'll talk about later. All you need to do is fill in your details online and Octopus Energy takes care of the switch. Here are the easy steps you can follow:
First, it's worth checking your annual usage to compare your current prices with Octopus prices. Using accurate readings rather than selecting generic user types like low/medium/high will give you more accurate insight into the options available.
Input your postcode, then generate a quote.
If you're happy with the comparison, proceed with the switch.
You'll receive a confirmation email and the switch will begin.
According to Octopus t&cs, once your first payment has been taken, you'll receive the £50 credit on your account.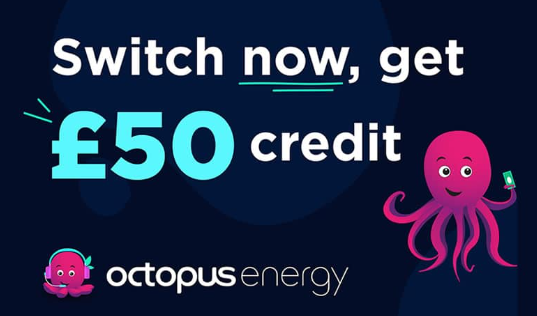 As alluded to earlier, one of the advantages of switching to Octopus Energy is that there are no exit fees, so you can leave for free if a cheaper tariff comes along. Also, if you have an Economy 7 meter (ie – a meter that has dual readings with a night rate and a day rate) and want one flat rate, you can do this over the phone or via chatbot with Octopus Energy, as they offer helpful customer service. If you're uncertain, contact them first.
If you switch to Octopus Energy's Tracker tariff, keep in mind that it has a 6-month waiting list and tracks the actual daily wholesale price of energy. Prices can fluctuate daily, so you'll personally need to keep an eye on them. If you read further down this article, we have useful information on how you may wish to do this. You can switch to the price cap tariff the next day if needed as again there are no exit fees.
Switching to Octopus Energy's Flexible tariff could save you some money on your energy bills (particularly if you're running tumble driers and dehumidifiers), and as a new customer, the bonus £50 bill credit can really help. They've paused this right now, but you can also add your details to the list for a free giant octopus toy for the family. The switch process is smooth and easy, and there are no exit fees if you find a better deal elsewhere, but why else might you consider Octopus Energy?
Why choose Octopus Energy?
Octopus Energy has won numerous awards for its innovative and customer-focused approach to energy supply. In 2020, they won the 'Best Energy Supplier' award at the Moneyfacts Consumer Awards and were named 'Supplier of the Year' by Uswitch. In addition, they have received recognition for their green energy tariffs, including the 'Best Green Services Provider' award at the Energy Awards 2020. These awards reflect their commitment to providing an excellent customer experience, as well as their dedication to sustainable energy practices.
Customers of Octopus Energy have also provided positive feedback about their experiences with the company. On Trustpilot, they have an 'Excellent' rating, with many customers praising their helpful and responsive customer service, easy-to-use online platform, and competitive pricing. Furthermore, their commitment to green energy has been appreciated by customers who are passionate about protecting the environment.
Octopus Energy offers innovative features to their customers, such as the Balance Forecast section on their website and in users' accounts. This tool provides more foresight and confidence in the risks and rewards for direct debit customers on the Flexible tariff and standard tariff and payment amounts, especially when managing your direct debits. With this tool, you can forecast your energy balance, monitor your energy usage and costs, and get personalized suggestions on how to save money on your energy bills. By utilising Balance Forecast, you can easily understand how much energy you're using and what it's costing you, so you can make informed decisions about your energy usage and payment amounts. This feature is just one example of how Octopus Energy is constantly innovating to provide a better customer experience.
How to keep track of wholesale prices and Octopus Tracker rates.
If you are planning to switch to the Octopus Tracker tariff, it's important to keep an eye on the daily wholesale price of energy as it fluctuates frequently. Thankfully, there are several ways to do this easily. One option is to follow helpful users like octo_tracker on Twitter, who posts a daily update on the price of energy, including the difference to the EPG and percentage changes daily. Another option is to check daily wholesale trackers like Market Match. These tools will help you stay informed and make informed decisions about your energy usage and costs. By staying on top of the wholesale price, you can take advantage of the flexibility offered by the Tracker tariff and potentially save even more money on your energy bills.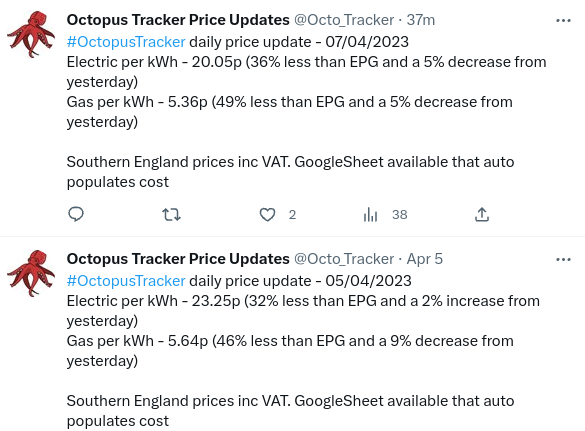 We'll be keenly looking into how the wholesale market prices move over the coming months and years but, as it stands, Octopus Energy's £50 referral code offer alongside the potential savings of the Flexible and Tracker tariffs means it's worth considering giving them a try. Remember, the no exit fee also gives peace of mind. Whether you decide to switch to Octopus Energy or stay with your current supplier, it's important that any move to a tracker is closely monitored.
*Disclosure: This article is for entertainment and educational purposes only. Nothing on this site constitutes financial advice. I am not a financial advisor. You should always do your own research and consult a qualified financial advisor before making big decisions with your money as capital is at risk with any investment. This post may contain links to external sites and affiliates, Savvy Dad accepts no responsibility for how you use these external sites and services (see Site Terms and Privacy Policy).