We're great fans of cashback apps like Quidco and Topcashback. However, if there's one thing we do find tiresome is the number of transactions that seem to take forever to actually pay cashback on them. This is why we're particularly interested in the new venture from Funding Circle Founder, Samir Desai. The 'Super Payments cashback app,' simply to be referred to as "Super," is a venture that seeks to take on the likes of cashback shopping kings like Quidco and payment giants like PayPal, with an app that gives fast, efficient payouts for shoppers who use it.
What is the Super Payment option and how does it help give you cashback?
Backed by a massive £22 million investment budget, Super Payments look to offer its own fee-free payment option with many stores, outlets, services and retailers in the UK. The merchants and retailers will have the option of listing Super as a payment option alongside the likes of your standard credit or debit card, Klarna and PayPal. Where retailers choose to do this, the customers (you guys using the app) can get cashback instantly! That's right, no waiting at all!
Where Super is not offered as a payment option, customers will still get cashback within 14 days. This is substantially quicker than most other services, where shoppers will often forget about the cashback due to them and potentially forget to chase it up if missing.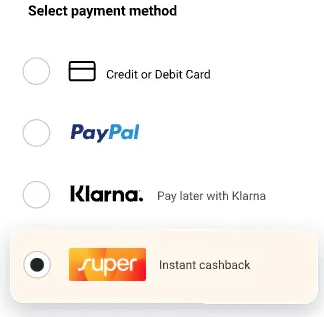 How long does Super cashback take?
According to the information available at the time of writing this article, cashback on transactions processed via the app will be paid instantly if the merchant offers 'Super' payments as a payment option and the shopper uses this option. For all other transactions, cashback funds will take up to 14 days to be processed.
How the cashback rates for customers (and costs for retailers) change over the initial launch months will likely be dependent on the uptake of Super as a payment option. We suspect the more popular Super Payments become alongside Klarna and PayPal, the more likely larger cashback offering are likely to appear.
Is there a £5 Cashback offer for the Super App on future payments?
The Super Payments website is currently in the process of onboarding and gaining users for its waiting list. If you register for the app now (referral link) you will get a £5 cashback credit on your account for when the app launches in late 2022. This can be redeemed on any purchase, with any merchant you shop with via the app, so long as the transaction is £20.
Can I refer friends to Super for additional £5 credits?
It seems that just like Quidco, PayPal and TopCashback, who all offer referral schemes, Super users can also refer friends, family and contacts. For each additional user that is referred through the unique referral links the Super app or site provides, an additional £5 will be credited to the referer's account.
How does Super benefit the shopper and brand?
In tweets on August 17th, Samir Desai commented on how he sees the service as cutting out the needless transaction fees and costs, passing the savings on to all involved:
"We have raised £22.5 million from Accel, USV, Localglobe and angels to launch Super (thanks for believing in us!). We think that shoppers and businesses have been stung by huge fees on the internet for too long from payments and digital advertising companies. It is effectively a tax on the internet, we don't like it and so we can change it together. We provide free online payments to businesses and instant cashback for shoppers. By moving the profits of payments and advertising companies back to users everyone wins. Join us."
We really like the idea of the Super Payments option and its associated cashback potential for app users. As we've already mentioned, there's a large grey area for the length of times cashback transactions with some cashback sites take. With Super bringing the payments below 14 days, or by making them instant, they are going to potentially revamp the field of cashback apps and payment options available. We look forward to seeing the results, but in the meantime, why not sign up for the waiting list and start referring your own friends for £5 extra credit?