I miss the days of the Asda Price Guarantee where customers were actually compensated and refunded when offers were more expensive at other supermarkets. The scheme, along with much wombling of receipts, ended back in 2018. But now, in 2022, Asda is rolling out the Asda Rewards App and Pounds Cashpot scheme. The app gives users money back on groceries via missions and star products. This article looks at how it works and how we think users can make the biggest savings from it and use it alongside other free money offers and cashback apps to make the most of their money.
What is the Asda Rewards App and how do I get it?
Essentially, the Asda Rewards App works like a mixture of a traditional cashback service, such as TopCashBack or Super Payments Cashback, mixed with the old money-off future spend vouchers issued in the now expired Asda Price scheme. Using the app, along with the internal offers provided will generate rewards in the form of a Pounds Cashpot. This Cashpot, if used cleverly, can build up to trigger redeemable vouchers for money off future Asda shopping.
Whilst some offers will be worthwhile in the app, others may be on items with raised (or inflated) prices. This means it's always worth checking if items would be cheaper elsewhere. That being said, the reason we're most interested in this app at SavvyDad HQ, is the potential to get staple items that can be stockpiled or used for everyday needs for reduced prices or for a "net free" cost.
You can download the app from the platform link at the top of this article.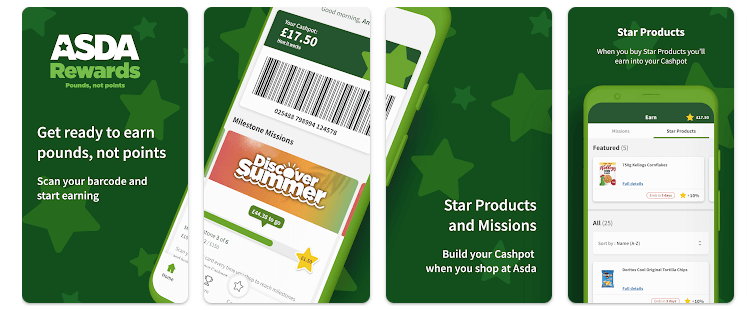 How does the Asda Rewards App work?
According to the terms and conditions the app can be used on a 'one membership per person' basis. Once downloaded and installed successfully it can be used like many other smartphone apps that save you money. The Asda Rewards App is clearly laid out and we could easily see the kinds of offers and deals available to us. These offers, which we'll talk about below, give users the chance to shop, genrate Cashpot, redeem and then use as vouchers to save on future shopping.
Savvy Side-read – How to make the most of Nectar Points using the Daily Mail.
Earn Money from Star Products and Missions
Star Products are products from the Asda range that are pushed out to the app with a specified Asda Pounds Cashpot bonus attached to them. When the user of the app buys the item and scans their app barcode, a reward is triggered to the account.
This works a little like the free and heavily discounted items available via cashback apps like Shopmium, ClickSnap and Checkout Smart which, coincidentally, may well stack nicely with the items users might be getting in the Asda App (hint, hint).
The Star Product offers in the app are only available for a limited period of time and must have been either paid for in-store by the date of the Star Product's expiry or paid for with no amendments by 23:50 if ordering online. Personally, I'd not leave these offers until the last day if you're looking to make use of them, just in case there's an issue with the rewards being triggered.
Missions are simply tasks that can be carried out there will generate additional rewards for the Asda app user. These rewards, if the mission is completed, will then result in Asda Rewards being reflected in the Asda Pounds Cashpot section of the app.
It's vitally important to check what items are excluded from these missions in the app as it could result in missed rewards if getting the wrong items. In traditional fashion, items like postage stamps, petrol, infant formula, lottery and gift cards are excluded from missions. There are more details below about a few of the mission categories that generate Asda Rewards Cashpot Pounds and how to make savvy use of them.
There's a maximum threshold of £300 per quarter that can be generated in each account, similar to the thresholds the old APG system Asda had a few years back to promote fair usage.
How to be extra savvy and make the most of these offers.
First of all, one top tip is to add your Asda Rewards App barcode/account number to a wallet. This saves you from needing to faff with the app at the till or needing to have it with you all the time. You can simply take a screenshot and send it to a cloud-based reward card wallet or go old school and print off the barcode to keep in a wallet.
The second thing to note is that this will only be of interest as an in-store App to you if you have an Asda store nearby. There's no point schlepping around for miles with the cost of living and petrol prices sky high as you'll be well out of pocket.
When we first booted up the Asda App, the Fruit and Veg Bonus was the first of the missions to appear. At first glance, it shows as an okay £1.50 reward for buying 10 lots of fruit or veg. That's not bad at all, especially if trying to scratch cook and buy healthy food. However, if users think carefully, they can really maximise the rewards versus expenses to complete this offer.
For example, the offer is listed as "10 packets or individual items". Now, packets suggest larger amounts and therefore large costs and expenses. Whereas "individual items" is where it gets more interesting in terms of potential rewards.
Why? Well, historically across many supermarkets, individual weighed items allow less weight and therefore less cost to be scanned but still register to price comparison and such.
Instead of buying a pack of 4 jacket potatoes, for example, and the app only seeing one transaction to generate rewards, users could buy 4 individual baking potatoes and get 4 lots of qualifying rewards for that transaction. The less weight to these items, the less cost to the user. So items like potatoes, bananas, carrots etc are all potentially up for grabs as single items. This means that users could complete the mission to get £1.50 rewards, potentially by spending less than or near £1.50 on items. All this increases the affordability of the groceries and the potential of the rewards process.
This would all need testing out as the Asda rewards app develops and evolves over time, but in theory, multibuy offers might also trigger the rewards too. Asda frequently have, in their fruit and veg offers section, 2 for £2, 3 for £1 and 2 for £5 offers. For example, grapes are listed as £1.20 each or 2 for £2 and would most likely count as two portions of fruit. 2 packs of blueberries in the 2 for £2 offer count as 2 x fruit portions
The savvy saver in most readers of this site will know we like a yellow sticker bargain or as they're known at Asda, "Whoopsies". These are the store's reduced to clear bargains. Depending on the time you go into your local store, and the reduction policies and procedures they have in place, these reductions are also likely to qualify as triggers for the missions in the app. So reduced fruit and veg at bargain prices can be used in bulk, budget meal ideas – like our savvy vegan shakshuka recipe and net money back rewards in the app. Happy days!
Oh, and not to be sniffed at… Asda will also give you 1p off your receipt for using the app!
Other missions listed in our app included Health and Beauty bonuses of £2 rewards when you buy 5 items. Using the same tactic as used for the fruit and vegetable category, users can potentially trigger rewards efficiently here too.  Again, we'd suggest using this on items you'll use regularly or will store to use over the year. Items such as toothbrushes (25p for 2 packs), mouthwash (47p each), sanitary towels (10 to 16 pack sizes for 49p each), hand gels and shower gels (search by price), would all hopefully work to be dirt cheap or free after the rewards cashpot payout. See the illustration below for prices at the time of writing this article.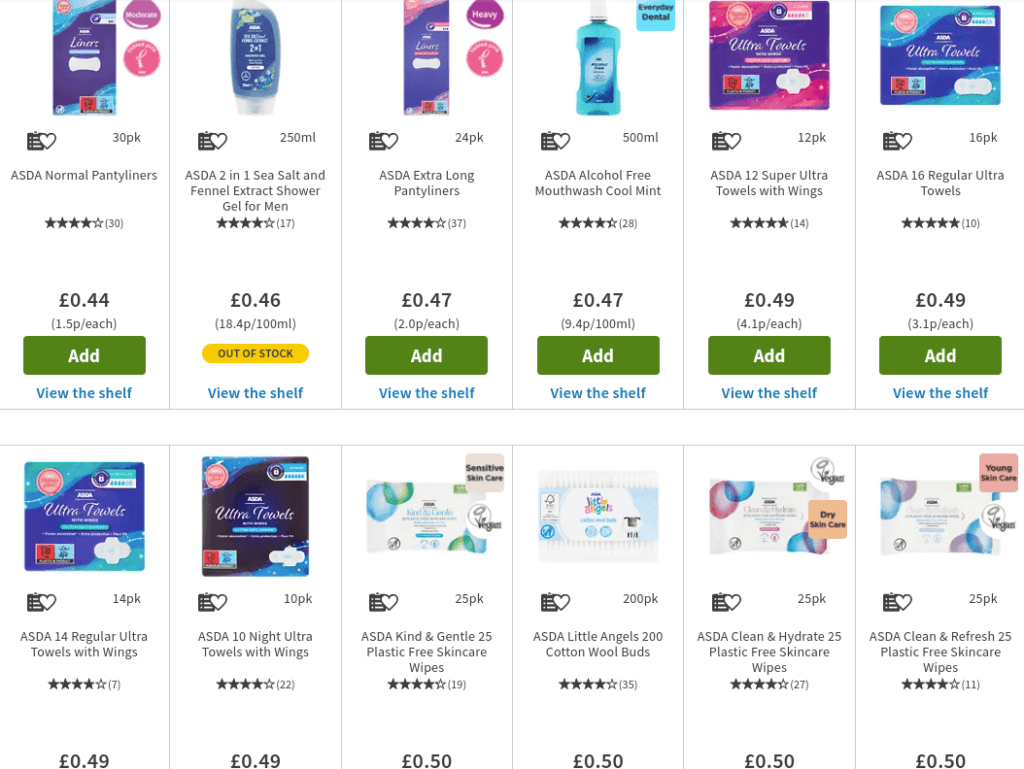 There's also a Back to School bonus currently listed in our app which may be of interest to those trying to save extra on uniforms and find footwear discounts. Multibuys and offers may kick in here too.
Conditional Spend missions also feature, which are useful if you shop at Asda for your general weekly shop too.
There's mention of special "boost" spends too and we look forward to seeing how these work and develop.
How to redeem and cash out the Asda Rewards
As users earn via the app, they will be sent rewards to a Cashpot which will have a total value, just like in traditional cashback apps. According to the detail we've found, thse should appear within 24 hours of the triggering transactions.
These funds can then be "swapped" for money-ff vouchers to use on future deals and spending. So in theory, depending on how often the offers refresh, you can use the vouchers to pay for the next triggering mission "rewards" shop – a kind of rinse and repeat, money-saving shop. We say this because, as far as we know, if you have a voucher already and the value of the next shop on the app is larger, it'll use that to pay automatically.
There are expiry dates on the Cashpot and vouchers. Expiry dates for the cashpot balances seem to be 6 months from the transaction. Once converted, the generated vouchers have a much shorter expiry date, so only covert them when you're ready to redeem them and have planned your next shop.
In App extras from Asda
I'm not a fan of popups and push notifications (ironic, as we use them on this site). But in the case of the Asda Rewards App, the pop-ups and notifications will either update you on the offers, discounts and perks you can benefit from, or signpost you to other offers from the Asda brand such as their Asda Money Visa Credit Cards.
At the time of writing, this offer card would give those who sign up an additional 2% back on their Asda spends within 60 days of opening the account and 1% thereafter. It's not a competitive card overall, but if users usually pay their balance off in full each month, and regularly use Asda for shopping, then it may be useful to some as an offer. In general, always look to the comparison charts and credit card best buys on reputable sites like MSE when comparing cards. Most pop-ups like this though are probably worth dismissing as in this article we're really looking at making the most of the rewards app more than other extended services from Asda.