UPDATE August 2022: Whilst ASDA price guarantee no longer exists, this article still has some useful tips on how to save money at ASDA and we hope to bring updated information on saving money at Asda with the Asda Rewards app.
Asda Price Guarantee – How can I save money at Asda?
When it comes to great-sounding money-saving offers from the supermarkets, like the Asda Price Guarantee, nothing bugs me more than a shopper expecting it to save them money without effort. I've spoken to shoppers in stores who believe they're saving big money, but their trolley contents are doing the complete opposite of what they expect. Here's how to properly use the Asda Price Guarantee, something the store is hoping you won't do. So, how can I save money at Asda, other than the Asda Saving Card?
To save money, and I mean £10-£20 on a large £80 shop, you need to first look at how to use my Asda price guarantee trick. For reference, the Asda Price Guarantee says that you'll never pay more for a branded product, even on offer, than a competing supermarket. If the item would be cheaper elsewhere, or even the same price, Asda guarantee to give you a voucher for 10% extra off.
Simple so far right? Well, the nature of most of our shopping habits means that we still like bargains. So even if we've added some items we know are cheaper at say Tesco, we'll likely still add some "special offers" that seem cheap in Asda too while there. This is where it all falls down. The money you're saving on the products "cheaper" in Asda, take away from the Asda Price Guarantee voucher value you'd get for the items "cheaper elsewhere". It works over the value of your WHOLE branded shop.
This in reality means that you can literally be giving the supermarkets money you don't need to. But don't worry here's how to do a comparison shop properly and some savvy tricks and tips to get more for your money on ingredients for the best family recipes.

It's also worth looking into some of my other supermarket money saving offers such as Waitrose Pick Your Own Offers, using Tesco Food Love Stories, Supermarket wine deals, Saving on items in the John Lewis sale and where to find coupons to save on your supermarket shop.
Use MySuperMarket to assist a Asda Price Guarantee plan and save money at Asda
MySuperMarket is an excellent online tool for researching prices (make sure to use a reliable VPN like VeePN when shopping online, particularly while not on your home wifi). It's not always correct, in fact price comparisons on there are only ever as good as the price collection methods used. But, as a rule of thumb, it's a good place to start. Basically, all supermarkets collect their prices at set periods and these are fed into the MySuperMarket system. All supermarkets work differently, for example Morrisons collect their prices by hand still, which means there's potential human errors on price recording for the asda price check. Sometimes the person recording the prices might not even pick up on a price change too.
The collected prices give you a tool for "comparing" what an item costs and displays them as a compared chart.
In one browser window with Asda, and another with MySuperMarket. Have your shopping list of items needed and use the MySuperMarket site to find the supermarket where items are cheaper; this is the store your "targeting against".
Now, the store you're targeting isn't going to be cheapest for everything on your shopping list, so you need to do multiple shops. This is not as annoying as it sounds, in the supermarket it just means dividing your trolley in half and popped items cheaper at Tesco in one half and those cheaper at Sainsbury's in the other. If you don't do this you'll nullify the savings made in the Asda price check.
This is the important part, you're now going to add those items from your cheapest store into your Asda basket at FULL PRICE. This is because you now know that you've planned your shop and the Asda Price Guarantee will kick in to give you not only the cheap price you targeted at the other store, but 10% extra because of the Asda Price Guarantee.
Retailers and manufacturers have a little bit of a hustle going here. If you look at some weights of items, or quantities in multipacks, you'll start o notice something a little off. Yes, supermarkets specifically ask manufacturers to supply them with unique pack quantities; almost as is they don't want to payout on an Asda price check. So in one supermarket you'll find a branded 8-pack of fizzy drink, in the another it will be a 6-pack, another one a 10-pack, and so on. This means as is by magic the supermarkets don't need to pay out as you cannot compare different quantities and weights. It is a conspiracy? I wonder, but it is certainly something to look out for when doing a comparison shop and using the Asda price guarantee trick.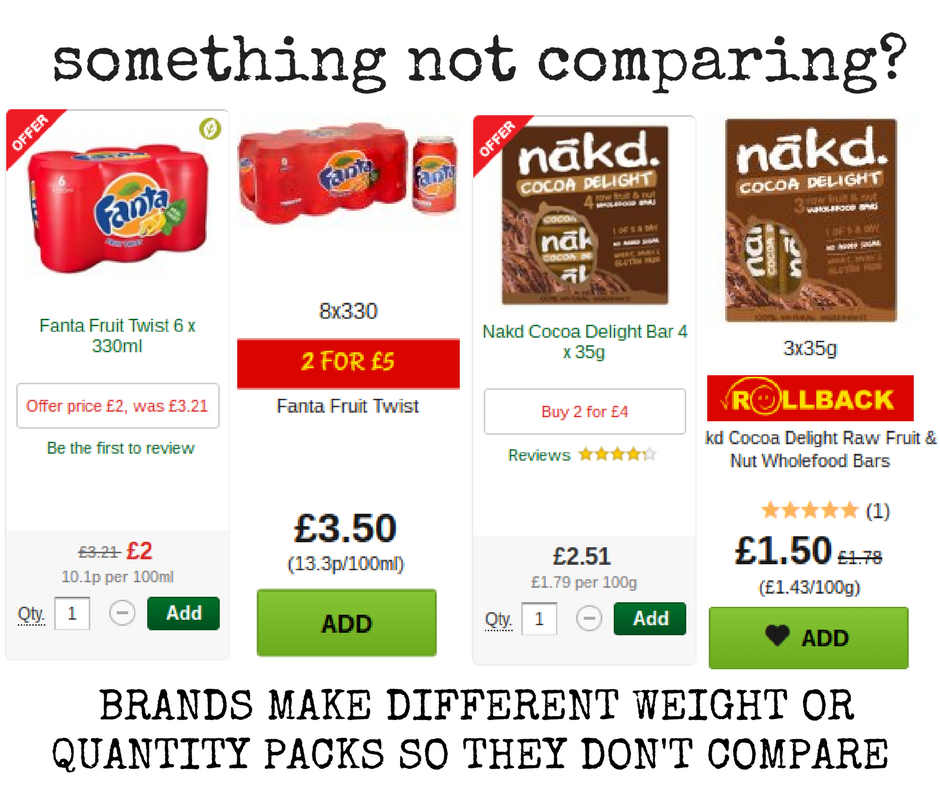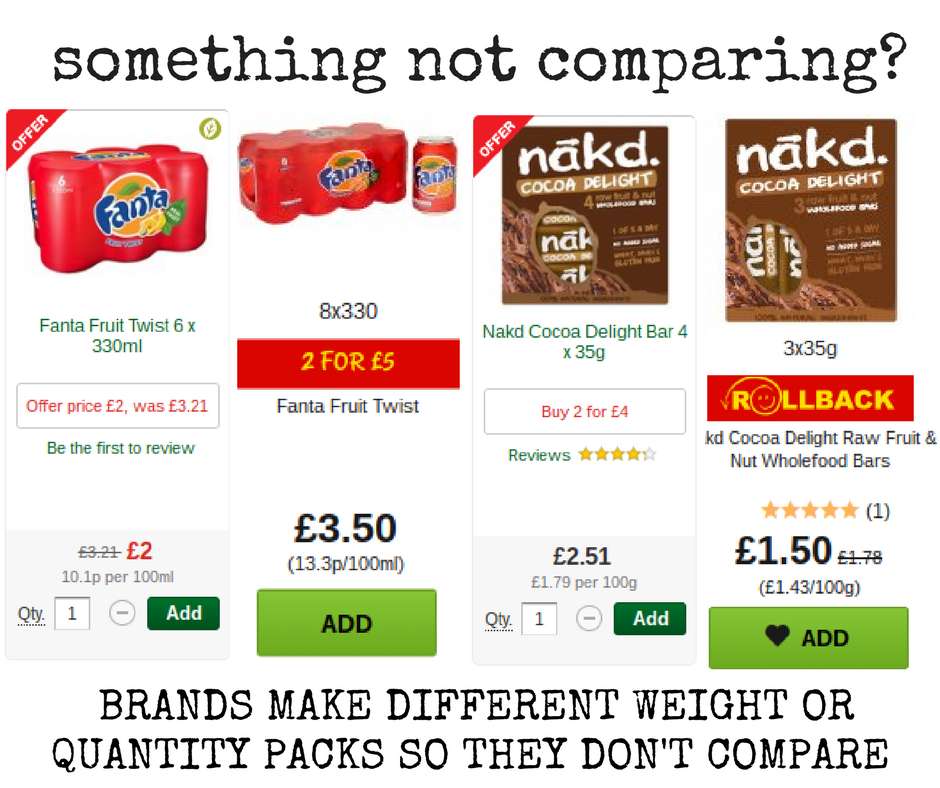 Consumer Power: Play the system yourself with the Asda Price Guarantee Trick
To max your savings you need to get crafty yourself. Now the Asda Price Guarantee only compares up to 10 of one type of item. This can work in the shoppers favour as you can save big on glitching the system. This works because the Asda Price Guarantee cannot cope with offers elsewhere that have more than 10 items. Most commonly I've used this on mix and match offers like baby food jars or Muller yogurts – Which, by the way, can all be frozen using reusable freezer bags to make them last longer. Here's a photo example from last year…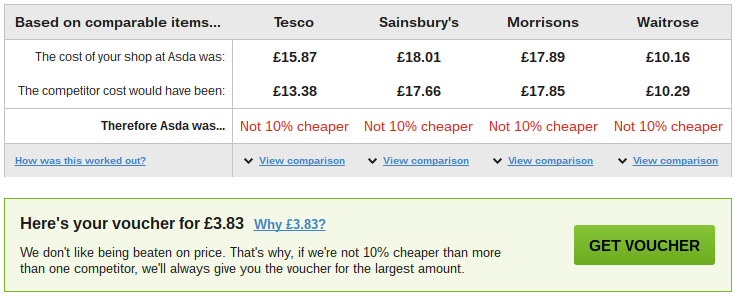 Say Waitrose have an offer for 10 Hipp Baby food jars for x amount of money. Well if Asda stock them in a "12 for x amount" type offer you can get 11 of one "flavour" + one other with with Asda (and pay the offer price). But the Asda Price Guarantee will only see 10 jars of "one flavour" at full price and NOT a multibuy offer. Therefore it can't match the Waitrose price and pays out. This means you get the Asda offer price AND an Asda Price Guarantee voucher. The computer can't cope and it works in our favour to the extent where you can almost eat for free.

Side Note: Why not play the supermarkets at their own game? You can often use reward schemes from supermarkets (like the New Nectar rewards scheme and Tesco Clubcard Plus ) in combination with supermarket sales dates and 25 off wine deals to net some great savings.
Asda Price Guarantee Trick and Wombling
While in the Asda car park keep your eye out for dropped receipts as you can input the Asda Price Guarantee code and possible cash in on other people's dropped rubbish. This technique is called wombling. It basically means extracting any value from unwanted receipts and it can be used with apps like Shoprize, Shopmium App and other cashback apps too which get you free money from receipts. You can also combine it with the top wine deals. Check out my How to get 25% off supermarket wine deals
Careful of offer "end dates"
Multi-buys and offers can end at strange times. So, if you're planning a targeting APG shop, don't let your planned list sit around too long. Offers and prices will change and mess up your discounts. Also remember to qualify for comparisons, you need at least 8 comparable items in your trolley… single loose veg are the way to go 😉
Also if you don't have an Asda nearby, check out my guide on making the most of the Waitrose PYO prices with my clever tips. You can also look more into the differences and similarities of the top price comparison schemes in my Tesco Brand Guarantee versus Asda Price Guarantee article.