Here at Savvy Dad HQ, we're all about making life easier. Whilst money isn't everything – it does help. With that in mind, what better to have to hand than a number of free money offers, referral deals and tips to net you £££'s in free money in the UK.
We've tried to outline some of our favourites below and have hopefully outlined how to the most out of them. These offers can change at any time, so always read the terms and conditions when accessing the free money offers. Remember, with lots of these offers they are incentives to sign up. Our suggested way to make the most of these offers is to meet the requirements for the freebies or bonuses, cash out and leave, not to get caught up in actively trading as your capital will be at risk
FREE £5 (Well, £4.69) FROM BOTTLEPAY
>> Get You FREE £5 here <<
Bottle Pay is similar to many crypto access apps. In simple terms, they allow users to easily link a bank account securely through open banking and buy, trade and send crypto. Now, for this offer, you don't need to do anything significant with cryptocurrencies. You're merely using the swap feature to gain the bonus free funds, kind of like free cashback, swap them back to your local funds and cash them out.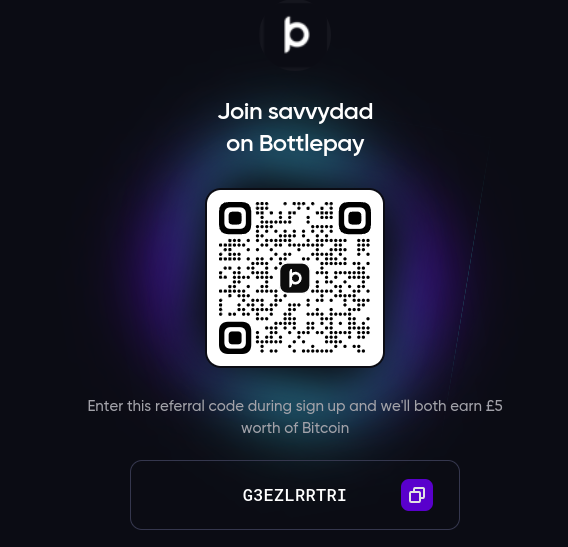 To do this you'll need to sign up via the QR link below and complete the application process using the code G3EZLRRTRI if you're asked). Most of this took us a matter of minutes, but we had to wait around an hour for the verification of ID to be approved. 
Once approved, we funded our account with £10 (£10.01 to be on the safe side) and then used these funds to buy £10 worth of Bitcoin which instantly triggered the £5 free funds to be added. After switching the funds back to my local currency, and taking into account the small transaction fee, I then had £14.69 to withdraw straight back to my account. Remember, like many of these offers you can refer anyone you fancy to net more free funds.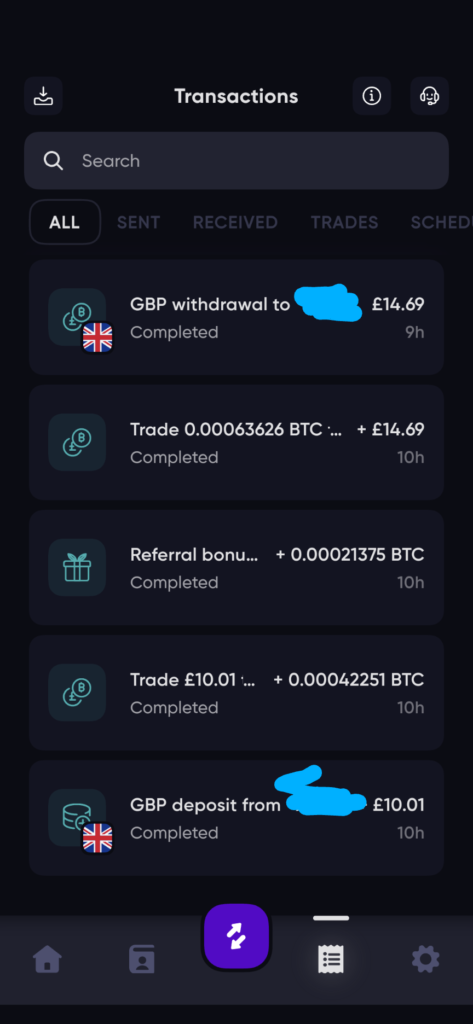 FREE £10 FROM MINTED
Minted is a gold buying app and service. Right now they're offering a FREE £10 when you deposit £30. The whole £40 (Original £30 + free £10) can be withdrawn instantly following the steps below at the time of writing.
Use the quick sign up here and fill in your address etc. >> Sign up here <<
If not already applied, add the referral code YFD9BP
Click add account/setup £30 monthly cash account
Verify your ID as part of this step.
Select the 'Gold' option, then select the earliest deposit date possible and a deposit amount of £30 (the minimum)
Minted will credit your account instantly with a £10 bonus once the funds are received. Users can then instantly withdraw the full £40 back to their accounts and close/cancel the plan. Note: This offer will only work for the first 14 people to use this sign up code and link >> Sign up for your FREE £10 here <<
FREE £15 AMAZON VOUCHER/GIFT CARD
>> Get your £15 Amazon Voucher / Gift Card Here (Note: Read the instructions and do not use the credit facility). <<
New users of Zilch can net themselves a free £15 Amazon voucher (currently boosted as usually £5). This is via a simple referral offer where additional rewards options are also available. There is no spend required for this offer at the time of writing this article and very little faff!
Zilch is effectively a type of 'buy now and pay later' service, similar to Klarna. It's not an interest-based service, but rather a fixed fee service. Importantly, for the purposes of getting the free Amazon voucher readers won't need to use these credit-related features – in fact, be very careful not to.
In order to get access to the free Amazon voucher, readers will need to sign up and complete the account setup. Part of this is verifying a mobile number and connecting a debit card. For this, you'll get 1500 reward points which are worth £15 (500/£5 if the boosted offer finishes).
Because the app is linked to finance, you'll need to verify your ID also which is the only part that you'll have to wait for. This is simply a photo ID and the selfie to match and once verified you can get your free £5 or £15 discounted via Amazon.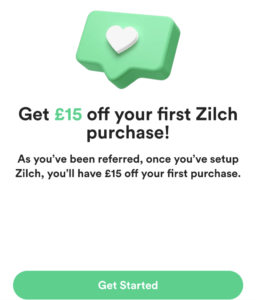 Zilch effectively gives you a 'virtual' card number to pay with, so once you're signed up you'll need to make a note of the card number as you'll need this in a moment on the Amazon website. 
Once you're verified, search the Zilch website/app store for the Amazon shop. This is usually in the 'featured section' due to it being so popular. 
Click on "enable shop". Also, tick the box for "Discount £5/£15" as this will mean that you get us the free offer rather than using the credit part of the service which is not free money. 
Once you're on the Amazon website, you can proceed to the e-gift card page or top-up page and select either a £5 or £15 amount (whatever matches your free sign up amount) – Don't add more than your discount offer amount, or you may be charged for this.
Add the account details of the virtual Zilch card you've been given once signed up as a payment method, then checkout. It's probably wise to remove this card as a payment method once you've netted the free £5/£15 to avoid accidentally using it in the future. Or, at the very least, make sure it's not your primary/default card.
Once ordered, you should get a confirmation email confirming your discount amount was used, rather than any credit amount from the Zilch account/card. Following this, you can either close the account or begin referring others via their refer a friend scheme which will give you both a further free £15 credit. Again, if you are referring, make sure your friends understand how to just use the free referral credit option to avoid unwanted charges.
If you're not after the gift cards, you can use the £15 free bonus directly on items from Amazon up to £5/£15. You can also make use of the vast number of other shops and outlets on the Zilch platform listings such as Tesco, eBay and more.
FREE MONEY FROM SHARES WORTH £20
>> Get a FREE £20 worth of shares to keep or sell <<
Shares.io is kind of branded and marketed as a social-friendly stocks and UK shares platform. The idea being you can chat and message with other investors and friends and create a strategy for growth or your portfolio. Like many other similar apps and trading platforms in the UK it is FCA regulated and easy to use. In fact, this is the most reliable and non-glitchy app we've seen.
For the purposes of this article, we're not after social investing. We're just after the free share offer worth £20 and you get that for opening an account and depositing just £1!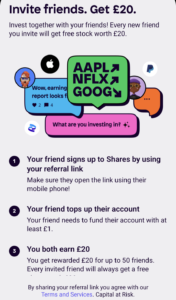 Whilst this is really simple, it's not the quickest. Why? Well, once you're validated, and you get your free share worth £20, you can sell it instantly but cannot withdraw it for a number of days. It stated 30 days for us, but we were able to withdraw within a week for some reason. It's still a really easy money offer, but worth noting your initial £1 may be tied up for a few weeks. 
A perk is you can almost instantly gain access to your own referral codes to generate further free shares. Be quick though as this free £20 is expected to reduce to a free £5 after May 27th. Sharing with and signing up extra friends nets you a further £20
*Disclosure: This article is for entertainment and educational purposes only. I am not a financial advisor and you should always do your own research and consult a qualified financial advisor before making big decisions with your money as capital may be at risk. This post may contain links to external sites and affiliates, Savvy Dad accepts no responsibility for how you use these external sites and services (see Site Terms and Privacy Policy).