First thoughts and opinions
I've written about matched betting before over a few blog posts last year. Whilst matched betting is a guaranteed profit-making endeavour, someone using the method to make money still needs to be careful and methodical in what they are doing. The reason I mention this is I do not wish to promote betting or investing in shares and stocks as a guaranteed way of making money. Matched betting, and indeed the shares-based offer I'm going to discuss in this article is "free" money extracted from sign up offers. Engaging in any other better or buying more shares is a risky business, so I heartily suggest sticking to the freebies and once you have them run away smiling with your profits!
The FREE share offer
So, what's the free share offer I mentioned in this article's title? Well, it is a brilliant sign-up offer from one of the countries biggest share trading platforms – Trading212. They are currently offering a free share of up to £100 in value when you sign up. I'm going to run you through the process in the steps below to see how much free money you can get too.
What is Trading212 and how does it work?
They are an investing and trading app based in the UK. They have good feedback, huge numbers of app users and in my experience have been simple to use (for the purposes of this activity at least). The service is free and offers 0% commission etc. We're going to be specifically looking at their "invest" scheme today for this free money offer.
How it works…
I'm going to list steps for you to follow, but the sign-up is reasonably straight forward anyway.
To get your free share, simply click here to sign up.
Choose your account type. This is the place to be careful, you'll be wanting the "invest" option – nothing else.
You'll need to fill in a few details to register over the next few sign up pages.
To get your FREE share, you need to deposit £1 (don't worry you don't need to invest it, and it can be withdrawn later).
Once you've funded your account you'll be in the interface for their app. It's a little busy but you'll be given a FREE share quite quickly and it will be shown at the bottom right of your screen.
The share value will be listed there, as "blocked funds"
You'll need to wait 3 business days for the share to be unlocked to sell and then you can withdraw all the money.
To my knowledge, there's no way of knowing how much the share you get will be worth. I've had friends say they had £40 ones, others were £6. Personally, I got a Credit Suisse share worth just under £10.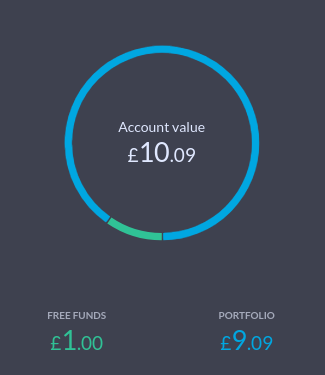 Now you could hold on to the share and see if it increases, but I'd rather take that free money straight out of the account and move on to the next profit-making certainty.
NOTE: Trading212 offer a friend scheme, allowing you to get more FREE shares.