It has never been more important to consider additional ways of earning money from home than now. The arrival of the coronavirus pandemic on UK Shores has meant that many people are either furloughed, on a reduced wage, or isolating in their homes. For some people this means that are working harder than ever to make ends meet and to supplement their income. To earn money from home, UK residents are looking for new ways to supplement their income. This article lays out a few ideas to help save those essential pounds and make money from home.
As an example, I am currently a key worker and in my workplace a few days a week. While I'm in work, as a teacher, I'm busy providing essential childcare to frontline workers' children. When I'm offsite, I'm also working harder than ever to produce online resources and support parents and children with their home learning via virtual platforms, educational resources and e-learning.  However, I do have some flexible time to use on my self-employed work with freelance copywriting and content creation and looking for additional ways to make and earn money from home. Now, if you've been furloughed from your workplace you are not physically allowed to do anything for your employer. Therefore, your free time at home can be used as effectively as possible to boost your earnings. Feel free to get in touch via the comments section if you can think of additional ideas to make money from home.
How to Earn Money From Home when furloughed or isolating in the UK.
Okay, let's get started with a selection of 9 ways to make money from home in the UK. All of the following suggestions either work by reducing your monthly outgoings, thus saving money, or by giving your earnings from home in the UK a boost. Most of them have been tried and tested by myself. However, if you have experiences that differ from those mentioned below, please get in touch and let me know the pros and cons of the tips you tried in the UK. I'd love to hear about your successes in achieving an income from home. The tips below are no replacement for seeking good professional financial advice of reading up on how to improve your prospects in the best business books.
Savvy Side Note: It's also worth looking at how to get £28 free cashback on TopCashback sign up offers. Or maybe you can make money upcycling old furniture to sell on Gumtree or you'd be suprised what you can make by learning how to make candles to sell.
Academic Knowledge – Earn money from home writing about subjects related to your academic expertise.
This is a great place to start if you're feeling that you can not use your expertise at home due to being furloughed. Maybe you have experience of an industry where your views and opinions will be a value. Or, maybe you've achieved a PhD or higher degree in some academic area which is not fully appreciated in your usual workplace, but might come in useful now in making money from home while furloughed. In which case Academic Knowledge might be the first money-making opportunity to look into it for you.
Academic Knowledge is an online platform allowing academics and research partners to link up with professionals and qualified individuals. It allows the companies to source views, opinions and insights into their industry via questionnaires and written studies. You'll need to have a good level of confidence in your subject, so this one may not be for everybody. This output for end users is similar to that on offer via other essay writing sites.
If you are confident in your degree subject, then it could be well worth checking out academic knowledge and submitting your profile. Earnings vary, as do the assignments, but you can earn £100's quite easily is you're fast with your typing and know your area of knowledge. As a rough rule of thumb, those writing assignments for these industries can make around £230 per month for 3 days work. You can put in you individual qualification level and time availability on the rates calculator on their website to see what you're likely to earn. Be aware, the only caveat with Academic Knowledge is the "grey area" of assisting University students if your writing happens to relate to them getting a grade.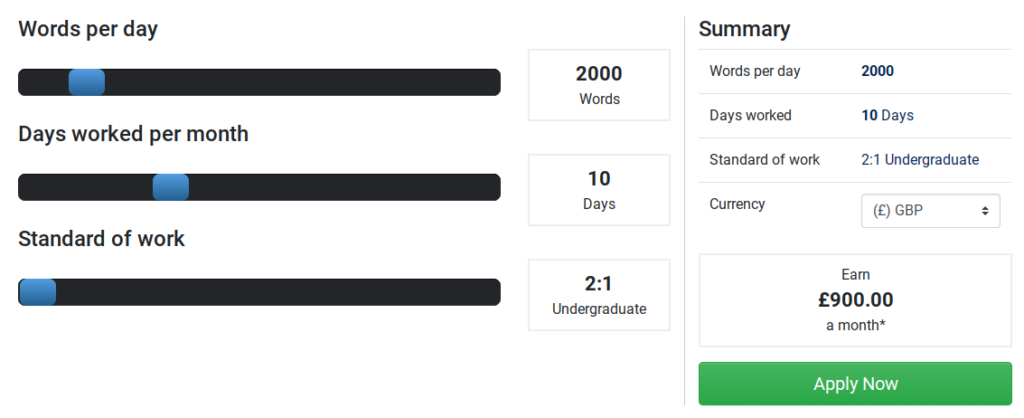 Swap to Cheap Energy Provider Bulb and net £50 free.
Another great thing to do right now is to look at your energy usage. Part of relieving the need to earn money in the UK from home can be simply spending less. That's why saving on energy, particularly when furloughed or isolating in your home all day, is important. Chances are your household is watching more TV, using more heating during the day, using laptops and tech and even learning how to bake.
With this in mind, it's the ideal time to look to low cost, high-quality energy providers and Bulb is one of the leaders. It is well worth reading more about Bulb and how to save significantly on your energy usage by combining their service with earning a free £50 credit for your electricity. To do this, you'll need to learn about energy savings with a bulb referral code. Once you've learnt about the savings you could make, and done a postcode comparison, you can use the Bulb referral code to sign up. Once signed up you can manage all of your energy needs easily via the Bulb energy login and the £50 credit should appear within weeks.
You can get the FREE £50 referral credit via the Bulb Energy Login
Matched Betting – Earn money from home using a non-risk loophole in Betting platforms.
Matched betting has been around for a while and it's a craft. You'll need to be good at using spreadsheets and also realise that this is NOT a lead to gambling. At no point should you use any games, bets and other incentives that are not those involved directly with matched betting. This is because all gambling has huge risks, whereas matched betting has NO RISK. The only thing that can possibly hinder matched betting as a method to make a few guaranteed pennies and pounds is human error.
Matched betting is effectively the process of betting on both sides in a sports match. For example, one bet is on a team winning and the other is on them drawing or losing. You've covered all outcomes so you bound to win one bet and lose the other. This roughly loses you a few pennies. But that's okay because you're after the sign-up incentives and the FREE money the goes with them.
Say, for example, you had a sign up offer for £30 worth of free bets when you make your own first £10 bet. If you bet the £10 on both outcomes using the "lay options" and "matched betting calculators" mentioned in my Matched Betting Blog you'll lose a few pennies. But… you'll then have the free £30 credit which you can similarly match bet in the same way and then withdraw as winnings. You can read more about how I got on getting started in matched betting and how to earn money from home with matched betting in my other articles.
Start your own website
Yes, there's an initial outlay on buying a URL and hosting package. But if you put a strong focus on SEO and strong organic content, you can make more than you spend within a few short months on Adsense advertising and eventually as your MOZ DA/DR scores raise you'll command more spontaneous sponsored collaborations. This means starting your own blog or website. Check out Audiology SEO for insight on why SEO is important.
eBay Sniper Tools – Get more money in your bank account by learning to spend less on eBay using Sniper Tools.
Part of earning more, as mentioned earlier, can be linked to spending less. So to supplement the good intentions of trying make more money from home in the UK, those trying to work from home can also save on their shopping via sniping.
Sniping is the process of swooping in on an online auction in order to get the product you want for the cheapest price possible. It works by using the Best eBay Sniper Tools to help win an auction. For example, maybe you're looking to replace a piece of home entertainment tech in your home. You would look to compare offers and deals at sites like HotUKDeals and MSE. Then, once you've gained a rough idea of the item and its price you would look on the biggest UK product website and compare it's price history at CamelCamelCamel to know if it's a good price.
With all of that price information to hand for your piece of home entertainment tech, you'd then head to the main auction websites like eBay. Find the same item on eBay and look for "auction" listings only, not "Buy It Now". Once you've find the item you like you can then use a tool like, for example, JustSnipe. This tool will let you enter the listing number and will bid the lowest amount possible at the latest possible time for you. It's all automatic. The beauty of using a sniping tool is it will bid on items ending in ungodly hours of the morning. It will also place the bid at periods in time that are too brief for other bidders to physically respond to outbid you. The net result is you'll cut huge amounts off the total price you usually end up bidding for items.




Free Online Lotteries – Make money from home with as little as your postcode needed.
Everyone enjoys a good "side-hustle," a means of making extra money. Some do so by joining high volume
competitions on websites
,  engaging
earning money using apps like JobSpotter
, or even trying matched betting like mentioned above. But the Free Postcode Lottery site is a decent way of getting potential extra pounds for the inconvenience of one-clicking every day. The big wins sit at around £1,200 and all you need is your postcode to enter the
free postcode lottery.
Earn a free share worth up to £100 from Trading212
Stocks and shares hold an inherent risk due to the nature of fluctuating markets. However, Trading212 are offering a free share for registering worth anything up to £100. I registered and within weeks cashed in my share for £10. They also offer a refer-a-friend scheme allowing you to earn extra shares. To read more about the free shares deal, read my article How to get a free share worth up to £100.
This is approximately how it works…
To get your free share, simply click here to sign up.
Choose your account type. This is the place to be careful, you'll be wanting the "invest" option – nothing else.
You'll need to fill in a few details to register over the next few sign up pages.
To get your FREE share, you need to deposit £1 (don't worry you don't need to invest it, and it can be withdrawn later).
Once you've funded your account you'll be in the interface for their app. It's a little busy but you'll be given a FREE share quite quickly and it will be shown at the bottom right of your screen.
The share value will be listed there, as "blocked funds"
You'll need to wait 3 business days for the share to be unlocked to sell and then you can withdraw all the money.
To my knowledge, there's no way of knowing how much the share you get will be worth. I've had friends say they had £40 ones, others were £6. Personally, I got a Credit Suisse share worth just under £10. You can read more in this Trading 212 review.
Earn 100% cashback with BOOM25 – Earn money on your home shopping.
I think that cashback schemes are great, but this one adds a bit of fun and potential large payouts. Boom25 uses a unique reward scheme that offers anywhere up to 100% cashback. If you don't already have a Quidco login or Topcashback login, then this could help claw back money into your coffers! Read more about it in my guide to How to get 100% cashback with Boom25.
Cashback from the Shopmium App – Earn money from home using an array of great UK cashback apps.
The Shopmium App is one of my favourite cashback apps of all time. The shopmium app is easy to use, reliable to payout, and has a great range of offers. Not only does the shopmium app give you the opportunity to purchase items and get 100% cashback. It also offers you the option of buying items at 50% off and using a refer-a-friend scheme to get the additional 50% paid back to you as credit. This makes the 50% off items free too! You can read more about how easy the shopmium app is in my Shopmium App article. Which, coincidentally, has a code to give you freebies as soon as you sign up.
Use your time to clear out house and how to sell on eBay, Gumtree, WeBuyBooks and Music Magpie.
Clearing out your junk while in lockdown could be a productive and lucrative action. Everything from old furnishings to unwanted tech can bet sold to make money from home in the UK.  After all, there's no sense in paying for storage room for things you no longer want or need.
The first thing to do is sort room buy room. Then, once your sure what's no longer needed, learn How to sell on gumtree and make money from home. Once you've listed items, consider also using second-hand buyers like WeBuyBooks and the WeBuyBooks App. This great book-selling app is ideal for clearing your cluttered novels and pays a surprisingly high amount for old books and text books. If you manage to get £25 worth of books scanned in using the WeBuyBooks App then you'll get an additional 5% money on top. The WeBuyBooks team offer free postage and postal labels to the WeBuyBooks UK HQ and have great reviews. I've used this myself regularly and had payments clear really quickly with no issues. Music Magpie is also worth a try and the code MAGPIE10 may get you an extra 10% cash!