Finding beautiful Mother's Day gifts, getting Mother's Day flowers delivered and seeking out discounts on Mother's Day magazine subscriptions just got a lot easier thanks to Quidco.
I've teamed up with the lovely people at Quidco HQ to offer my readers a truly fantastic £15 cashback offer that can unlock some great deals from retailers like Bloom & Wild, Boots, Magazines Direct and more. In fact, the offer can be used at all of Quidco's 4000+ brands and retailers meaning you can adapt this offer to your needs.
Fancy Mother's Day flowers for FREE? Or a 6-month magazine subscription for just a few pounds? Perhaps stocking up on beauty items from Boots floats your boat? Well, in this article I'll be focusing on how to get the most value out of the offer from Quidco HQ.
If you find the deal works great with other retailers, offers and Mother's Day gift ideas please let me know about them in the comments section for this article.
Spend £15 with any Quidco retailer and get £15 back!
If you sign up to quidco via this link you can get £15 cashback on a £15 spend this Mother's Day. This can be used on anything from beauty products in Boots, to Flowers and Mother's Day gifts from Bloom and Wild.
How to get the FREE £15 cashback offer from Quidco:
Browse over 4,000 brands offering you cashback
Complete a purchase with ANY cashback retailer on Quidco
Earn cashback on your purchase just for being a Quidco member
Get a £15 new member cashback bonus on your first purchase
Withdraw all of your earnings to your bank, PayPal or as vouchers
Remember: For your cashback to track please visit the retailers directly from your Quidco account once you've signed up.
£15 off Mother's Day Magazine Subscriptions on top of sale discounts at Magazines Direct.
There's a great magazine subscription sale on at Magazines Direct, one of Quidco's retailers. My mum loves a magazine subscription to try out something new each year and the introductory subscription offers not only give upto 37% off but can give access to subscriptions for almost nothing using the £15 off discount from Quidco.
For example Ideal Home magazine or Woman and Home magazines are on discounted sale for £18.49/£19.49 respectively for 6 month gift subscriptions. With the use of the £15 cashback Quidco offer you can bag them for just £3.49 or £4.49 after the £15 cashback deal kicks in! Oh, and Magazines Direct often have additional discount code offers on their site which may stack.


£15 off Mother's Day Flowers from Bloom and Wild.
The Quidco cashback offer doesn't specify that additional discounts and offers cannot be applied with the retailers via the sign up offer. With this in mind you can unlock some fabulous value premium Mother's Day flowers for delivery via cheap, cheap prices using a stacking £10 off Bloom & Wild code. (code 8DVT2P Note this code may only be valid until 15th March)
Here's how:
Visit Bloom & Wild via this link and their website will automatically adjust to take £10 off all Mother's Day bundles. (See the image below for examples)
Navigate via your new Quidco account to the Bloom & Wild page on Quidco and click through to the Bloom & Wild site.
Choose your Mother's Day flowers for delivery, check out, pay!
According to Quidco terms, your £15 cashback should then track in your Quidco account as a "bonus cashback" while it's processed.
Withdraw your £15 back from Quidco via PayPal or directly back to your bank account
The net result of this offer can be illustrated via the "Millie" bouquet on the Bloom & Wild website which usually retails for £30. Via the Bloom and Wild link you'll knock this down to £20. Then via the Quidco offer you'll cut another £15 off making the net cost only £5!
If you're looking to max out your savings, the "Charlie" bouquet is Bloom & Wild's cheapest offering and after the discounts mentioned above would be FREE other than postage cost.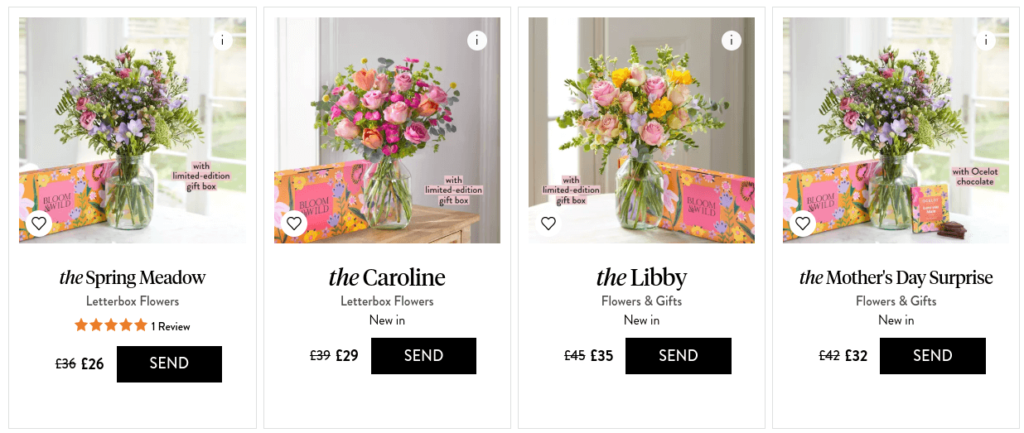 £15 off Mother's Day Gift Sets from Boots.
Boots has launched in store and online an amazing range of Mother's Day beauty Gift Sets. These are not only great value due to the Boots 50% off / Half Price sale, but also because these great deals are made even more affordable due to the Quidco offer. Via the use of the £15 Quidco offer mentioned above you'll slash the cost of this fab beauty range and be able to give the gift of beauty for a fraction of the cost this Mother's Day.  
The guide below shows how the Quidco offer works to give you Mother's Day beauty discounts. Take the following examples: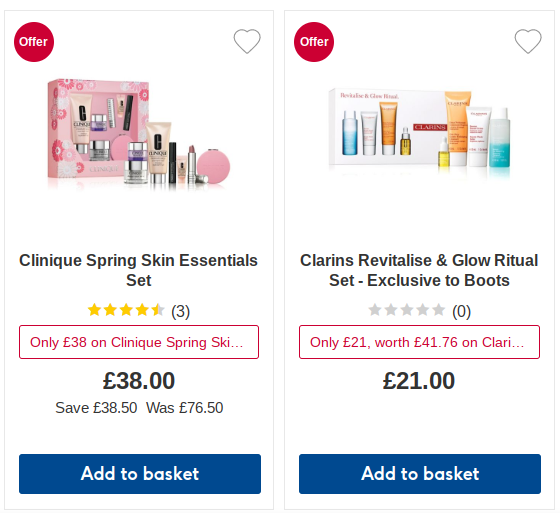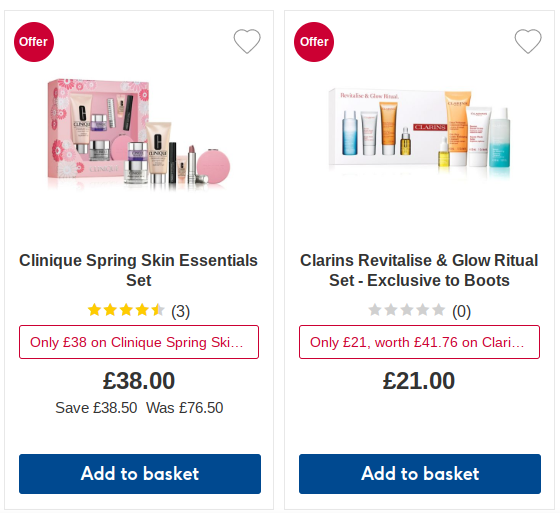 Via the £15 Quidco cashback offer and the 50% off from the Boots Mother's Day sale, the Clarins Revitalise & Glow Ritual Gift Set drops from the original retail price of £41.76, down to just £6 after Cashback and sale prices!  (£41.76, down to £21 in sale – £15 Quidco cashback =£6)
Note that there's free Click and Collect options for Boots Stores.
If you've not already been convinced by the great, easy to use cashback deals available via Quidco, then visit them to find out more about other retailer offers today. The cashback savings aren't just reserved to online cashback either, you can save money on your grocery shopping too via Quidco's ClickSnap. 
Get to it! Get saving and #Quidcoit today!
This is a Sponsored article. All views remain my own.