The Food Love Stories Tesco has on its main supermarket website are simply fantastic as recipes. You may have seen them in recent TV commercials in the UK or noticed them while browsing the internet. I'll be looking at a few of the most popular recipes and finding out if they can help you budget your meals and control cost per serving for all of the family. This is particularly useful for those struggling and looking for extra ways to earn money from home and make money they have go further.
What are Tesco Food Love Stories?
Introduced, as far as I'm aware, in late 2019. The Tesco Food Love Stories is an online repository of colourful recipes, full of delightful ingredients, available from the Tesco website. The portfolio of recipes is split up into individual sections ideal for illustrating meal prep and scratch cook creation for beginners.  It features everything from family meals, quick eats, healthy bites, virtually whatever you could need. This article will primarily be looking at the value for money customers can get from these recipes and how easy the website is to use to actually achieve that value for money.

How does Tesco Food Love Stories help me with budget cooking from scratch?
Take a look at John's Isolation Lamb Recipe that was advertised on UK television prior to Easter. The advert which was part of Tesco's Food Love Stories campaign not only provides a beautiful-looking dish, it also gives it a story the shoppers can associate with. Via the use of the Food Love Story, Tesco allows the readers of their website recipes to "buy in" to these beautifully presented meals. This works, in no small part, due to the fabulous food photography and the fact you get to see individual ingredients being added to the dish as it is made.
This cooking narrative allows Tesco to place an enthusiasm for cooking from scratch in customers' minds. The recipes are colourful and easy to follow with the well designed Tesco Food Love Stories section on the website helping to track down the recipe for you.
The marketing concept that Tesco has applied to this is a stroke of genius. They use the beautiful stories and imagery to get customers to their Food Love Story recipe page. Once customers are there, they are presented with not only the method and ingredients, but also direct call-to-action buttons in the form of "Shop Ingredients" buttons.  Within a few clicks, you can add the individual ingredients to your basket, But does this work to save you money by helping you budget meals from scratch?
Well, the answer to this is not straightforward. Whilst the recipes page is great in terms of laying out clearly the cost per serving of each recipe, it has issues with the adding to basket execution. When adding items to the basket, the Tesco system doesn't always use it's common sense. For example, a recipe may call for four lettuce leaves but actually add four individual lettuce to your basket. This is the case with the Food Love Stories Burger recipe. Whilst I like lettuce, this is likely overkill, and the cost per serving suddenly jumps.
Despite the Tesco basket system trying to add things in odd quantities, the recipes are still great You just need to make sure that when you click add to basket, you're checking the units/quantities being added. If you do this, you can actually use the Love Stories recipes to not only budget well, but also plan weekly meals around dietary requirements too. All of the recipes have a guide, highlighting the diet that the recipe is most suited to. There are also nutritional values per serving listed in the recipes and guides on how to Love Your Freezer, making your money go even further via bulk or batch cooking. For example, John's isolation lamb recipe features all of this info, plus the cost per serving info that is important for budgeting.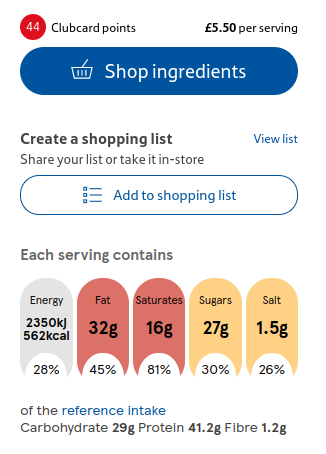 Tesco Food Love Stories Recipes to try
The Food Love Stories Tesco has an array of recipes to choose from. I've selected a couple below to show you what's available and how these Love Stories can help you to plan family meals on a budget.
The Food Love Stories Tesco has are all rated by the customers and the Enchilada recipe reviews remarkably well with over 400 5-star reviews. This recipe is not only easy to prepare as it takes just 15 minutes. It's also freezable and easy to scale up or down depending on your family size.
This is an incredibly versatile meal that you can alter to adapt to your tastes. If you're craving meat-free, chicken, beef, whatever, you can simply swap out ingredients. The Tesco shopping basket system helps with this and will offer alternatives as you go.
At £3.47 per serving, this burger recipe shows how the Food Love Stories Tesco has put together can sometimes go wrong. Whilst this recipe sounds amazing and again reviews well at a healthy 5-stars, it does have the potential to trip you up with quantities. Remember the overkill on lettuce heads I mentioned at the beginning of this article? Well, this Food Love Stories burger recipe is where the issue raised its head.
The Food Love Stories shopping list stated the correct amount of "4 round lettuce leaves". But as you can see in the two images below, this jumped to trying to add 4 whole lettuce at the basket stage:
Spot the error in the quantities below:

Are Tesco Food Love Stories worth using to budget for family meals?
The Food Love Stories Tesco has put together are actually fab. They are colourful, hearty, varied, and above all inspiring. Using the recipes will not only give you ideas to spice up your weekly family food plan, but they'll also help take control of your budget via clarity on "cost per serving". The use of the food love stories website also allows you to add your Tesco Clubcard and collect Clubcard points. Whilst I believe Sainsbury's New Nectar points scheme to be the best rewards scheme available from the supermarkets, particularly with when looking for supermarket wine discounts. The Tesco Clubcard scheme still allows you to collect clubcard points throughout the year and use them on events instore.