We all have different feelings about working from home. Love it or hate it, it looks like we'll be setting up shop from our spare rooms and using more gas and electricity for the foreseeable future. One of the trickiest things about getting started when you're working from home is keeping comfortable without overspending, especially in the winter months. Once you've stocked up on teabags and invested in a decent home office chair, it's time to start thinking about ways to keep the costs down within your working environment itself. Cutting costs on gas, electricity and general heating can be essential, especially if you're on a low income or on furlough.
Wrap up warm to save on gas, electric and oil
While it's tempting to stay cosy in your pyjamas when you work from home, the experts recommend that you should stick to your usual routine, and get dressed. You can still stay comfy in your smart-casual attire though. Opting for cosy socks and jumpers will let you focus on your work without the need to put the heating on full, and so will help towards keeping your costs low in the long run and protect your hard-earned income.
Stick to one room when considering heating
It's recommended that if possible, you set up your workspace in a quiet space where you won't be distracted by pets, other work-from-homers or little ones wanting your attention. This gives you some peace and quiet and lets you close the door at the end of your working day. As well as giving your wellbeing a boost, this also helps you save the pennies. Keeping doors closed and windows shut in your working room of choice means you can stay warm while you work, for less. Turn your radiators down in the rooms you're not using and you'll soon see a reduction in your gas, oil, electric or general energy bills over time.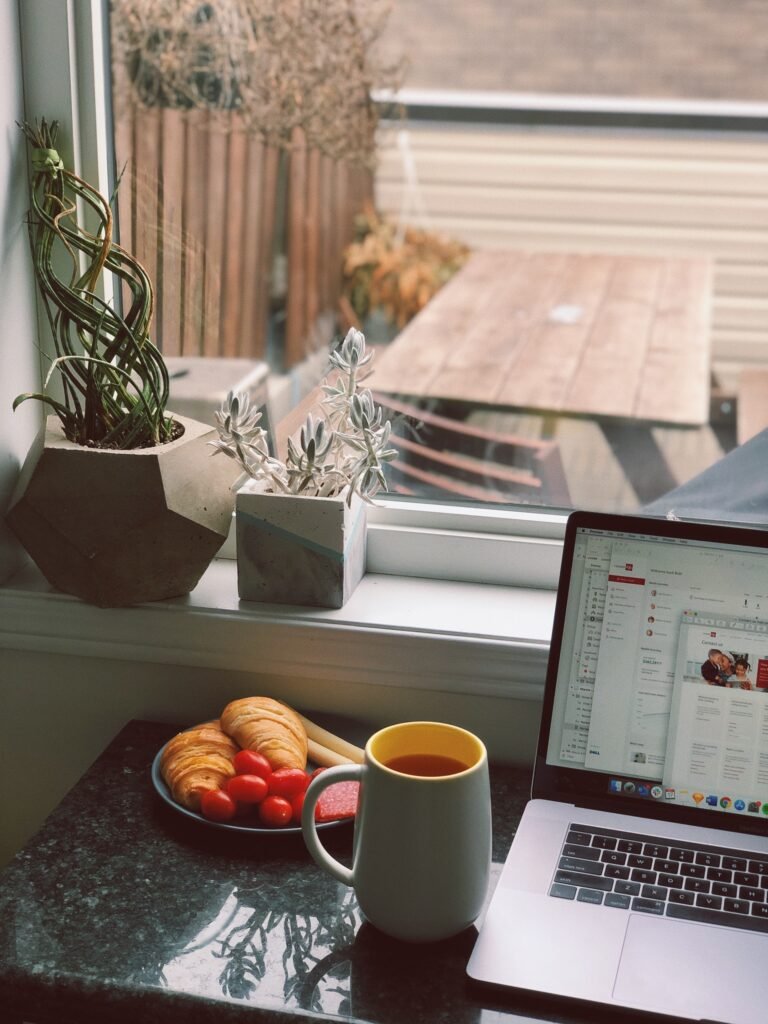 Check that your radiators are ready for winter
While the thought of constant heating might leave you worrying about your energy bills, working from a freezing home all winter is not a nice prospect. Rather than using portable heaters to keep cosy, you should turn your heating on at a lower temperature to heat your whole home. Even turning down the temperature by a single degree can have a noticeable impact on your energy bill, without making a difference in how comfortable you feel. This is a great tip for helping keep bills low to make the most of your income.
If your radiators aren't getting as warm as they should be or you can hear your pipes banging or rattling, there might be issues with your central heating. If you're in need of a boiler repair, or you're ready to make an investment with a brand new, energy-saving boiler, BOXT have you covered with expert, honest advice and competitive pricing.
Make the most of natural light
Whether you have a full home office or you prefer working from the sofa, it's a good idea for your set up to be somewhere with plenty of natural light. This has multiple benefits for your health and your bank balance. As well as giving you access to some much-needed Vitamin D, filling your home with natural light where possible means you can avoid switching the lights on, and even keep your radiators turned down lower.
Consider upgrading your boiler
So, you've compared oil or gas prices and sourced the best supplier? However, if your gas or oil boiler is older than 10 years old, it's increasingly likely to be an older inefficient model that wastes energy and money when compared to current models. In fact, by replacing your boiler with a modern A-rated boiler, you can potentially save hundreds of pounds and be confident that your heating is much more environmentally friendly."
Enjoy regular hot drinks
Staying hydrated while you work will keep your concentration up, stop you from getting headaches, and help you stay alert. Sipping on hot drinks throughout the day will also keep you feeling warm, so you'll feel less inclined to use up precious energy on getting toasty in other ways.
When you boil the kettle, make sure to only use as much water as you and your working from home colleagues need, however. It's estimated that you can save around £36 a year simply by only boiling as much water as you need – and you'll get a speedier brew too.
Whatever you're working from home preferences, creating and sticking to small habits to support energy conservation can make a huge difference to both your home budget and your enjoyment of the next few months.
This is a collaborative post.