Here in the Savvy Dad house, I'm always on the lookout for activities and tasks that will keep my two boys entertained and engaged, and let's be real, keep them from overdoing the screen time while video gaming. So, when the wonderful team at Winning Moves sent us a copy of the Women's European Champion Football Monopoly game, I knew I had to give it a try with the Little Savvies. Let me tell you, the game has really 'scored' highly in our household! Not only is it a familiar yet entertaining game to play, but it's also been a sneaky way to pop in some skill-building for the kids.
Read on to find out more about what we thought of the Women's European Football Champion Monopoly game and the Top Trumps that are also associated with the Lionesses' amazing journey to holding the European Cup. Alongside this, readers can also win their own copies from a combined bundle of gaming prizes worth around £215.
Why is Football Monopoly perfect as a game concept?
One of the things I love about this game is that it's perfect for football fans. The Women's European Football Champions edition of Hasbro's classic board game Monopoly is perfect for 2–6 players. It would make a great gift for a variety of ages depending on their maturity.  The game suggests aged 8 and up, but depending on the game length, my youngest loved it too at only 7 years.
My boys are huge football and cricket fans and they loved the fact that they could choose from tokens including the football boot, goal and trophy, and acquire recognisable players like Lucy Bronze and Beth Mead. By playing this game, my boys were about to discuss and consider more deeply issues surrounding gender equality in all sports, and the game has been a good talking point for us as a family.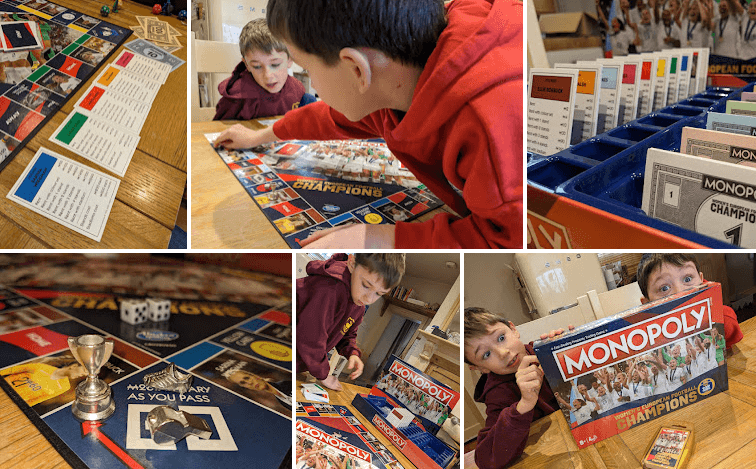 Because the boys could associate with the names and faces they had heard about recently, the game felt relevant, adding an extra level of excitement when they were playing. I felt that it also allowed them to develop their decision-making skills as they choose which player set, strategy or token they want to play with. My youngest really loves playing Ticket to Ride right now and so is keen to show off his strategic genius in comparison to mine, and yes… he often wins.
The game board itself is really unique. It features the iconic image of the Lionesses celebrating their victory, which really brings the game to life. My boys seem to love the fact that they can build their own England empire by buying up colour sets and using their custom Monopoly money to expand their empire by building stands and stadiums. There was also a great discussion about how the game was designed and how the value of the players was chosen leading to an agreement that the mastermind manager, Sarina Wiegman,  was worthy of the highest value section on the board. The game not only helps in the development of their strategic thinking and design concept skills but also helps them in handling money and considering how to budget well by saving.
One of the things that makes this game really exciting is the fact that you have to outsmart your opponents. There are Home and Away cards (like the old-fashioned Community Chest), which could help or hinder your chances of success. This adds an extra level of strategy to the game and keeps things interesting for everyone. It teaches my kids to be competitive and also to take calculated risks – usually.
Playing board games like this Football Monopoly edition, as a family, also helps build conversation and social skills. It is a great way to spend time with the family, and it's a lot of fun for kids and adults alike.
Ultimately, we thought the Women's European Champion Monopoly game was a very well-delivered update to the original Monopoly concept. The perfect gift for all football fans of the Lionesses. It's not just a game, but also a learning tool that supports understanding and equality in young minds. If you're looking for a new game to play with your kids, I highly recommend giving this one a try!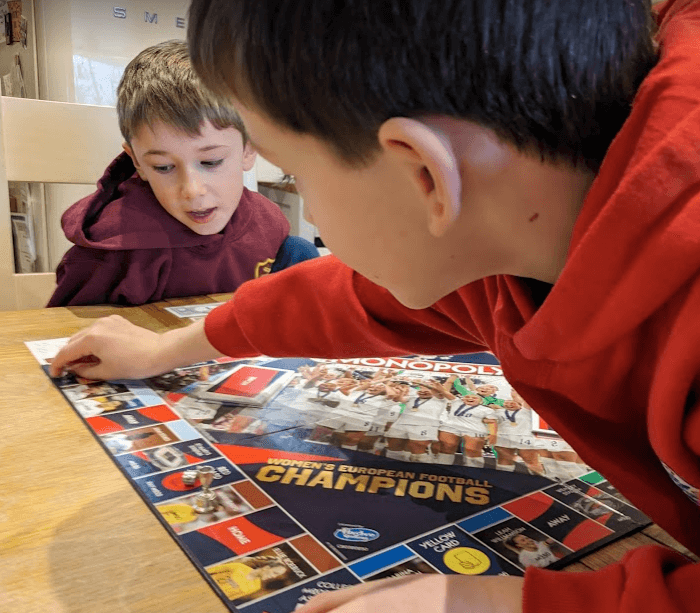 Love the idea of Football Monopoly? Win your own set below!
Thanks for reading our thoughts on this great game. To make this article even more rewarding, Savyy Dad HQ have some great news for you! If you're reading this article, you have the chance to win 1 of 5 sets of the Women's European Champion Monopoly game, along with a bonus set of Women's European Champions Top Trumps. The combined prize bundle is worth around £250 and it's the perfect way to get your hands on this fantastic game and start playing with your family.
To enter, all you have to do is complete the tasks in the gleam widget below. It's easy and quick to enter, and you could be one of the lucky five winners to take home this amazing prize bundle. The more entry options you complete, the greater your chance of winning!
So, don't wait any longer, enter now and you could be the one celebrating your victory with your own set of a Women's European Champion Monopoly game and Top Trumps. And, who knows, it might just be the start of your own road to football success. If you wish to buy directly from Winning Moves, why not join Quidco and get 4% cashback on your shopping with Winning Moves and a bonus £1 when you become a Quidco member.
£215 Giveaway (Win one of 5 sets of Football Monopoly & Top Trumps)

Note. There are 5 x prize bundles (each containing 1 x Monopoly and 1 x Top Trumps). Prizes are provided by and supplied by Winning Moves. We will pass the details of the 5 winning entries, chosen at random, to Winning Moves to send out the prizes. We accept no responsibility for lost or delayed prizes as they are not being sent from Savvy Dad HQ. Ends at on 11 February, 2023 at 11:59PM GMT