In recent years, the allure of indulging in a mouthwatering Chinese takeaway has lost some of its lustre due to takeaway costs putting a strain on many family budgets. What was once a delightful treat has turned into an occasional luxury reserved for those with ample funds. Inflation may go some way to explaining the prices customers will be paying, but those using takeaways are still paying for "convenience" or not having to cook. But fear not savvy readers! We've experimented to find a delectable fakeaway solution that allows you to relish the flavours of your cherished Crispy Chilli Beef at home, via a simple recipe, at a fraction of the cost, all while enjoying a healthier and equally delicious homemade version.
Considering the dilemmas of takeaway costs and convenience.
Remember those carefree evenings when ordering a Chinese takeaway was a cherished family ritual? Alas, escalating prices have transformed this tradition into a rare indulgence on a weekend. Families are often left grappling with the choice between treating themselves and stretching their finances. Enter our recipe for Crispy Chilli Beef—a culinary gem that, without sounding like we're boasting, allows you to not only recreate the much-loved Chinese takeaway experience in the comfort of your own kitchen, but also create an improved version without breaking the bank.
Elevating the Classic: Our Homemade Crispy Chilli Beef Fakeaway recipe
The path to cost-effective, home-cooked Crispy Chilli Beef begins with assembling readily available supermarket groceries and pantry staples. Our recipe ingeniously marries affordability with scrumptiousness, proving that you need not sacrifice taste to save money. By using the SavvyDad Crispy Chilli Beef recipe, which mirrors the cherished takeaway, you'll savour thinly cut beef steak strips, crispy and golden, tossed in a rich medley of rich and authentic flavours – all for less £'s than the takeaway.
Alright, imagine this: you, a pan sizzling with excitement, and a handful of everyday supermarket champs coming together to create a dish that rivals your favourite takeaway. Yes, let's get started on what you'll need and how the Crispy Chilli Beef magic is created…
Budget-Friendly Ingredients needed for the Fakeaway Crispy Chilli Beef (Serves 3-4)
So, here's what you need to round up from your culinary treasure trove. Most items can be sourced in bottles and jars and used in other recipes to make them cost-efficient, but check out your kitchen cupboards carefully to make sure you're not buying items you already have. This recipe works out to around £10 (£2.50 per person) if serving 4 people, including rice or egg noodles within the cost. The main expense is the beef, so swap this out for chicken or veggie alternatives if you wish to try cutting costs further (or try meat joint recipes that utilise slow cooker goodness!)
You will need the following ingredients for the Crispy Chilli Beef Fakeaway recipe, however, most fresh spices etc can be subbed to powdered versions from the spice aisle if you're looking to use less expensive options for fresh ginger etc:
– 500g thin-cut beef steaks (We used the Aldi Daddy Rump Steak), sliced into thin strips. – This is the main expense in the dish.
– 1 Large or 2 medium eggs
– 4 tbsp cornflour (cornstarch)
– ¼ tsp salt
– ⅓ tsp black pepper
– 5 tbsp sunflower oil
– 1 large brown onion, peeled and sliced into thin strips (go for two if you're all about that silky, oniony goodness)
– 1 red chilli, finely sliced – ditch the seeds if you're not feeling the heat
– 1 ½ tsp minced ginger (You can buy vinegar-preserved jars that keep in the fridge or, use powdered if you're trying to keep costs lower)
– 3 garlic cloves, peeled and minced
– 3 tbsp rice vinegar
– 3 tbsp dark soy sauce
– 2 tbsp tomato puree (tomato paste)
– 5 tbsp caster or golden sugar
– 2 tbsp tomato ketchup
– 2 tbsp sweet chilli sauce
– 150ml Orange juice (optional)
– Serve with Basmati Rice of Egg Noodles – Approx £2-3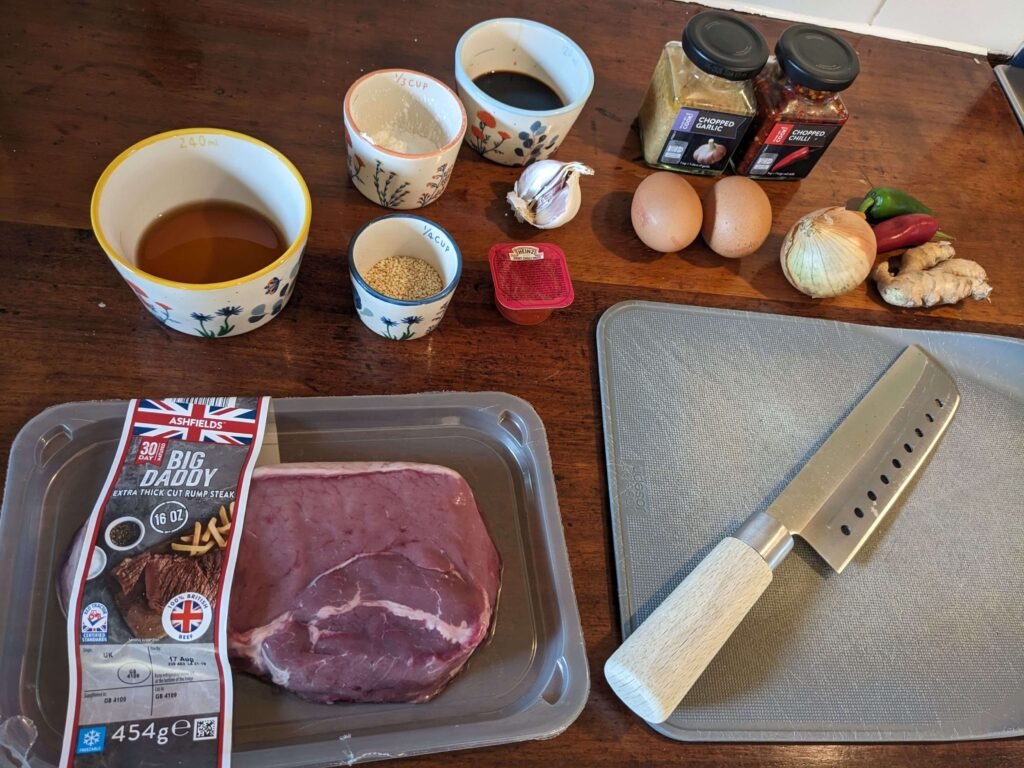 Let's Work Our Magic – Cooking up the Crispy Chilli Beef!
First up, open up your steak and cut thinly against the grain of the meat. Trim any particularly fatty parts off to avoid extra chewy bits and make the meat seem like a finer cut. Then, give those steak strips a luxurious egg bath. Mix 'em together until the steak is all cosied up in eggy goodness.

Now, it's time for the cornflour sprinkle! Add that cornflour into the egg bath, along with the salt and pepper to the mix. Keep tossing until any lumps of cornflour have gone – it's gonna be a little sticky and messy to handle, and that's a sign that you've got the good stuff ready to fry!

Get your pan (or wok) sizzling hot with 5 tablespoons of sunflower oil or similar. Traditionally, this would be deep fried, but I'm not a fan of wasting large amounts of oil or having risky amounts of hot oil around so I've opted for the safer and more affordable shallow fry.

Once the oil is hot, drop in some of the beef, one strip at a time, being careful not to let them touch each other and let them sizzle their way to crispy perfection. Keep the dance minimal – a flip here, a twirl there – and in about 5-6 minutes, you've got crispy, golden beef. It's worth noting that the hot oil will spit, so either place a lid on the pan if you have one or make sure you're not cooking in sleeveless tops etc.

Scoop out that crispy delight onto kitchen roll-lined bowls and give that beef a moment to catch its breath whilst you move on to round two, going through the same process with the rest of the beef strips before

bringing out the other half of your beef army to cool with their crispy friends.

Time to add some tasty drama!  dial back the heat to whatever your medium setting is, and in goes the sliced onion to the existing oil. A quick sizzle for about 2 minutes and the onions should be all softened and ready for the grand show.

Now, it's time to invite the real stars to the party – finely chopped chilli, minced ginger, and minced garlic. They'll dance in the pan for about 30 seconds, spreading their aromatic magic. Be careful not to burn the garlic in particular as this can spoil the taste a little.

Rice vinegar, dark soy sauce, tomato puree, sugar, tomato ketchup, and sweet chilli sauce take center stage now. All popped in and carefully folded in the pan to avoid sticking. Crank up the heat a little, let it bubble slowly, and watch that sauce transform into a silky masterpiece.

The moment you've been waiting for, help the crispy beef make its grand entrance back into the pan. Give it a stir, let it heat through for 1-2 minutes, and voilà! Your masterpiece is ready to dazzle.

To finish, serve with either egg noodles covered in a little sesame oil, rice fried off with any of the remaining eggy cornflour mix, or both!
Dive In!
Serve up your homemade Crispy Chilli Beef with a side of rice or noodles, and get ready to indulge in a taste sensation that'll have you wondering why you ever bothered with those expensive takeaways. Get creative, make it your own, and revel in the satisfaction of not only saving some hard-earned cash but also whipping up a meal that's as good (if not better!) as your favourite restaurant treat.
Our local takeaways range from around £6.20 up to £10 for a Crispy Chilli beef dish and only serve 1-2 people. The most expensive option would cost £40 for four people and not include rice/noodles, so this savvy budget crispy chilli beef recipe can potentially save us up to 75% on the cost we would pay for the takeaway – plus it's much more satisfying!
Your Q&A Quickfire Round – Let's Settle Those Crispy Chilli Curiosities!
Can I make Crispy Chilli Beef in an Air Fryer?
You betcha! While the method might have a twist, you can totally achieve crispy beef goodness in your trusty air fryer. Just make sure to adjust the time and temperature to suit the crispy-craving dance of your steak strips.
Is it best to shred or cut the steak when making crispy chilli beef?
Slicing thin strips across the grain is where the magic happens. Tender, flavourful bites are the name of the game. Avoid too much fat and, if needed, place your steak in the freezer for a few minutes to firm up before cutting – This works particularly well with dulled and unsharpened kitchen knives. If you prefer an even lower-prep dish, why not try our cost-effective SavvyDad Slow Cooker Chilli Con Carne recipe?
What ingredients can I swap in the recipe to make an even cheaper version?
Get your creative chef hat on! Try budget-friendly cuts of steak and seasonal veggies to keep those costs down without skimping on taste. Alternatively, raid those yellow-sticker and clearance sections at your supermarket, you'll be surprised what can be crispy fried and covered in the tasty, glossy, chilli sauce.
How easy is this recipe to cook and can I make it any healthier?
This recipe is as easy as a Sunday morning. Just be cautious with the cutting of meat, hand-washing, and hot oil. For a healthier twist, dial down the sugar or give a nod to nutrition with whole grain rice or noodles.
So there you have it, culinary adventurers – your ticket to Crispy Chilli Beef bliss without the takeaway price tag. Get your apron on, your pan ready, and let the aroma of homemade goodness fill your kitchen alongside savvy savings and a whole lot of yum!