Pasta can be an easy go-to for parents when trying to think of a simple low-cost meal for their kids. There are plenty of easy pasta recipes around however most of the time I can be guilty of buying pre-booked pasta shapes for the quick win. This can get a little boring and there's nothing better to make pasta more interesting than making your own fresh pasta from scratch.
What's better is you can either make it with the kids, providing them with great social engagement and self-satisfaction, or you can make it yourself for a romantic meal for a loved one. It honestly is one of the easiest things to cook for dinner from scratch. Chances are you already have the ingredients in your cupboard too.
Now, whilst I suggest using a type "00" flour it really doesn't matter if you're using a standard plain flour to try this out at first. If you are using type "00", this is often more expensive in the supermarkets. To keep the costs down, keep your eyes peeled for new lines added at a trial price, or end of line clearances are often placed in the reduced sections of the bakery aisle. For example, the Selezione Casillo Type 00 was reduced in the Tesco near me, most likely due to new packaging designs coming in.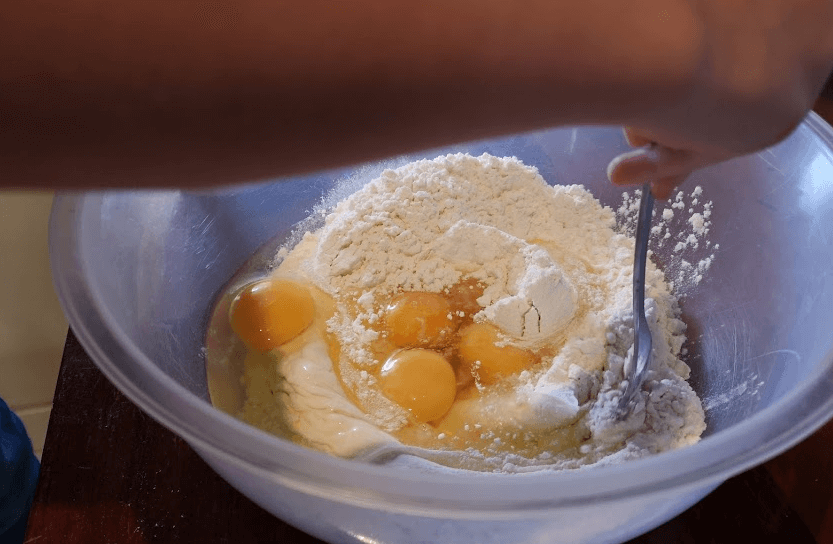 How to make pasta from scratch – Tagliatelle
You can make a variety of pasta shapes and sizes quite simply at home using either a food processor special pasta-making apparatus or even just by hand using your basic utensils. In this example, I'm going to be focusing on making it by hand from scratch with my kids. We're using a few bowls, a clean work surface, the longest rolling pin we could get our hands on and the ingredients for fresh pasta laid out below. In this recipe, we're going to be making tagliatelle but you can use the pasta for any shape or size you wish.
INGREDIENTS
1 egg per person
100g type 00 flour per person
salt
olive oil
spare flour for rolling.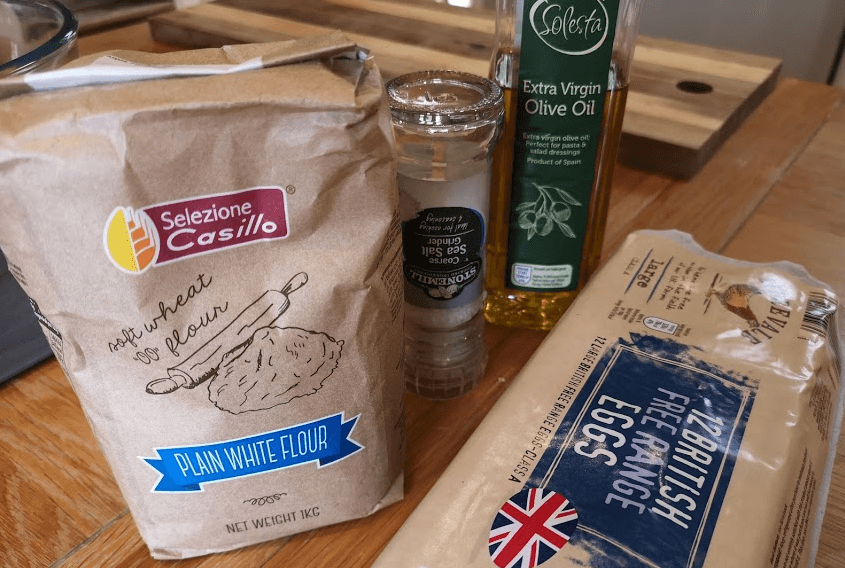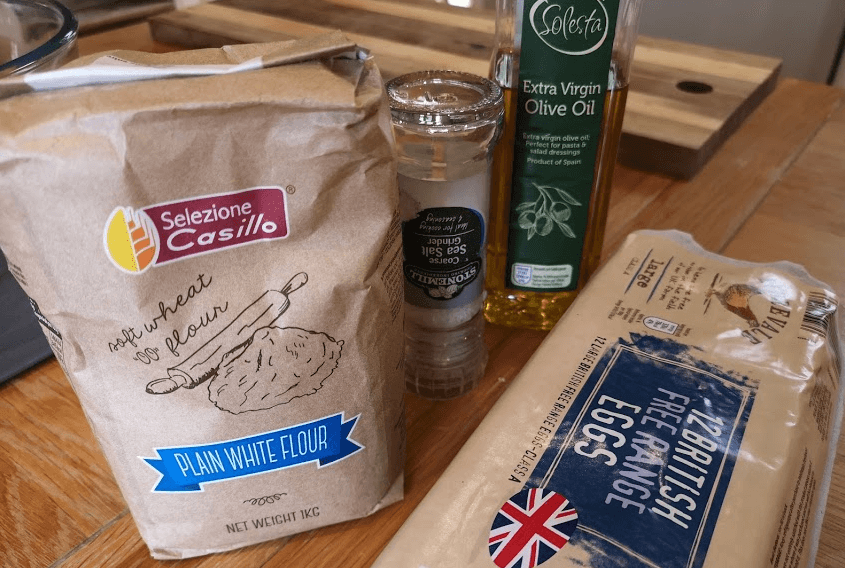 Method for recipes on how to make easy pasta from scratch
Prepare your surface – You can work directly on your clean work surface if you wish however when using this recipe with kids I highly recommend using a shatterproof bowl. A basic plastic one will do the job. Place the flour on a board or into your bowl.
Crack your eggs into a separate mug – Whilst you can crack one egg per person directly into the bowl it's worth checking your eggs are fresh by cracking them one at a time into a separate mug to check first. Once you have done this, make a well in the centre and crack the eggs into it.
Beat the eggs – Do this with a fork until smooth, being careful to encourage younger chefs to not spray the flour out of the bowl!
Use your fingers to incorporate the mix – Using the tips of your fingers, mix the eggs with the type 00 flour, incorporating slowly, until everything is combined in a consistent way.
Remove from bowl to knead – Whilst you can knead your dough in a bowl, it's easier to place it onto a flat work surface now it is combined and push, pull, pummel and knead. Keep flouring your surface throughout to stop the dough from sticking.
Keep kneading when you think you finished – The kneading process helps the gluten to develop within the dough and the more you do it the more elastic in nature the dough from these easy pasta recipes will be. I picked a culinary tip from the great Bob Mortimer in his fishing programmes where he cooks recipes for Paul Whitehouse after a day's fishing. He says, "just when you think you've added enough of an ingredient in a recipe, return to the mix and add once more pinch for luck". This particularly applies to this fresh pasta recipe where the extra kneading will make all the difference. Underworking the pasta will result in soft pasta with little structure or bounce when you cook it. It's this "al dente" bounce that you're after!
Wrap and chill – Place the dough in cling film and place it within your fridge for around 20 to 30 minutes to allow the gluten to continue developing. This isn't always essential to do if you're in a rush as the pasta can go straight from a heavy kneading into the pan once cut and shaped.
Keep Rollin' – I'm sure you know that the pasta machine is the ideal way to roll your pasta out. It can produce pasta sheets, linguine, fettuccine, vermicelli, spaghetti and tagliatelle with ease. However, there's nothing quite like cutting and shaping your own pasta by hand, plus kids love doing it. It's also the most authentic way of doing it like traditional Italians with their rolling pins. Try and keep the pasta as square as you can while you're rolling the dough. If needs be, make sure you take a small lump of pasta to do one at a time in order to get it as thin as possible. Each time you work the dough with the rolling pin, flip it over, turn it around, and sprinkle it with more flour before rolling again.
Dust liberally with flour before the final roll – When you think your pasta dough is feeling thin enough coat liberally with a large amount of type oo flour. This is essential because failing to make the dough less sticky will result in your final cut tagliatelle sticking into clumps rather than unrolling into beautiful strands of pasta goodness.
The Final Cut – Now you've dusted your thin pasta sheet with flour roll it carefully along its length. Starting from one end of your pasta roll cut through with a sharp knife at 1 to 1 and 1/2 cm intervals along the length. If you've dusted your pasta well, they should unravel beautifully. You're then ready to plunge this into salted boiling water straight away and it will take a matter of minutes to cook.
Add your sauce – there are a large number of easy pasta recipes and easy pasta sauce recipes listed below. Why not try them out and let me know what you think or better still send me some of your ideas for pasta sauces that you have.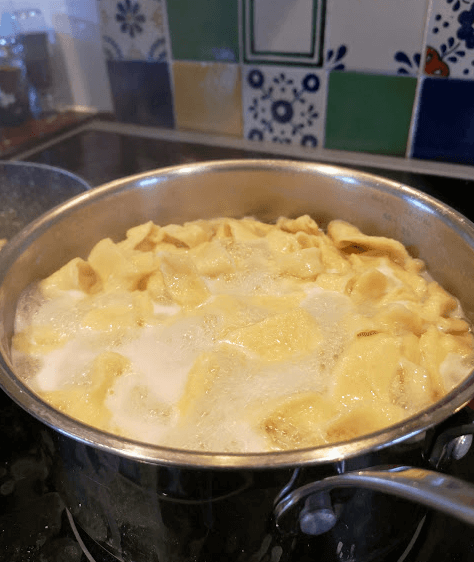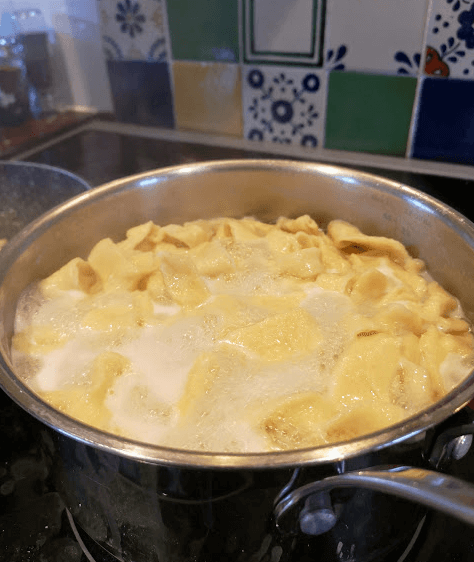 Looking for more savvy recipes? Check out my Vegan Shakshuka, Cheap Mince Pies Recipe or my guide to the best family budget meals and recipes.




Easy Pasta Sauce Recipes: What can I mix with Pasta?
There's a huge number of ingredients you can add to pasta to make it different. Whether it's a simple sauce or mixing in a couple of ingredients to spice it up with colour, every version is different. I wanted to set out some of my favourites for you to try. They're all simple easy pasta sauce recipes and only require a few extra ingredients to mix in with the choice of pasta you have made.
FRESH TOMATO AND SWEET BASIL
Mix around 7 chopped and diced tomatoes with 1 large clove of crushed garlic.
Add in 3 to 4 tablespoons of extra-virgin olive oil and a good grind of salt and pepper.
If you have basil sweet Basil to hand take a few leaves and Chop finely to mix him failing this you can use mixed herbs from your spice rack.
Mozzarella works well as a cheese for this dish for kids as it gives a beautiful stringy nature. It encourages them to spin that pasta fork and collect long tagliatelle or spaghetti covered in a gorgeous red sauce and strands of playfully stringy cheese. Yum!
CHEESY LOADED PASTA
This is most certainly the simplest of pasta sauces to add as the cheese melts in to make its own creamy sauce.
Simply add your cheeses of choice to your fresh hot, drained pasta. I'd start with adding 1 cup freshly grated Parmesan, the same of Gruyere or Edam and the same amount of a decent mozzarella or fontina. If you can you get the mozzarella ball shopping leave introduces and throwing in at additional creaminess. Adding in 1 dessert spoon of butter to coat finishes off this classy dish ready for seasoning to your liking.
Tip: If you're making this for adults then I highly recommend cooking garlic-infused camembert in the oven ready to scoop out into the pasta as it gives it a beautiful warm and rich nutty flavour.
Kid Tip: Adding in peas to this beauty makes a lovely "easy-peasy-cheesy" pasta which is fun to eat and adds colour.
EASY TUNA PESTO PASTA RECIPE
Yes, you can make your own Pesto, but it's dead cheap anyway from your local supermarket so saving the faff and grabbing a jar for this easy tuna pesto pasta recipe is a no-brainer. Simply prepare the pasta as detailed in the homemade tagliatelle instructions above then swirl through a small amount of mayo and one tin or broken up tuna. Once the tune is gently warmed through with the pasta, add the pesto and continue turning gently for 2 minutes on a medium heat.
TOMATO, ONION AND SAUTEED MUSHROOM
Start off by heating a few tablespoons olive oil in a large pan. I'd suggest keeping at the medium heat and adding in one cup of chopped onions, cooking them through until clear.
After six or seven minutes chop in a few tomatoes along with 1 to 2 cups of sliced mushrooms.
Allow is to simmer for a quarter of an hour adding a little bit of butter if needed to moisten. As the mixture thickens stir in some basil or mixed herbs from your spice rack and fold into your fresh pasta to serve.
CHICKEN ALFREDO
This one's ideal for using up leftover chicken from a roast at work equally well with gammon.
Melt one dessert spoon worth of butter into a non-stick saucepan and 4 dessert spoons of cream cheese.
Add to this a liberal amount of garlic powder if you have it or mix in crushed garlic cloves.
Using a whisk, beat away at the mixture until it becomes smooth adding in around 150ml to 200ml of fresh milk. Finally, add in as much parmesan as you would like along with a good sprinkling of black pepper and allow the sauce to reduce the consistency and thicken.
Fold the sauce into your pasta and toss in shredded chicken from leftovers.
CARBONARA
Source a decent pack of bacon lardons or smoked pancetta from a local supermarket. Saute this chopped pancetta in 2 tablespoons extra-virgin olive oil until crispy.
Add finely chopped garlic to mix (around four cloves will do this) and reduce the heat slightly to the garlic does not burn. Beat in 3 large eggs (yolk only) and a decent amount of grated Parmigiano-Reggiano in a mug.
Add your pasta to the pan with e pancetta and garlic and turn off the heat. Toss in the egg and Parmigiano-Reggiano mix into the pasta pan. Keep the mixture moving as the residual heat will cook the eggs into this mix quickly and you don't want the eggs to scramble. Lastly, add a little bit of the pasta water left over from the pasta cooking process to give it an extra silky feel.
Top with more cheese, black pepper and ideally a decent garlic bread!