Small but steady wins the race to becoming more eco-aware here at home and this month's partnership with savemoneycutcarbon.com has seen some of the smallest tweaks to our lifestyle in the form of sustainable eco friendly bathroom products!
Here at Savvydad, we have been trialling a number of different eco friendly bathroom and beauty products designed with sustainability in mind. As readers will be aware, I am always on the lookout for ways to save money on monthly expenses like utility bills and the Save-a-Flush bag can do just that. As explained by our friends at savemoneycutcarbon.com, the Save-a-Flush bag is simple to fit, requiring no technical or plumbing skills. It is a perforated bag that contains water-absorbent granules that swell and displace water in the toilet cistern, simply meaning that it takes less water each time you flush. In fact, this little bag cleverly reduces the water used in flushing a toilet by an average of 4,800 litres per year! Not only is this reduced use of water more ecologically sound, but it is financially sensible too. We have had ours installed for nearly a month now and can confirm no change to the 'power' of the flush in the slightest and I eagerly await our reduced water bills over the next year to see what kind of financial aspect this will help us make!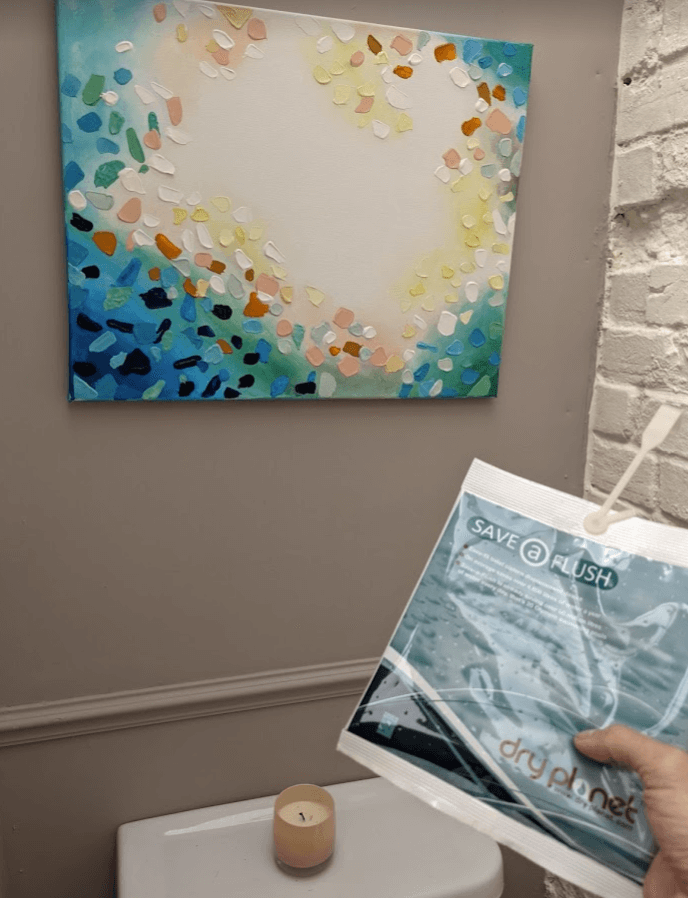 More ideas for eco friendly bathroom products and toiletries in the home
Another wasteful use of plastic in the bathroom has to be in what we all take for granted when brushing our teeth every day. A quick glance at the plastic toothbrushes, floss and endless half-squeezed toothpaste tubes in my own bathroom confirmed my suspicions! We have already trialled some bamboo-based alternatives to plastic in the kitchen and so trying out some swaps for our dental routine seemed like a no-brainer. First up comes some excellent kids' toothbrushes from the 'Non Plastic Beach' company which you can find at savemoneycutcarbon.com. These gorgeous little brushes have a handle made from biodegradable and sustainable bamboo made in China where it grows and bristles which use BPA-free nylon. They have even made the clever decision to colour code the brushes to avoid any arguments between the little ones at bedtime! They've been a real hit with my youngsters so far.
I've been a serial floss-user for a long time, guilty of even buying those individual floss heads with little plastic handles and not considering the impact of these ending up in the landfill, to my eternal shame. Once again though, the 'Non Plastic Beach' company comes through with an alternative – Silk Dental Floss. It is fully degradable and naturally breaks down so it is compostable whilst having all the same strength and effectiveness as traditional plastic flosses.
The Silk Dental Floss comes in a cute little glass and metal jar too, making it a fetching addition to our open shelves in the bathroom, and you can buy refills separately to keep using the same casing. The minty coating is made from natural wax and has become an effortless switch for me over the past few weeks when it comes to switching to more eco friendly bathroom products.
Practical, sustainable bathroom toiletries in the home
For the grown-ups in the house, the LiveCoco recyclable toothbrush heads for our electric brushes have been great to switch over to. Most toothbrush heads are made of products that end up in landfill, but all of LiveCoco's products and packaging are either 100% compostable or recyclable. These heads are compatible with most regular Oral B electric toothbrush handsets, but it's important for me to mention they only worked on our older Oral B units and did not fit the newer Oral B iO smart toothbrush I have. We haven't been able to detect a difference in quality at all! What's even better is that through savemoneycutcarbon.com you can set up a subscription service to ensure new heads are sent out to you at regular intervals to keep your pearly whites shining bright. All of this is available via their sustainable bathroom product sections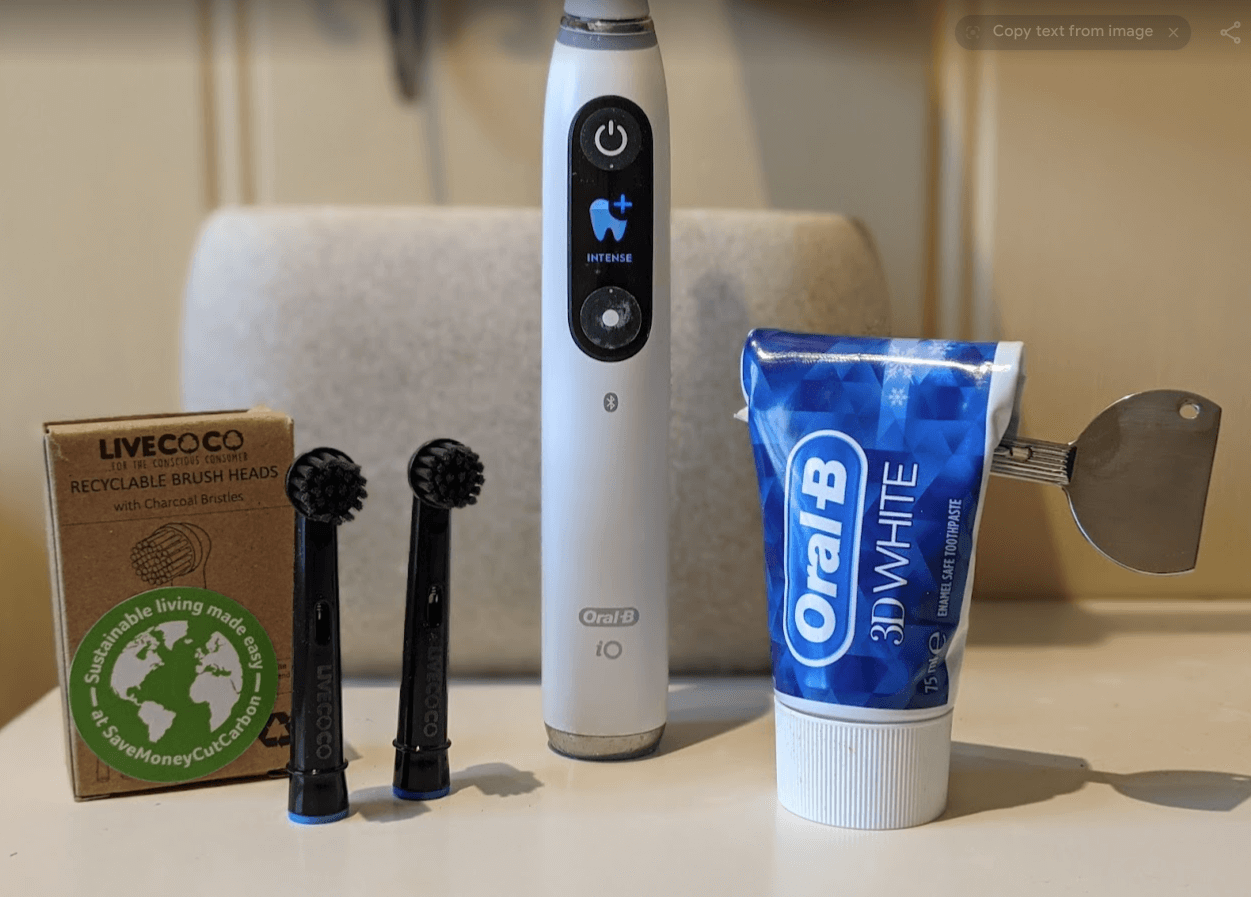 Possibly the cleverest addition to our eco friendly dental routine this month has been using the Tube Squeezer from savemoneycutcarbon.com. We are hugely guilty of discarding tubes of toothpaste when it just gets a bit too tricky to squeeze out the last bits, but this little tool makes it so much easier! Instead of putting strain on my post-40 finger joints, Just pop it on the bottom of my tube and twist to make sure those valuable last dregs are actually used – saving money and needless waste ending up at landfill again! A top little eco friendly toiletry product for only £2.49!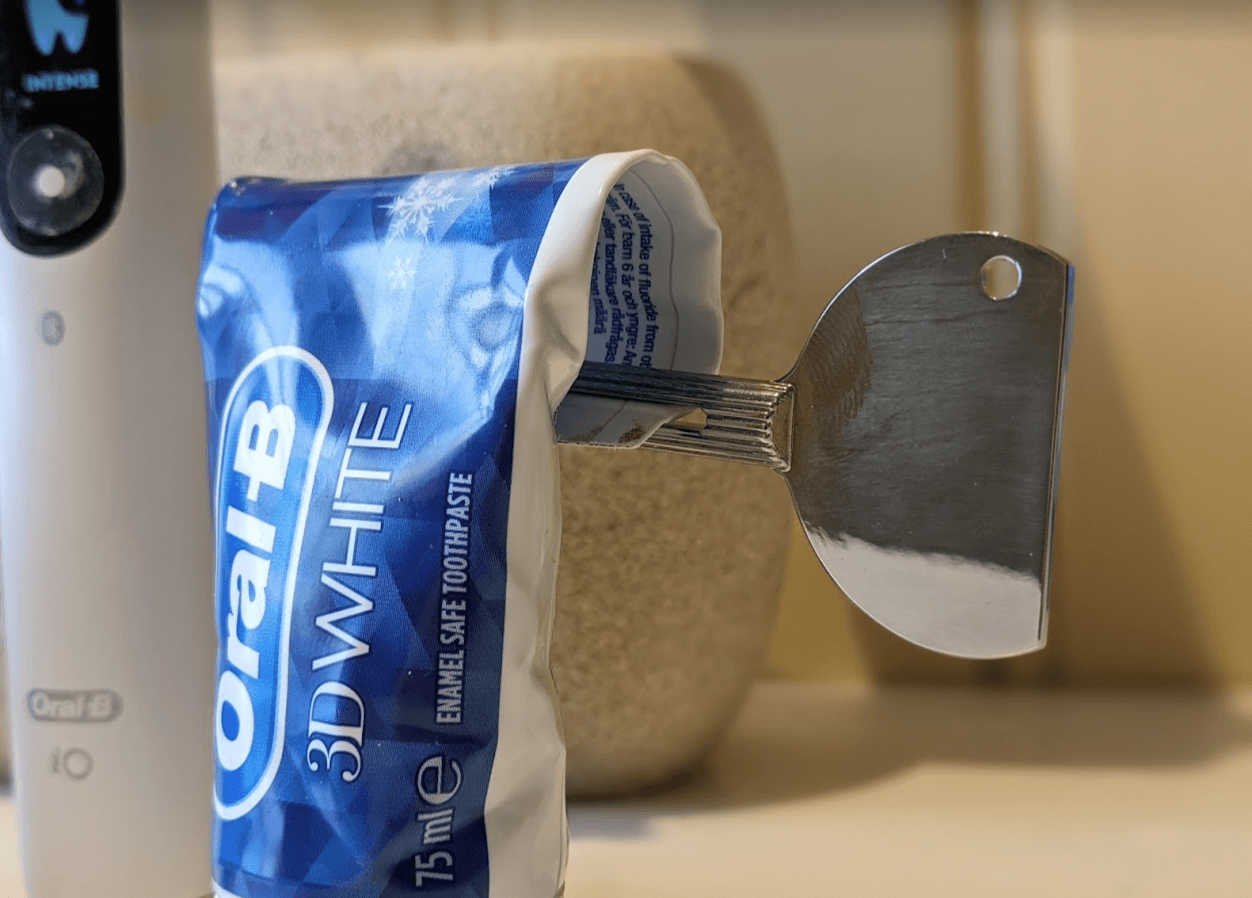 It's not just toiletries that can be made from recycled or natural materials in the bathroom
Moving away from the teeth, the' Non Plastic Beach' company also make 100% biodegradable bamboo cotton buds which mean that a vital bit of bathroom kit can still be used since the government banned the use of plastic cotton buds back in October 2020. As with their other products, even the packaging is sustainably made and recyclable and it tells the story of the inspiration behind this product – the image of a tiny seahorse forlornly dragging a plastic cotton bud through the ocean. It's a really striking picture to see and certainly drives home the continued impact humanity is having on the natural world.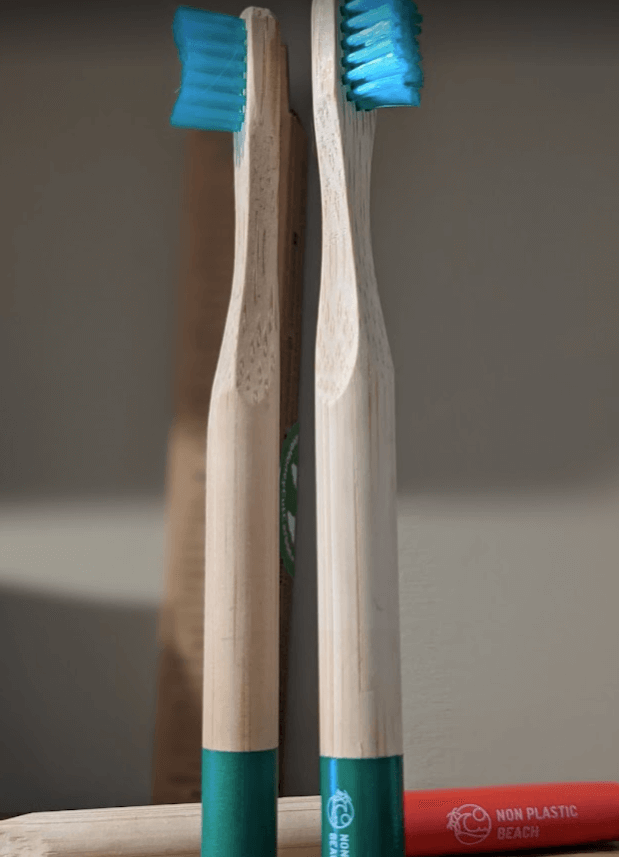 Mercifully, we have not had cause to try out the last product our friends at savemoneycutcarbon.com kindly sent us this month – the PATCH bamboo plasters! These plasters are made with super soft bamboo fabric which is a natural, breathable, hypoallergenic and entirely biodegradable alternative to traditional plasters. As soon as a small Savvy gets his next inevitable graze when out playing, I'll update this page with our verdict!
As we've continued to see over this series of working with savemoneycutcarbon.com, just making small and mindful changes to your normal day to day life can really add up. Making sustainable and eco-friendly choices doesn't have to break the bank either and, let's face it, the peace of mind that comes from knowing you've 'done your bit' is priceless.