Our eyes were opened throughout 2021 in terms of our eco-friendliness here at SavvyDad HQ. Our partnership with the wonderful savemoneycutcarbon.com saw us explore a plethora of their products and sustainability initiatives, all in the name of improving our sustainability and reducing our carbon footprint.
A slick, savvy, self-conscious app
When we noticed that SaveMoneyCutCarbon.com had launched their first app, The SaveMoneyCutCarbon Home App, we were thrilled to give it a road-test. Their website already boasted a slick interface with clear navigation and clear signposting, but the app (completely FREE by the way) takes it up another notch in terms of accessibility. Here, you will find the home page set out in tile format, with each area of the interface clearly described and cheerfully illustrated.
You are able to navigate to links such as the 'Top Picks' section which showcases the popular sustainable swaps available for your home at the moment, or if you need to think a little wider and are perhaps new to the sustainable-choice lifestyle, the link to the 'swap shop' will take you to a room-by-room breakdown of recommended products for your home.
This is such a handy feature if you are just starting to dip your toes into the world of sustainable choices and have no idea where to start – have a roam around this feature and you will soon start to make the little changes that really add up over time.
Sign up for more sustainable options
If you do choose to sign up for the Home App, then the app's functionality increases even further. A particular favourite of ours here is the "Impact Statement" feature which will give you a breakdown of the positive impact your purchases from the website are having on the planet. It is very encouraging to see that your choices not only provide outstanding solutions for your home cleaning and maintenance needs, but also in the positive impact the purchase has on the wider environment. It is a real motivator to keep on the sustainability track!
As we have previously described, the company also offer a Planet Points scheme that grows every time you make a purchase. The app makes it easy to track your Planet Points directly from the home-screen and really adds value to the experience of shopping with this fantastic retailer – who doesn't like to earn rewards when spending?!
The final bonus of the SaveMoneyCutCarbon.com Home App that we have greatly enjoyed is the "Learn and Save" feature. Here, informative articles and blog posts about making sustainable choices can be sent through to your device via push notification, ensuring that you are always in the loop with the latest products. We've particularly enjoyed reading their recent Father's Day article here at SavvyDad!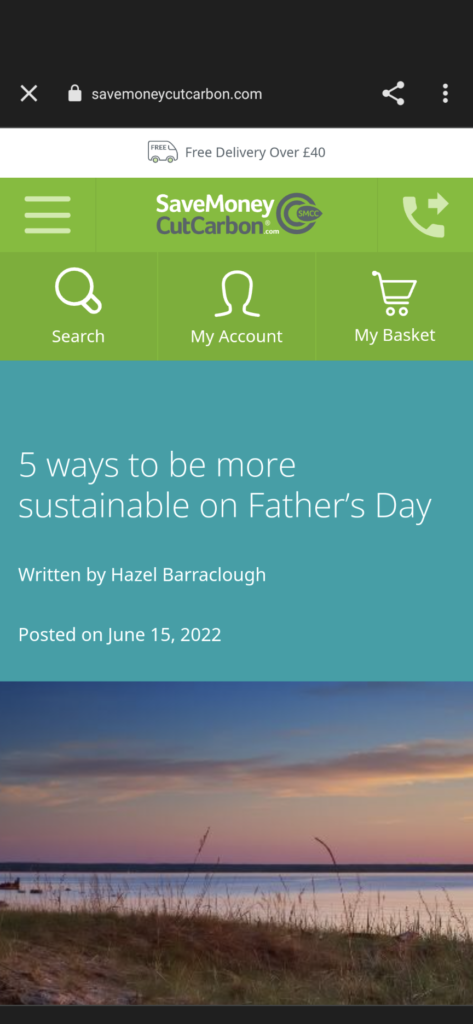 Give the app a try –
You never know what small changes you might discover for yourself and your family that could really make a difference to the wellbeing of our planet. Give the SaveMoneyCutCarbon Home App a try today.
*Disclosure: This article is for entertainment and educational purposes only. I am not a financial advisor and you should always do your own research and consult a qualified financial advisor before making big decisions with your money as capital may be at risk. This post may contain links to external sites and affiliates, Savvy Dad accepts no responsibility for how you use these external sites and services (see Site Terms and Privacy Policy).