Whether it is a change in family circumstances, ageing, the loss of friends or family or you're simply looking to get organised making a will can be daunting. Nobody likes to think about their own mortality and it is human nature to, on the whole, survive today, rather than prepared for tomorrow. In recent years over 54% of adults have been identified in the UK as having no will or end of life plan. Of those that do have wills, the process of will writing at home, the confusing array of online will writing services and the lack of clarity in local directories for where to find a good solicitor nearby to make a will, leads to either apathy of poorly made wills that don't meet basic needs.
This confusion is not ideal, especially considering that a last will and testament does not just protect your life's work and finances, but also provides for your dependents and ultimately dictates who might care for your children and pets if you have them.




What are the options for will writing at home?
"at home" will writing services have existed for years. You can wander into your local WHSmith and buy a cheap will writing pack which will give you the opportunity to make your own will. The issues with these services are mainly the hidden fees for amendments, storage costs and in most cases, the document format can only cope with the most basic of life scenarios – and let's face it, life is never straight forward.
I personally would shy away from writing my own will using the high-street bought will writing packs to make a will at home. I actually chose to set up my first will via a charity seven years ago. This was prompted by becoming a parent, but I really should have done it sooner for peace of mind. I used Oxfam's will aid service, where they provide free access to a local qualified solicitor to arrange a will over the phone, at their offices or during a home visit. I opted for the recommended solicitor firm to visit me at home in order to research the firm and get that face to face opportunity to ask questions. The solicitor explained every step of will writing, from the division of assets, business interests, dependents and even personal requests. If setting this up as a couple the solicitor will see you and your partner separately to ensure the details are personal and yours alone.
Getting a will written via this quality method meant that the charity was paying for the solicitor's fee.  The reason lots of charities get involved is they hope that the person making the will would look to include the charity in the benefits. For example, I bequeathed 1% of my total assets to Oxfam which would far exceed to usual will writing cost. Not only does this give a suitable, well discussed and thought out professional will, it also supports the UK charities. The only ongoing cost from this is the "storage" of your will and documents. The option I used for storage was a company called Welcare Guardian, who have an annual charge but allow amendments and are the UK's leading provider.
The last arena to consider is that of online will writing services and digital wills…




Where to make a will and the best online will writing services.
When thinking about where to make a last will and testament you may want to consider that you'll either want a face to face meeting to establish trust. Or, a number of reliable reviews of an online last will and testament service such as Beyond.life. It is also important to note that whilst getting things for free in life is generally great, when it comes to getting a will, free isn't always best. Finding a quality, well-reviewed online digital will specialist with decent online will reviews is not easy. Google's search engine system operates in such a way that companies promote their digital will writing services to make them appear that the top of your Google search results. Therefore, the top search results are not always the best.
That being said, companies like Beyond.life can be found in the top search rankings for where to get an online last will and testament. They are often overlooked due to the plethora of "free" will writing services being promoted in the search results and Beyond.life charging £90. But there are good reasons why you might not want to overlook this paid service and the security and peace of mind their services bring.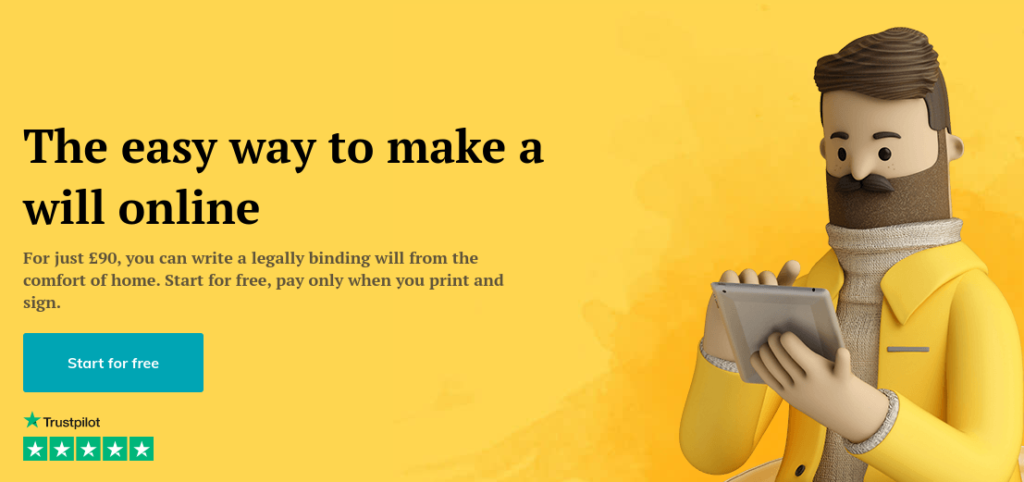 Beyond.life's online will writing service offers a legally binding will, checked by experts and all the live customer support you could need. They pay the will registration cost of £30 and it only takes 15 minutes. There's either a £90 fee when you complete a single will submission or £135 for a partner will. You're only charged once the will is complete and you've approved, printed and signed your copy. On top of this, there is an option £10 per year charge which allows:
Unlimited amendments.
Unlimited changes in relation to updated law.
Secure "physical" storage of your will.
You can read more about Beyond.life's online digital will writing provision in my article how to protect your next of kin with a digital will.
Why should I make a will using online will writing services?
Making a will online or at home allows you to protect and rest in the knowledge that certain things will happen as you'd like should you pass away. This may include:
Protection of your family and pets – You'll be certain of who will be looking after and legally caring for your beloved pets and children should the unfortunate happen.
Division of estate – Decide what lump sums or percentages of your estate will go to your dependents, friends, pets, charities and other beneficiaries you hold dear to your heart.
Leave Gifts – Amounts can be gifted to family and friends in ways that may or may not affect inheritance tax etc.
Choose your own executor – Make sure that either a trusted friend or family member, or a designated professional, is registered as the person in charge of overseeing your will and it's execution.