Accessing cheap cinema tickets has never been easier. Carry on reading for my guide on how to get cheap Odeon cinema tickets and cinema discounts across the UK. The prices are so cheap now via the use of codes, discounts or passes that the only thing you'll need to worry about is the cost of the popcorn and Pic'n'Mix.
Odeon Ticket Prices – How much are Odeon cinema tickets?
The prices of Odeon cinema tickets can vary wildly due to a number of factors. The cost of London Odeon tickets is obviously higher than those based in more rural locations in the UK. There's also a number of film format options and prices that will affect the Odeon cinema ticket price. As an illustration I've included below the costs for a standard 2D viewing of a recent release at both a London Odeon and a non-London location. I've used my home city of Norwich for this example.
Odeon Ticket Prices

Generic "non" London prices (based on Norwich) 

Odeon Ticket Prices

London prices for Odeon cinema tickets (Covent Garden)

Adult £5.75

Teen 13-17 years £5.75

Senior £5.75

Student ID required £5.75

Adult £13.25

Child 12 years and under £9.75

Teen 13-17 years £12.25

Senior £12.25

Student ID required £12.25
Compared to Odeon, How much are Vue cinema tickets?
As a general comparison, Vue are cheaper than Odeon cinemas – that's why I'm mentioning them here too. So if you're lucky enough to have a local Vue cinema near you it is worth checking out their offers compared to your local Odeon. The Vue cinema near me is, in general, cheaper than the Odeon cinema near me due to the fact they offer a £5 "Any Film, Any Day" offer. This may obviously very county to county but it's worth looking into their special offers and kid's film club days.
That being said, even with cheaper general admission prices, Vue can still be undercut by Odeon deals such the the 5 Odeon tickets for £20 offer mentioned later on in this article.
Are there deals on Odeon cinema tickets to reduce Odeon ticket prices?
The usual deals available for Odeon cinema tickets or tips to access for free are:
For deals on Odeon cinema tickets look to Groupon?
For cheap cinema tickets it is worth considering Groupon. In particular, for Odeon cinema tickets Groupon often have great multibuy deals. These Groupon Odeon deals often allow a large family or group of friends to access the cinema for less. The most common deal available to users of the Groupon site are:
2 Odeon Cinema Tickets for £10 (This is a saving of £16.50 compared to the usual Odeon cinema ticket prices in London).
5 Odeon Cinema Tickets for £20 (This is a saving of a whopping £46.25 on the London adult prices for 5 of £66.25).
It's worth keeping an eye out for "Local discount codes" too for Groupon as these can often stack on Cinema Deals.
Try the code WELCOME if new to Groupon for extra discounts on Odeon cinema ticket deals at Groupon. This code should work on other offers too on the Groupon website.
NOTE: Tickets outside of London for an adult can vary but if purchasing the 5 for £20 you're likely to save at least the cost of one ticket from the five.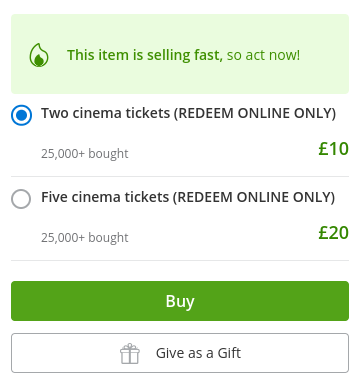 Odeon Ticket Prices – How the Odeon Cinema Tickets Groupon Deal works:
Receive an individual voucher for each individual ticket which includes a unique Groupon code
Redeem the vouchers online at odeon.co.uk (vouchers cannot be redeemed in-cinema) and pay a 75p booking fee per ticket
Each Groupon code can only be used once for one ODEON ticket
If you are having trouble redeeming your code, try using lowercase text
Get a KidsPass to access discount cinema tickets for Vue and Odeon
The Kids Pass memberships are great to try for long weekends and holidays if you have kids. For just £1 you can sign up for a trial Kids Pass membership and gain instant access to 1000's of family-friendly offers on the Kids Pass app! This really is ta great way to spend £1 as you could save far, far more than that in just one use.
If you're planning a trip to the cinema? You'd save on average £10.34 on your cinema tickets*. Read our other guides to saving on cinema or getting a year's access to £2.48 film screenings). Plus the KidsPass will save you money on a meal out, on big UK attractions and entertainment too. You can read more about the saving money on holiday activities with kids via this link.
*based on a family of four (2 adults, 2 children)
Is there another offer on cinema tickets for Odeon?
You can also get cheap access to Odeon cinemas via The Times. To do this you'll need to become a member of Times Plus. Times Plus will give you lots of perks, freebies and discounts. For the purpose of cinemas you can get 2 for 1 (or buy one, get one free) every Saturday, Sunday or Monday.
New 2 for 1 codes are released each Monday to Times Plus subscribers. These codes can be used once each week. It's £1 for a 3 month trial of Times Plus, so well worth the £1
You can also get upto 40% off cinema tickets and either 2-4-1 or 50% off 6000 restaurants with a TasteCard £1 trial.

How to use Meerkat Movies codes to access cheap Vue and Odeon for less.
You can also stack Meerkat Movies codes at some cinemas allowing access to insanely cheap deals. To get access to a year's worth of these deals you will need to purchase a cheap single trip travel insurance. This can be as little as a few pounds and is only needed to get access to the code. Follow the guide below or read more about How to get Meerkat Movies 2-4-1 codes to access cheap Odeon Cinema Tickets.
Select UK > Single Trip > 1 Night/Person > No additional covers/conditions
Remember this is, for most, a throw-away policy (we're not interested in if being to claim on).
You should get a list of providers, order by cheapest.
Select the cheapest, pick and buy.
Await policy number and enter it to access the app and a whole year's worth of cinema codes.
Are there discounts for cinemas near me?
Often people overlook the local independent cinema deals. I googled the term "are there discounts for cinemas near me?" and a handful of free screening and preview events came up. Picturehouse Cinemas are worth looking into if you have one nearby as they often have fabulous value live screenings of London shows and Operas too.