I've always been a fan of soucing a great bargain. But this concept doesn't always mean that I buy cheap. Often, I'll look into a product or service at great depth to find out if it's actually fit for purpose and will enhance my experience when using it. With this in mind, I often talk about the importance of assessing whether it's important to physical pay for a more expensive item in some cases in order to get a premium product that lasts well. Products from Shark Ninja often fall into the category of usually holding a higher price tag, but are they value for money? Well, I've reviewed the Shark DuoClean IF200UK Cordless Vacuum in the past and also have the Ninja Foodie Pressure Cooker and Ninja Foodi Blender & Soup Maker. All of these have been solidly built two premium items that have worked well for me and represented good value. Today, I'm putting the newly launched Shark HZ500UK DuoClean Corded Stick Vacuum with Anti-Hair Warp Technology and Flexology through its paces. I'll aim to give readers an overview of the Shark HZ500UK features and insight into whether the vacuum is worth the price tag.
You can buy the Shark HZ500UK here on the Shark Website.
Shark HZ500UK vs HZ400UKT DuoClean Corded Stick Vacuum
The Shark HZ500UK is effectively an updated version of the HZ400UKT model that's been around for 2019 and 2020. I've been keen to explore Shark's corded vacuum tech because whilst I loved their cordless options in the form of the IF200UK model I found that to clean a standard house I'd most likely need two batteries bundled by default. Of course, it depends on the size and footprint of your home, but having just moved into a larger property, I didn't want to be running short of charge. Thus, I'm looking at the mains power corded anti-hair version today.
The older model ( HZ400UKT ) usually retails at around £299 direct from the Shark website and has a review score of 4.7/5 from 193 reviews on their own verified reviewer platform. In my experience, the reviews on the Shark Clean website are in-depth, informative and most importantly have all the signs of an honest appraisal.
The Shark DuoClean corded vacuum ( HZ500UK ) will most likely replace the aforementioned model in the range at a similar price or prompt a reduced price on the older model if it stays in production. The Shark HZ500UK boasts a much sleeker design on the main dust cup and handheld vacuum sections. Whilst I'm not sure if the dust cup capacity has much difference between the two models, the newer design does lean itself to looking less industrial and more overtly designed to look ergonomic and fresh. The new Shark DuoClean I'm testing out today came in a black and rose gold style trim and looks stunning without overdoing the bling.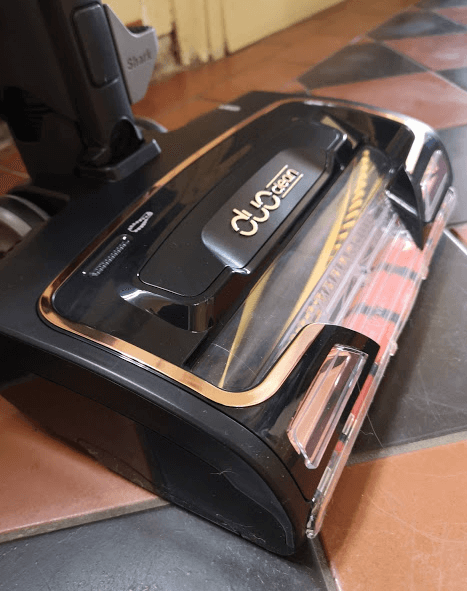 Shark DuoClean Parts and Accessories included
The main unit of the Shark Duo Clean HZ500UK series is made up of the following sections, all of which should be replaceable should you need to source spare parts from Shark customer care:
A power module and setting selector
The handheld vacuum (in its shortest configuration)
Dust cup with release mechanisms
Flexology Wand
Motorised floorhead with LED headlight sections, anti-hair wrap function and brush release function
The unit when assembled into its fullest configuration is easy to use and not cumbersome. It feels around the same weight in the hand as the Shark cordless version. I think this is due to the fact the power cord adds a certain pull as you move which is similar in weight to the bulk of the battery version which is cordless. This model needs to be balanced well when not in use. Either leaning it against a wall corner or placing in a cupboard is fine, but avoid leaning it against a flat wall with no corner as it will likely scratch the paint on the wall as it falls. It's not a bulky unit though and will easily lay on its back to store under a bed or stand up in a narrow cupboard.
The HZ500UK in floor mode is a breeze, with the options to adjust brush spin for laminate, tile or wooden floors useful. I've used this mode on cereal, cat litter, dust, hair and more with flawless results. The dust pan unclips smoothly and is also small enough to easily be emptied into a waste bin at the end of the clean.
There are loads of Sharl DuoClean accessories available for the HZ500UK, but it only comes with the Self-cleaning Pet Power brush and the dusting brush in the starter package. The dust brush is ideal for curtains, window frames and alike, while the Pet power brush is great for talking areas where a pet has been curled up and there's an abundance of shed fur to collect.
The Flexology tube and function remain a feature of this new model and it is of great use when trying to access those more awkward places that you would usually need to bend to reach. Whether it is under the bed, sofa or chairs and tables, this Flexology function allows the unit to convert into an l-shaped low vacuum at the click of a button.
Cleaning, Maintenance and Troubleshooting the Shark DuoClean HZ500UK
Cleaning and maintenance of the Shark DuoClean HZ500UK is a doddle. Simply wash the filters regularly under clean non-soaped water and leave to dry for 24 hours. The brush release function also allows for access to anything that gets stuck, but in general, the anti-hair wrap technology AHP from Shark keeps the brushes in good condition automatically.
Final Savvy Dad thoughts on the value for money of the Shark DuoClean Corded Vacuum
Whilst moving back to a corded version of a vacuum felt a little bit of a step backwards, in a bigger house it makes sense. The footprint of my home meant that I'd need two batteries on the older codless IF200UK and for the inconvenience of unplugging a few times it's worth it. The battery model would also need to use its low power mode on occasion whereas this HZ500UK corded version is a full-powered beast of a vacuum all of the time. The power cord is a great length also.
Bolt all of the functions together with the 5 year guarantee and even at a price point of around £250-300 you'll have a great value cleaning experience.
You can buy the Shark HZ500UK here on the Shark Website. As a side note, if you're looking for similar great value home cleaning and DIY products, Aldi specialbuy events in the UK offer great discounts at stores near me.