Savvydad HQ is branching out from dining in our favourite spots for afternoon tea in our Fine City and dipping our toes into the best places for Bottomless Brunch in Norwich! Dry January is over half-way finished and there's light at the end of the tunnel for those missing eating a magnificent breakfast-cum-lunch and downing sugary cocktails at 11am…let's go!
Bottomless Brunch in Britain has evolved over the past ten years from meeting your mates for a quick beans-on-toast and a brew to a full-on event that, if you play your cards right, can be great value for money and a whole lot of fun.  The concept of a Bottomless Brunch first started around 2011 and has grown in popularity around the world since then. Essentially, the Bottomless Brunch deals in most places are for a brunch-plate of your choice from a particular menu and then unlimited alcoholic or non-alcoholic beverages, all for one set price. The catch? There's usually a time limit applied to each table…which is probably a good thing, the more we think about it!
Where are the best independent, vegan or unique bottomless brunch offers in Norwich, Norfolk?
Whilst there are lots of branded restaurants and chains that are in on the Bottomless Brunch game, being in Norwich, our independent restaurants and bars are also in on the fun and we're thrilled to take you through our finest pick of these Bottomless Brunch deals in Norwich. So get some cheap parking in Norwich for the day and get stuck in!
This beauty of a bar can be found on the always-quirky Unthank Road and is part of a small group of similarly unique venues across the City. Every Saturday and Sunday you can enjoy 1.5 hours of bottomless brunch prosecco or cocktails and plates including the Full English/Full Vega, Chorizo hash, Eggs Florentine/Benedict or Royale or waffles with lots of options, all for just £35 per head. The William and Florence is such a lovely place to meet friends on a bright sunny day as it has a cracking courtyard garden out the front that is always buzzing. Definitely recommend the W&F Bloody Mary to wash that fry-up down with!
Butcher Bhoy and the Bun Exchange
Here's a really unique Bottomless Brunch in Norwich – unlimited Guinness at the Butcher Bhoy on Exchange Street! If a glass of the black stuff is not your speed though, prosecco, house cocktails, bar draughts, wine and soft-drinks are all included too. Enjoy your beverages for 1.5 hours and their 'Classic XX' chicken burger or the 'Dirty USA' hot dog all for £28.95 every Friday, Saturday and Sunday.
If prosecco's your thing and early mornings are not, then we highly recommend the Bottomless Prosecco afternoons at Mr Postle's Apothecary every Thursday to Saturday from 12pm. For 1.5 hours you can enjoy a bottomless glass of their crisp Italian Prosecco and a delicious Mezze board (veggie and vegan options available too) for just £25. The perfect way to round off an afternoon's mooch around the shops – be sure to book though as this is always a popular place in Tombland.
This cracking Norwich city centre pub is tucked away on Orford Street and always has a buzzing outdoor space in the summer. Their version of the Bottomless Brunch is sure to appeal to everyone in your group as it blends the traditional brekkie plates with sandwiches and burgers too. Enjoy your food with 90 minutes of unlimited drinks for just £27 per person. If you're not feeling the fully unlimited experience, they also have a Tipsy Brunch option where for £12 you'll get a plate from the brunch menu and two drinks. Ideal if your constitution is not quite up to the full 90 minutes of gluttony!
Found in the heart of Tombland, Bond is a plush cocktail bar that serves up two hours of bottomless cocktails and a main dish for £30 per head, every Sunday between 12pm and 6pm. Service is always sharp here and the drinks are to die for – it's a gorgeous place to unwind with friends or celebrate something special!  If you're out in the city one Thursday too, you cannot go wrong with their Bottomless Prosecco, Pizza and Chocolate Strawberries offer, again for £30 per person –. Two hours of decadence? What a treat.
Top of the Pops for a quirky independent Bottomless Brunch experience in Norwich is the Slice + Dice Café on St Benedict's street. This super venue is a café and bar that serves plant-based food daily along with all your favourite board games! For £32 for bottomless prosecco or £39 for cocktails and prosecco along with a plate of your choice, this is an incredible place to enjoy a vegan Bottomless Brunch in Norwich. Try the Breakfast Burrito or the Catan Burger with a 'Escape the Dark and Story Castle' fiery rum cocktail– it's absolutely lush!
Middleton's Steakhouse and Grill 
Middleton's is a bit of a Norwich institution. Popular for its extensive steak and grill menu, the place is always busy, particularly over the weekends! Available every day in two-hour slots, their Bottomless Brunch menu includes steak frits, sriracha chicken flatbreads, hotdogs and burgers and unlimited drinks from a selection of draught, cocktails, prosecco and wines for £31.50 per person. The only downside is, in our experience, that service staff can be awkward about splitting payments for a bill. This obviously isn't ideal for large groups considering spending a while there, but hopefully, we just visited on a bad day.
If you're up for making your Bottomless Brunch in Norwich a real event, then look no further than The Brunch Club. These guys specialise in putting on themed Bottomless Brunches that are always hilariously good fun. Coming up in Norwich in March is their Disney Drag Bottomless Brunch at Bar and Beyond on Prince of Wales Road. For £44.99 you and your friends can enjoy not only 60 minutes of bottomless booze, but a great selection of brunch plates (including veggie and vegan) and then the icing on the cake – a magnificent live Disney Drag performance! There's an ABBA one coming up in April and a 90s one in May – can't wait!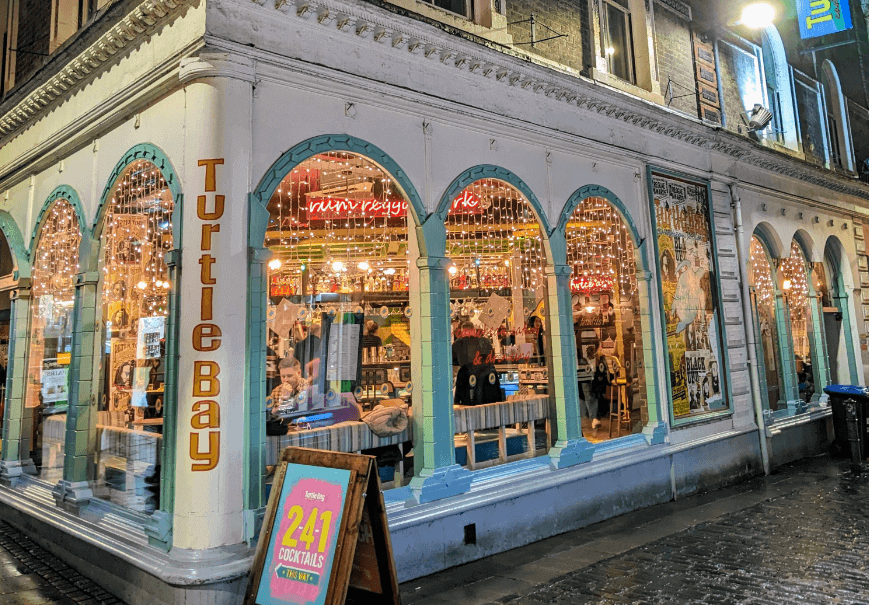 Are the chains with bottomless brunch offers in Norwich?
We'll always advocate for our independents in Norwich but there's no denying that the big-names or chain restaurants always do a great deal too. Take Turtle Bay https://turtlebay.co.uk/bottomless-brunch , for example. Not only do they have their superb Bottomless Brunch offer of two hours of unlimited cocktails, mocktails, Red Stripe and prosecco with their brunch menu, but there are often other deals to be found on their rewards app and member club – The Bay Club. You can head to Turtle Bay on Swan Lane for Bottomless Brunch every day of the week.