Savvy 2017 Reverse Money Saving Challenge.
Saving challenges have grown in popularity recently. Across the net I've seen the popular 365 day saving challenge springing up everywhere. They are ever more popular in people looking to magically fund the following years' Christmas outlay. Or, to recover from the depressing finances of a previous December.
I've also regularly had messages about, and seen people fail, these saving challenges because of the way they are designed. Most will fail in their saving endeavours using these challenges because of the nature of how costs change during a year.

The traditional 365 day saving challenge and why it fails
The most common saving challenge sets out the guidelines of saving and increasing amount every day. For example, on the first day you'll put 1p into a jar, day two sees 2p, and on through the year. While you'll amass a good amount if you succeed, it will mean you're paying out around £25 a week in the last month. This last month is usually December, therefore it's the time when most people are usually cash strapped.
Similarly, the well publicised 365 day challenge where you're putting in £1 in week 1, £2 in week 2 etc. still ends up with weeks 48-52 requiring a staggering £200 from your funds.
How the traditional 365 challenges compare
The 365 day 1p incremental saving challenge brings in a net £667.95 at the end of the year. (But gets more expensive as the year passes)
The 365 day £1 incremental per week challenge brings in a net £1378 at the end of the year. (But outlays over £200 in the last month)
Both offer a great ending pot, but so many fail in the more expensive months.
 
Try the Savvy Dad Reverse Saving Challenge or The Peak Challenge
You can adapt the previously mentioned challenges to start of end and other times of the year. This might help some savers. But for us we still wanted funds available for the winter pot for the family to use.
OPTION 1: The Peak Saving Challenge
Start easy in January with £1 increments per week. Until week 26 where you'll have raised £351. Then at that point, carry on saving week by week with decreasing amounts. Reducing by £1 a week from that point makes it at it's most affordable in the last months. Making it manageable. You'll have £351 from either side of the "peak", meaning a £702 pot, which is realistic for most.
OPTION 2: The Reverse Saving Challenge
This works with either of the traditional 365 money saving challenges. But it sets out to have the biggest outlays in the beginning of the year, meaning your getting the worst out of the way first. I'm a big fan of the book "Eat That Frog" by Brian Tracy. The American author sets out great methods for life that prioritise getting life's biggest chores and tasks out of the way first. With this reverse money saving challenge you are doing just that. You're tackling the biggest, ugliest payments into your savings first. You're "Eating that frog!"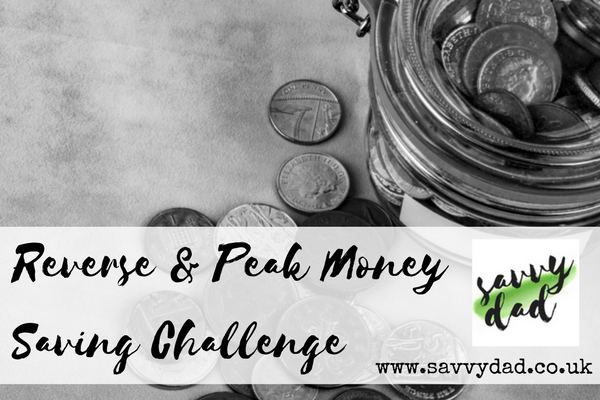 The reverse saving is pretty straight forwards. But, I've included below a free downloadable planner for my Peak Saving Idea, please do feel free to print them off and trial them. Hopefully you'll find these methods of saving truly effective at not only saving, but also succeeding. It should be added that I've found this particularly useful for helping out with unexpected winter events like boiler issues and having this pot meant I didn't have to dip into the main family finances for anything.
Get my free saving challenge PDF here (1mb download)
Please do comment with any alternatives you have found, or let us know during the year how you get on if you choose to try our saving challenge.
All the best with your saving successes.