Here at Savvy Dad, we've frequently covered the promotions and deals that supermarkets have and the huge toy sales, that many of the UK supermarkets and online giants run each year are no exception. Lego is always amongst the toys most sought after and placed on birthday and Christmas wishlists, but what are this year's top toys and how can retailers like Sainsbury's, Asda, Tesco, Aldi, and Amazon help to net them for cheaper?
Well, even though we're hurtling towards the end of the year quickly and many shoppers are seeking info on the next upcoming sales, so we've got the main sale dates for you to pop into your diary and tips to help make the most of offers, deals, vouchers and glitches.
What are the half price and 3 for 2 offers that UK supermarkets run?
Let's start by laying out the main sale periods that retailers like Sainsbury's, Asda and Tesco use to promote their toy sales. We can then discuss potential ways of improving deals via loyalty schemes, offers, vouchers and deals.
Sainsbury's Toy Sale:
The supermarket giant typically runs its toy sale for two weeks in late November / early December and again in late January, with amazing discounts on all kinds of toys – from board games and dolls to Nerf guns and more. Some of the most popular items in recent years have been LEGO sets, Hot Wheels cars and Barbie dolls.
Sainsbury's and Argos are part of the same group, so often they will have overlapping offers. For example, if you're a Nectar Card holder, you can check out the partner offers section of the app to gain potential Nectar offers on Argos items. We have to say, the legendary 342 sales on toys at Argos are greatly missed, but they seem to now have an annual half price sale to make up for it.
Getting back to Sainsbury's and Nectar; saving Nectar points through the year is also a savvy way of budgeting for Christmas foodstuffs or festive homewares, allowing you to put funds towards the toy sales they have in stores.
Asda Toy Sale:
The Asda supermarket's toy sale event is usually held in early December, running for two weeks and offering up to 50% off on top brands like LEGO, Fisher Price, Paw Patrol and more. In particular, Asda has been renowned for being among the cheapest retailers for standard bulk Lego creative boxes and storage chests. They also have 3 for 2 deals on select items, so it's definitely worth stocking up if you have kids (or nieces and nephews) that are into similar things.
If you're after something a bit different from the usual Asda suspects, they also tend to sell a small range of exclusives including the Hatchimals Glittering Garden (which was reduced to just £37.50 in 2018), the Disney Frozen Northern Lights Elsa Doll and the Harry Potter Hogwarts Castle.
There's a chance that readers may be able to bulk out their savings on the Asda toy sales this year, thanks to the Asda Rewards App. The app is offering (at the time of typing) £3 off £30 spends on the Asda Toy Sales. There's a chance that there will be many more offers and deals via the Asda Rewards app as the year progresses and we've already seen deals where they've actually offered £15 cashback on £15 giftsets – so it's well worth downloading the app and keeping your eyes peeled.
Tesco Toy Sale:
Tesco's main toy sale period is typically in early December, but they also have a number of other sales throughout the year that are definitely worth checking out. Again, as with Sainsbury's and Asda above, it's worth keeping an eye on the Tesco Clubcard app and magazine for extra vouchers and offers.
When it comes to specific toy sale events, they have had a consistent history of '3 for 2' deals on selected items like LEGO sets over the past few years. So it's definitely worth keeping an eye on their website and social media channels for updates. Some of the top toy sellers last year for Tesco were the LEGO City Fire Station, the Paw Patrol Rescue Mission Cruiser and the Hot Wheels Track Builder Straight Track Pack.
Aldi Toy Sale:
The German supermarket typically holds its main toy sale in early December, with a range of half-price deals on selected items.
Some of the most popular items in recent years have been the wooden "Chad Valley style" toys and rocking horses. These are usually found in the 'Specialbuys' aisle so it's worth checking there. They can also be sourced online and most of the time there's free delivery on orders over £30. You can see from the image below the sort of wooden toys on offer from Aldi each year.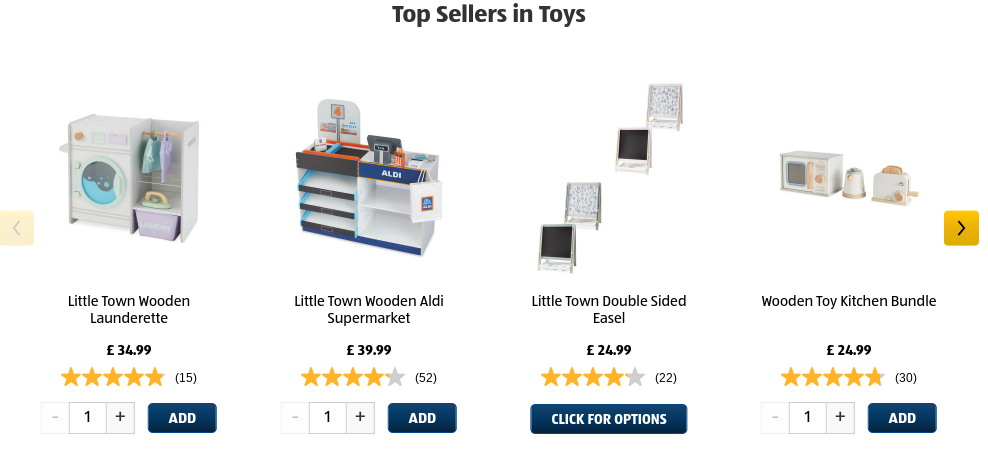 Amazon Toy Sale:
The online retailer has a number of toy sales throughout the year, but the main ones to keep an eye out for are Prime Day (usually in July) and Black Friday / Cyber Monday (in November).
If you're not a Prime member, then you can still take advantage of the Amazon sales by signing up for a 30-day free trial here. This gives you access to all the Prime benefits including next-day delivery, exclusive deals, and more. Just remember to cancel before the end of the trial if you don't want to be charged for the next year!
Amazon's best-selling toys in the UK during the last few years have been the L.O.L. Surprise! Dolls, the LEGO City Police Station and the Paw Patrol Marshall's Rescue Truck.
UK Toy Sale Tips for 2022 and 2023
You can make the most of the toy sales in the UK by considering some of our top toy sale tips…
Know the sale periods.
Specific dates to focus on for the toys sales in the main UK supermarkets are:
Sainsbury's – 3 weeks in December
Asda – 2 weeks in December
Tesco – 1 week in December
Aldi – 1 week in December
Amazon – Black Friday / Cyber Monday weekend in November, and Prime Day in July.
Keep up to date with promotions, tags, magazines and socials
Keep an eye on supermarket social media channels and supermarket websites for updates on toy sales. For example, Sainsbury's has a dedicated Christmas section on its website which is updated with the latest information as it becomes available.
Similarly, Asda also has a dedicated Christmas hub on their website with all of their latest offers, deals and opening times. And Tesco has a special page on their site with details of their main toy sale event.
It's also worth subscribing to supermarket newsletters and following them on social media (Facebook and Twitter) to ensure you don't miss any important announcements.
Loyalty Apps
It's definitely worth signing up for supermarket loyalty cards and downloading the relevant apps so you can take advantage of any extra offers that might be available. These are typically in the form of coupons or vouchers which can be used in-store or online.
For example, Sainsbury's has a 'rewards and offers' section in their Nectar app which frequently lists boosts, challenges and points offers. Meanwhile, Asda has a number of toy-related coupons available to use in their Asda Rewards app at the moment too, like £2.50 extra off Lego in their "Super Star" section of the app.
Do your research before you buy
It definitely pays to do your research before heading out (or logging on) to do your toy shopping. Have a think about what kinds of toys your children are interested in and make a list of the specific items you're hoping to get.
Consider using the tools available like stock checkers and price trackers to help you find the best deals and lowest prices. This way you can be sure you're getting the best possible value for your money.
And finally, remember to have fun!
Check for 'secret' opt in offers
Whether it's checking in on old dormant store accounts for hidden member perks and offers, or just making the most of store memberships. It really is important to make the most of what is offered. For example, did you know about the special Amazon member's promotion page?
This is often hidden away, but it list all offers currently available to apply or activate on your Amazon account. Deals like "£7 off your first Amazon pickup order", or "£5 off £15" are commonplace. You can check out the special "hidden" page here.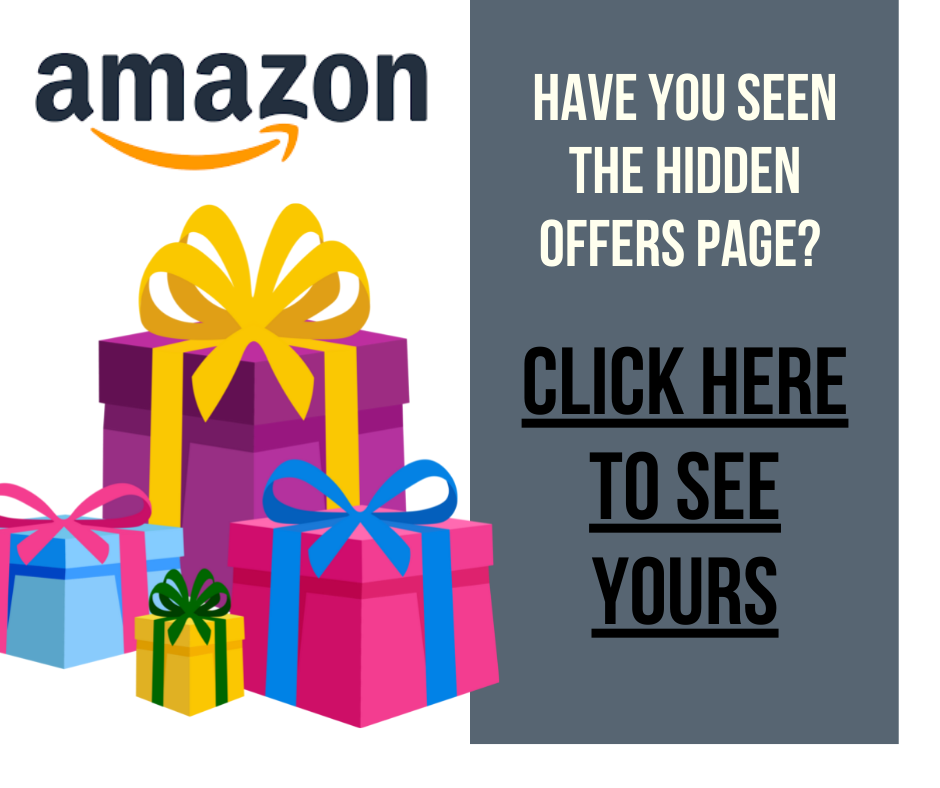 Making the most of these special offers can really help to stretch your toy budget further. So it's definitely worth taking the time to see what's available before you start shopping.
Have fun!
Remember, toy shopping is supposed to be fun! So don't get too caught up in finding the absolute best deals and lowest prices. Sometimes it's just as satisfying (if not more so) to find that perfect gift for a child – even if it means paying a little bit more.
What are the most sought-after, popular, or best-selling toys of 2022?
With Christmas just around the corner, it's time to start thinking about presents! Here is a list of the top toys that are sure to be popular this year:
– Hot Wheels City Ultimate Grage Track Set: This toy provides hours of fun and entertainment for kids. It features a variety of tracks and cars, making it perfect for anyone who loves playing with Hot Wheels.
– Lego Creator Santa's Visit: This set is perfect for kids who love Legos and also want to get into the holiday spirit. It includes all the pieces needed to build a festive scene featuring Santa Claus himself.
– CoCoMelon Boo Boo JJ Doll: This doll is based on everyone's favorite character from the wildly popular YouTube series "Cocomelon." He comes complete with his own outfit and accessories, making him ready for lots of huggin' and lovin'.
– LEGO Super Mario Adventures with Peach Starter Course: Nothing says "Christmas" like getting a new video game – especially one as highly anticipated as this one! The starter course lets players experience classic 8-bit gameplay in an all-new hands-on way, plus there are Expansion Packs available separately if they're wanting more challenges down the road.
– Lego Horizon Forbidden West: Tallneck: This set is perfect for kids who love both Legos and video games. The Tallneck is a massive robot that can be built using the included pieces, and it also comes with a code to unlock an in-game item in "Lego Horizon Forbidden West."
– Pokemon Sword and Shield Booster Boxes: These boxes are perfect for kids who love collecting cards. Each box contains 36 booster packs, each of which contains 10 random cards. This is a great way to stock up on cards for trading and battling with friends.
– Sega Mega Drive Mini 2: This console is perfect for kids who love retro gaming. It comes with 40 classic Sega games built-in, plus two controllers for multiplayer fun.
– Super Mario 3D All Stars: This game is perfect for kids who love platformers. It includes three classic "Super Mario" games – "Super Mario 64," "Super Mario Sunshine," and "Super Mario Galaxy" – all remastered in HD for the Nintendo Switch.
– Barbie Queen's Platinum Jubilee Doll: It's a random one, but the Queen was remarkably popular with young children. Partly as an icon and partly because of children's association with her sketches with Paddington Bear. We foresee that that may be demand this year for a commemorative doll as a keepsake.
So there you have it – a list of the toys we think may be popular for 2022 and into 2023. No matter what your budget is, there's sure to be something on this list that will make your little one's Christmas dreams come true!
Remember, once you've decided on the toy you're looking to buy, check out the dates of the supermarket toy sales and see if you can make the most of them on your chosen item. Make the most of those loyalty apps and check our site like CamelCamel which will give you a price history of toys to check you're not being ripped off in terms of price tags!
Previous sales and projected estimates for future sales
Sainsbury's
2022 Sale: Thursday 24th November – Sunday 5th December
2023 Sale: Wednesday 23rd November – Sunday 4th December
Asda
2022 Sale: Saturday 26th November – Sunday 5th December
2023 Sale: Friday 25th November – Sunday 4th December
Tesco
2022 Sale: Thursday 24th November – Sunday 5th December
2023 Sale: Wednesday 23rd November – Sunday 3rd December
Aldi
2022 Sale: Thursday 24th November – Sunday 28th November
2023 Sale: Wednesday 23rd November – Sunday 27th November
Amazon
2022 Sale: Monday 21st November – Sunday 5th December
2023 Sale: Monday 20th November – Sunday 4th December