Looking for a good roast pumpkin recipe? Well, with those warmer days and sunlight hours vanishing quickly into distant memory, I thought it would be the perfect time to look at how to make a lovely warming, hearty soup from the pumpkins appearing wherever you turn.
The roast pumpkin recipes below seek to really make the most of the versatile blighter that all so often gets scooped, carved and dumped. Such a waste of food and money in the UK, with an estimated 18,000 tonnes ending up in the bin. To get the most out of it, we'll be looking at healthy roast pumpkin snacks, crisps, warming soups and moreish cakes to die for; all from one pumpkin. Highlighting how a good pumpkin recipe really can bring the orange fellow to life!
To get started we needed to source our venerable pumpkins to be used. Supermarkets are great for cheap pumpkins (£3 for 2 large @ T's
buy here
), but for weighty blighters, with a reasonable amount of flesh, it's often cheaper to go to local farms and suppliers. We usually venture to Undley pumpkin farm in the East of the UK. But after last year's Covid-related worries, we've opted for the amazing offerings at
Fielding Cottage near Honingham
. This amazing Norfolk entrepreneurial endeavour hosts holiday lets, award-winning goats cheese products, a brand new cafe for 2021, and a farm shop boasting some fabulous produce including the pumpkins that are perfect for our pumpkin recipe. We were lucky enough to try out their pumpkin carving last year at just £15 per table for 2 pumpkins, carving tools, drinks, and sweet spooky treats. A great bargain! This was a fab way to spend time carving with the family in Fielding Cottage's new purpose-built covered area. We'll definitely be back for more events in the future!.
I heartily recommend a visit to either Fielding Cottage Farm Shop or Undley Pumpkin Patch for a great day out. For more information on Undley Pumpkin Patch and Maize Maze, check out their website @
www.pumpkinpatchundley.com
A good stash from somewhere like Undley or Fielding Cottage should be around £15 worth. We usually try and source a monster-sized one at around £6 – ideal for a decent amount of flesh. Although we got traditional "orange" pumpkins, green and white pumpkins, in theory, are best for cooking in pies and soups.
Returning last year, laden with our spoils and ready for the spooky half-term holiday ahead. Little Savvy was eager to have a monster party over the coming weeks so he was happy with the mini gourds and pumpkins to decorate for craft, while the larger ones would be reserved for carving and cooking. In a standard pumpkin, the ONLY inedible part is the stalk, everything else we'll be using in the following Savvy Dad recipes.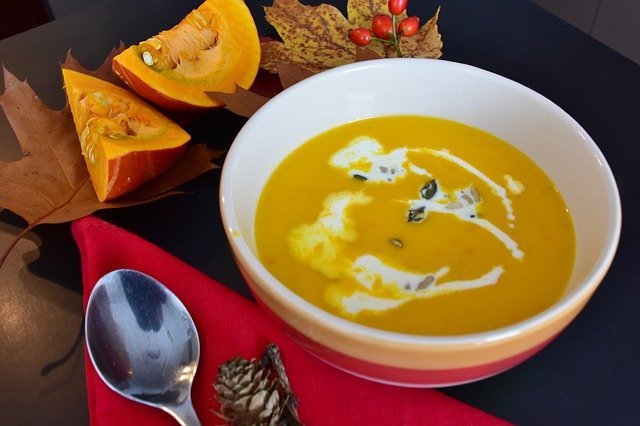 UK Autumnal Spiced Roast Pumpkin Soup Recipe
Ingredients for Roast Pumpkin Soup Recipe
olive oil
1 teaspoon honey
1 small piece of grated ginger or 0.5 teapsoon of ground ginger.
2 onion – finely chopped
1kg pumpkin or squash – peeled and chunked (keep the seeds to toast; see below)
650ml vegetable stock or chicken stock
medium pot of double cream (approx 140-150ml)
Method for easy pumpkin soup
First, Heat 2 tbsp olive oil in a large pan, add the finely chopped onions to soften.
Add the pumpkin or squash to the pan, making sure none of the chunks are too large. Cook for 10 minutes until things still to soften and golden. Add Honey and ginger.
Pour 650ml stock into the pan, seasoning generously with salt and pepper.
Bring to the boil, simmering for 10 mins until the squash is almost falling to pieces.
Add the cream and gently bring back to a boil before slowly making starting to purée with a blender.
Blend longer or use a sieve for a finer consistency.
The resulting soup can be stored in the freezer for 2-3 months
For a savvy upgrade top the soup with toasted seeds from the recipe below. Or alternatively, cut some wholemeal seeded bread into croutons and fry in the remaining olive oil until crispy and then scatter into the soup.
Don't bin those seeds, toast away for lovely toppings…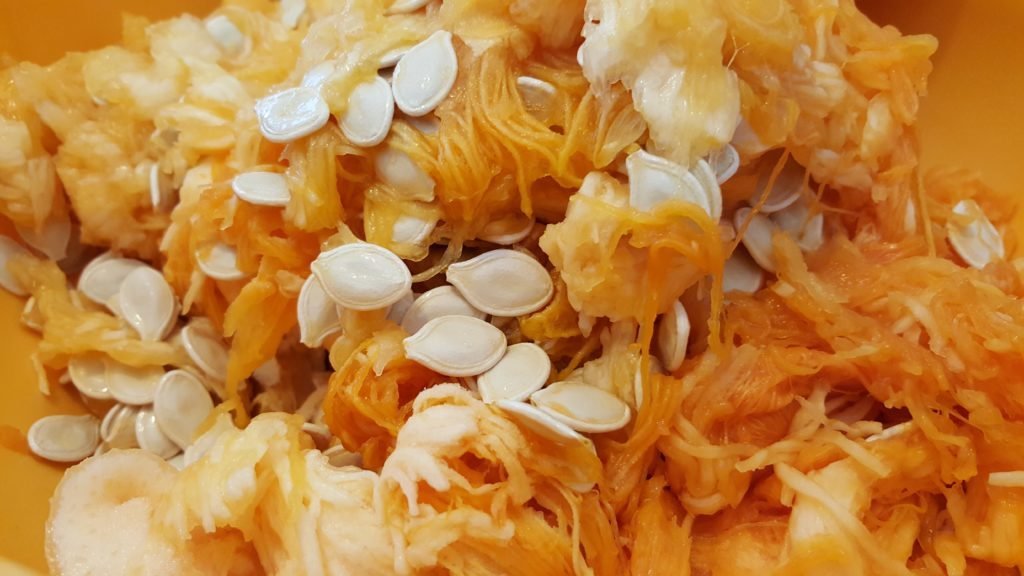 How to toast pumpkin seeds (pumpkin recipe)
Just use olive oil and a little salt to bring these beauties to life using this method. This method is based on a medium pumpkin:
1. Rinse seeds and then place in a medium pan.
2. Add 800ml boiling water with 4 tablespoons of salt (up the salt if you like things saltier).
3. Boil, then simmer for 10-15 minutes.
4. Drain and tip onto a roasting tin drizzled with a good drizzle of olive oil.
5. Bake at the top of the oven on 200 c / 190 c fan for 10 minutes, of until the seeds brown. (
What is 200 c in f?
)
6. When happy with the colour tip them out to cool and enjoy as they are.
 "such a versatile ingredient, perfect to make cakes, crisps, and soups. We couldn't resist putting together some recipes for the spooky October half-term".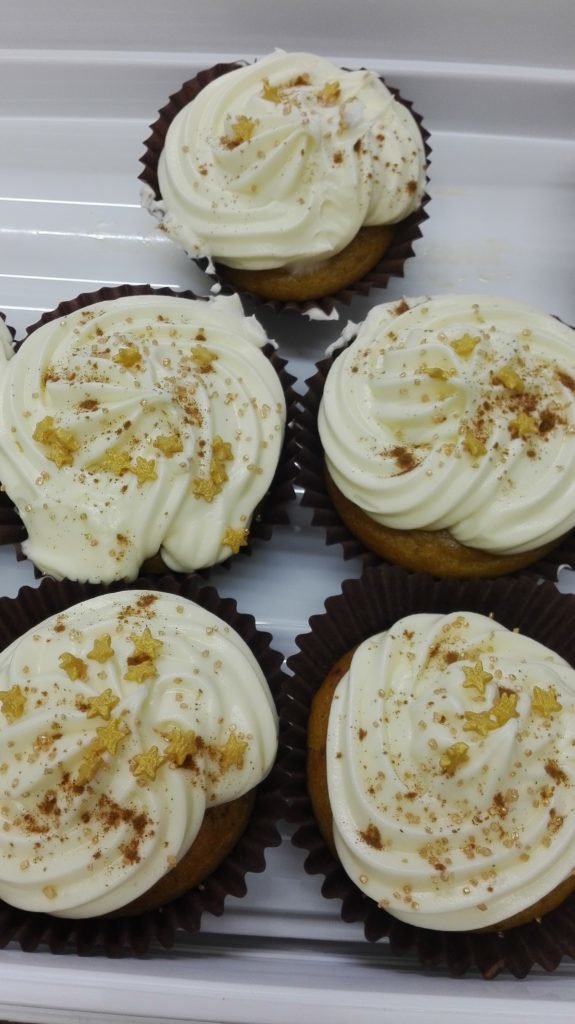 Devilishly decadent roast pumpkin cake recipe.
(Thanks to Savvy Dad reader, Mollie, for the tips and pumpkin recipe)
Ingredients for pumpkin recipe
4 eggs
1.75 cups of caster sugar
1 cup of vegetable oil (100% rapeseed)
400-500g pureed pumpkin flesh (or 1 can puree like this ) to make puree yourself chop in half, scoop out seeds and roast for 40 mins flesh side down at 200 degrees c.
2 cups plain flour
2 tsp baking powder
1 tsp bicarbonate of soda
2 tsp ground cinnamon
6oz. cream cheese
6 tbsp butter
3 cups icing sugar
Method for pumpkin recipe
First, pre-heat oven to 180 degrees c
Grease a 9-inch cake tin or line a cupcake tray, depending on you cake preference.
Beat together the eggs, pumpkin, oil and sugar in a medium bowl.
In another bowl, sift together the flour, baking powder, bicarb and cinnamon.
Combine the two bowl and mix the wet and dry ingredients thoroughly together, before spreading out evenly between cupcake cases of into the 9 inch pan.
Bake for 25 to 30 minutes (if baking the 9 inch cake) or 12 to 15 minutes (if making the cupcakes)
Remove from the oven, and without giving into temptation to nibble, move on to the frosting.
While the cake(s) are cooling beat together the cream cheese, butter and icing sugar in a bowl before spreading or piping in your own style.
Garnish with a light sprinkle of cinnamon or golden sugar
How to make pumpkin crisps (UK roast pumpkin recipe)
1. Skin/shave the pumpkins or squash. Attempt for cut the skin as carefully as you can into long slices, the thinner the better.
2. Add the shavings to a large bowl, sprinkle with good dose of salt and a little paprika if you have it to hand.
3. Allow the moisture to exit the fleshy part of any pumpkin shavings by leaving for a good 10-15 minutes.
4. Add a small amount of olive oil and toss in well so that none of the pieces have large amounts on. You'll want the pieces very thinly coated to crisp nicely.
Bake for 30 minutes at the top of a 200 degree c oven or until crisp, watch like a hawk from 25 minutes onward.